Siri leads voice-recognition renaissance
As smartphones become ubiquitous, more searches will be performed on mobile devices and speech-controlled technology will become critical.
Speech recognition has long since promised a lot but delivered very little so far. The technology has been available in some form or another for years, but inadequacies on the hardware and software side -- causing user commands to be misunderstood or giving users limited choices -- have led to little adoption.
Microsoft
(
MSFT
) and
Google
(
GOOG
) have both given it a shot and tried to support voice controls on their operating systems that run on several smartphones and PCs, however neither has managed to gain traction. (Microsoft owns and publishes Top Stocks, an MSN Money site.)
All that changed when
Apple
(
AAPL
) introduced Siri in October last year. Not only has it turned out to be one of the iPhone 4S' defining features, it has also brought speech-recognition back into vogue.
No wonder then that voice recognition hogged the limelight at CES 2012, where a host of products on display -- ranging from HDTV, tablets, smartphones to even cars -- sported this new feature.
A number of factors have worked in Siri's favor. Apple launches the incredibly popular iPhone only once a year, on average, and that creates a lot of anticipation in the media as well as in customers' minds. So, Siri did benefit a lot from the heavy marketing that the iPhone received. However, as with all previous attempts at voice recognition, even this initial euphoria ought to have died down. But the fact that Siri is not just another speech- recognition software that can interpret only a strict set of commands but a language-parsing agent that gives it a superior understanding of natural speech is what makes it so popular.
Siri's tantalizing features include the ability to take dictation for text messages, set reminders, initiate calls and get weather updates -- all at a mere voice command. Such an interactive voice-driven interface encourages greater use of smartphone features by making it much easier to access technology-on-the-go​. According to a recent industry study by Arieso, the iPhone 4S has almost doubled data consumption as compared to its predecessor, the iPhone 4, and the introduction of Siri is considered to have enabled the huge growth.
One of the most important smartphone features that Siri is driving is an increase in mobile search. As smartphones become ubiquitous, more searches are going to be performed on mobile phones and voice-recognition technology could be at the forefront of this change. Google has been trying to increase its presence in the mobile search market through Android and will want to come up with a more interactive voice-recognition engine than its Google Voice Search or the Voice Actions feature that comes integrated with Android. The same applies to Microsoft, which has its own TellMe software that redirects all voice queries to Bing Search for Windows Phone.
Siri's success, due to its natural language understanding skills, poses interesting questions for Google and Microsoft's search business as voice search could replace text search in the future.
Right now, Apple uses Google and Bing as a last resort to redirect some of its search queries only after it has exhausted its own database, as well as those of partners Yelp and Wolfram Alpha. If Siri becomes more widely used and Apple seeks to bring more partner databases into the fold, Google and Bing search could be pushed further into the background -- or at least slowed.
Google and Microsoft will therefore redouble efforts to integrate natural language processing skills into their existing voice recognition software, else they risk losing major traffic and therefore major ad revenue as well.
Google's mobile search division contributes more than 32% of its stock value, as per our estimates, and it clearly has the most to lose from this scenario. The company is apparently readying a Siri-like interface in a project code-named Majel that will be added to its Voice Actions feature on Android, in order to counter Apple's advances.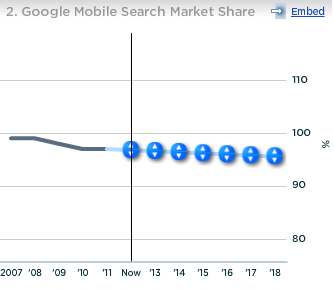 Meanwhile, Apple could look to use its huge cash base (almost $80 billion in cash and cash equivalents) to acquire some of these local business search companies such as Yelp or OpenTable or MapQuest and divert ad revenues to itself, thereby opening up a new revenue stream. Also, it can spread Siri across its portfolio of products, adding it to the iPad, the MacBook line and the in-the-works Apple HDTV, to cash in on the surge of interest in voice-recognition technology.
DATA PROVIDERS
Copyright © 2014 Microsoft. All rights reserved.
Fundamental company data and historical chart data provided by Morningstar Inc. Real-time index quotes and delayed quotes supplied by Morningstar Inc. Quotes delayed by up to 15 minutes, except where indicated otherwise. Fund summary, fund performance and dividend data provided by Morningstar Inc. Analyst recommendations provided by Zacks Investment Research. StockScouter data provided by Verus Analytics. IPO data provided by Hoover's Inc. Index membership data provided by Morningstar Inc.
ABOUT
Top Stocks provides analysis about the most noteworthy stocks in the market each day, combining some of the best content from around the MSN Money site and the rest of the Web.
Contributors include professional investors and journalists affiliated with MSN Money.
Follow us on Twitter @topstocksmsn.