Blizzard of layoffs on the horizon this winter
Jobless claims are being blamed on Sandy, but more pink slips could be coming -- and not because of the weather.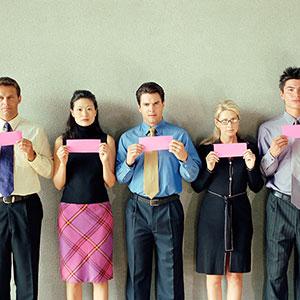 By Jeff Reeves


October jobless claims surged to 439,000, an 18-month high, fueled by Superstorm Sandy (if you believe the reports). Frankly, I'm not sure how bad weather correlates to layoffs -- in fact, some folks actually were trying to convince us that Sandy and its broken windows were "good" for the economy -- but there you have it.
I'll let other pundits pick over these numbers and argue about whether blaming the weather is legit. What I think investors need to really start watching isn't the rear-view mirror of jobs claims, but the pending blizzard of pink slips that could be hitting America this winter.
Take a look at some of the ugliness: 
I could go on, but hopefully this is painful enough.
The biggest reason for the layoffs is, unsurprisingly, a push to maintain profitability. Earnings season has been as bad as expected, with falling top-line revenue as well as smaller profits for many companies. So in the absence of growth, cost-cutting is how major corporations are looking to make more cash.
But the Q3 earnings slowdown is sure to be followed by a sharper contraction in Q4 numbers that will be reported in a few months; at least, that's the prediction, according to InvestorPlace.
And on top of the earnings slowdown, we have these joys:
Obamacare unknowns: According to execs at Papa John's (PZZA) and Applebee's -- a subsidiary of Dine Equity (DIN) -- the impact of the new health care law will, at best, limit the hours of employees and, at worst, result in lost jobs. There's no way to know if this is just more posturing -- much like the smarmy Florida businessman who failed to make good on his threat of layoffs should Obama win re-election. But it's worth noting nonetheless.
Spending cuts: A melodramatic Lockheed Martin (LMT) threatened this summer to issue layoff "warnings" to 123,000 workers for fear of defense cuts, but backed off this fall. Any real reduction at Lockheed wouldn't be that bad, and surely there's the political motive of trying to scare Congress into avoiding severe DoD cutbacks. But it's a real risk that Lockheed will have significant layoffs if spending rolls back in the Pentagon -- cuts that probably will happen in some form during budget talks, even if the magnitude of those cuts are still in the air. Other industries could face a similar squeeze as the budget talks proceed.
Double-dip in Europe: If you got tired of hearing about eurozone softness during the last six to nine months, just wait for 2013. Because now we just received an "official" report that the EU slipped back into recession. The layoffs were slower in the beginning of 2012, but now that Europe has weighed on the market for so long, you can bet that more companies will be "right-sizing" operations.
Softness at home: The unemployment claims are just one data point that should be cause for concern. The unemployment rate ticked up a tenth of a percentage point a few weeks ago. In October, retail sales declined for the first time in four months, and right before the all-important holiday shopping season. There are positive signs too, to be sure, but let's not act like America is firing on all cylinders with our painfully modest 2% GDP growth.
In other words, there are a host of reasons to think we could see the jobs picture get worse before it gets better.
Jeff Reeves is the editor of InvestorPlace.com and the author of "The Frugal Investor's Guide to Finding Great Stocks." Write him at editor@investorplace​.com or follow him on Twitter via @JeffReevesIP. As of this writing, he held a long position in Apple but none of the other stocks named here.
More from InvestorPlace
DATA PROVIDERS
Copyright © 2014 Microsoft. All rights reserved.
Fundamental company data and historical chart data provided by Morningstar Inc. Real-time index quotes and delayed quotes supplied by Morningstar Inc. Quotes delayed by up to 15 minutes, except where indicated otherwise. Fund summary, fund performance and dividend data provided by Morningstar Inc. Analyst recommendations provided by Zacks Investment Research. StockScouter data provided by Verus Analytics. IPO data provided by Hoover's Inc. Index membership data provided by Morningstar Inc.
ABOUT
Top Stocks provides analysis about the most noteworthy stocks in the market each day, combining some of the best content from around the MSN Money site and the rest of the Web.
Contributors include professional investors and journalists affiliated with MSN Money.
Follow us on Twitter @topstocksmsn.