Could Dish Network and DirecTV merge?
Shrinking subscriber numbers and rising costs have both companies considering a deal.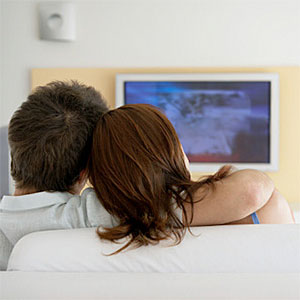 Dish Network (DISH) and DirecTV (DTV) are getting pounded by content providers' demands. Would teaming up help them fight back?
Dish chairman Charlie Ergen certainly thought so on Tuesday, when he told everybody sitting in on his company's earnings call that the two largest U.S. satellite-TV providers "have to consider" a deal. DirecTV CEO Mike White agreed with that assessment as recently as September, when noted the "challenging content cost environment where consolidation could be pro-consumer."
He admits there haven't been any talks about such a move between the two companies yet -- and federal regulators declared the merger anticompetitive the last time it was proposed in 2002 -- but consumers don't have to hit the guide button to see what's going on with Dish and DirecTV.
Analysts estimate that Dish's profits will grow by less than 8% through 2014. That's about 95% less growth than other cable and satellite-TV companies. DirecTV, meanwhile, posted its first-ever quarterly net loss in customers this year. Dish has reported a drop in four of the last six quarters, including a net loss of 19,000 in the most recent quarter. That's still better than the 111,000 customers it lost a year earlier, but the cost of getting new customers also climbed 15% to $453 million during that span.
There are a couple of issues crossing DirecTV and Dish's signals. AT&T's (T) U-verse and Verizon's (VZ) Fios are gaining customers and bundling their cheaper-than-cable offerings with Internet service. Meanwhile, Netflix (NFLX) and Hulu offer streaming video for only $8 a month, while. Amazon (AMZN) is testing that monthly price for its Amazon Prime streaming service that also throws in two-day shipping for items in Amazon's marketplace. Both Amazon and Netflix also offer their content commercial-free, which is becoming a sore point for the satellite providers.
Dish bumped up ad spending this year to promote its Hopper set-top box, which record all the major networks' prime-time shows, store them for eight days after their initial broadcast and allow customers to skip all commercials without fast-forwarding through them by pressing the AutoHop button. DirecTV boosted its own spending to compete, but angry content providers just piled on extra costs.
Fox Broadcasting (NWS), Comcast's (CMCSA) NBC Universal and CBS (CBS) each sued Dish, claiming the AutoHopper service will destroy the "advertising supported ecosystem" that provides free, over-the-air prime-time TV. They also assert that the copies of the shows that Dish's hopper creates constitute copyright infringement. Dish sued the networks in New York, essentially arguing that the copyright claim is bogus.
According to Ad Age, a U.S. district court judge in Los Angeles agreed that Dish's service infringed on copyright, but refused to block it. It's just the latest content-provider headache for Dish, which just ended a nasty negotiation with AMC Networks (AMCX) last month. Dish ended up paying a $700 million settlement after taking AMC, IFC, the Sundance Channel and We TV off the air for three months as part of a dispute with AMC's former parent company Cablevision (CVC) dating back to 2008.
DirecTV, meanwhile, yanked MTV, Comedy Central, Nickelodeon and other networks out of its lineup in July during a dispute with Viacom (VIA.B). That dispute was resolved before August, with the Viacom networks returning to air and DirecTV paying 20% more for the privilege of airing them.

The common belief is that the two satellite providers' combined 34 million U.S. subscribers would give them a bit more leverage against the content providers. If only that were so. Netflix just passed 30 million global subscribers for its streaming service, but watched content costs jump from $3.5 billion to $6 billion withing a year.
A Dish/DirecTV combo would need to offer something extra, with some help from the Federal Communications Commission. Regulators are getting ready to decide whether Dish can use its wireless spectrum to transmit mobile voice and data by the end of 2012. That would effectively put DirecTV-Dish on par with Verizon and AT&T services by giving them fast wireless internet connections to go along with their TV offerings. It would also help the satellite providers' argument for a merger by turning Verizon and AT&T into the direct competition.
The satellite providers and their customers have seen the enemy, and it's not the other company with the funny gray dish.
More from Top Stocks

DATA PROVIDERS
Copyright © 2014 Microsoft. All rights reserved.
Fundamental company data and historical chart data provided by Morningstar Inc. Real-time index quotes and delayed quotes supplied by Morningstar Inc. Quotes delayed by up to 15 minutes, except where indicated otherwise. Fund summary, fund performance and dividend data provided by Morningstar Inc. Analyst recommendations provided by Zacks Investment Research. StockScouter data provided by Verus Analytics. IPO data provided by Hoover's Inc. Index membership data provided by Morningstar Inc.
ABOUT
Top Stocks provides analysis about the most noteworthy stocks in the market each day, combining some of the best content from around the MSN Money site and the rest of the Web.
Contributors include professional investors and journalists affiliated with MSN Money.
Follow us on Twitter @topstocksmsn.