Warren Buffett assails Grover Norquist on taxes
The wealthy investor slams the anti-tax lobby, calling for higher rates on the rich.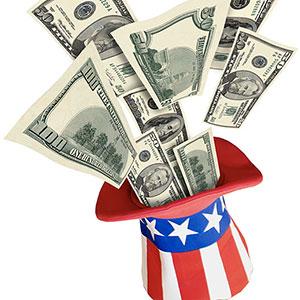 How does Warren Buffett get back into fighting shape the Sunday after Thanksgiving? By using the New York Times' op-ed page to crack conservative lobbyist Grover Norquist square in the jaw.
With the fiscal cliff on the horizon and the entire political and financial ecosystem scrambling to find a solution, it's a bad time to be an anti-tax zealot. Buffett called out the tax-averse Norquist by name in his Times op-ed piece Sunday as he pressed for a 30% tax rate on those making between $1 million and $10 million a year and a 35% rate for those making $10 million or more.
Dismissing the notion that well-heeled investors would stop investing because there's a greater tax liability for their gains, the Berkshire Hathaway (BRK.A) chief executive is looking for a tax rate exceeding President Barack Obama's proposed "Buffett Rule." That plan would impose a minimum 30% rate on those making $1 million or more a year, but does little to tax capital gains or carried interest. Those don't qualify as ordinary income and are taxed at a far lower rate that favors wealthy taxpayers.
How does Buffett justify the hike? By noting the far more extreme levies he once paid as a wealthy investor. During the 1950s and 1960s, he was taxed between 70% and 90% on dividends and between 25% and 27.5% on capital gains. By 1992, he notes that the tax paid by the 400 highest incomes in America dropped to 26.4% percent of adjusted gross income. By 2009, it was down to 19.9% on a group that made an average of $202 million a year -- or $97,000 per hour for a 40-hour work week. Half paid less than 20% and a quarter paid less than 15%.
Even once-fervent supporters of Norquist's Americans for Tax Reform are coming around to Buffett's line of thinking. Before the November elections, Norquist got 238 out of 242 Republicans in the House of Representatives and 41 out of 47 GOP senators to sign his "Taxpayer Protection Pledge" vowing to "oppose any and all efforts to increase the marginal income tax rate for individuals and business; and to oppose any net reduction or elimination of deductions and credits."
The elections dropped the number of GOP pledge signers in the House to fewer than 220, while the Senate saw its ranks of GOP tax hawks cut from 41 to 39. Georgia Senator Saxby Chambliss signed Norquist's pledge nearly two decades ago, but says the fiscal cliff has made him shy away from that stance.

"I care more about my country than I do about a 20-year-old pledge," he told the Macon, Ga., television station WMAZ on Wednesday. "If we do it (Norquist's) way then we'll continue in debt and I just have a disagreement with him about that."
GOP Sen. Lindsey Graham from South Carolina and Republican Congressman Peter King from New York had Chambliss' back, taking to the morning shows on Sunday to express their support for changing the current tax structure. Buffett, meanwhile, doesn't want these converts to just dither around with the tax code while more money flies out the door. He wants to see changes implemented immediately so "carried interest" stops converting labor income to capital gains and offshore tax shelters stop making it easy to duck payments.
His targets are revenues at 18.5% of gross domestic product and spending at 21% of GDP. Considering revenues are 15.5% of GDP now, while spending is still at 22.4%, there's still a lot of sacrifice to be made at both ends of the spectrum. CNBC's Robert Frank suggest that it's not just the rich who could stand to pay more taxes, as deductions drop the rate paid by folks making $30,000 to $100,000 to between 4.8% and 7.7% -- or far less than their standard rate.
True, but Buffett's continued line of argument is that those in the upper echelons can spare a little extra far more than the folks in the middle income brackets. As incentive to implement changes more quickly and assuage the fears of taxpayers below the "Buffett Rule" threshold, Buffett further suggests ending President George W. Bush's tax cuts for high-wage earners. The not-so-minor caveat would be changing the cutoff from an almost upper-middle-class household income of $250,000 a year to an unquestionably rich $500,000 a year.
Buffett's been talking about this for a while, but this past week has offered the first signs that people in Washington on both sides of the aisle are listening. Let's see who else let Buffett's ideas digest over the holiday weekend.
More from Top Stocks
DATA PROVIDERS
Copyright © 2014 Microsoft. All rights reserved.
Fundamental company data and historical chart data provided by Morningstar Inc. Real-time index quotes and delayed quotes supplied by Morningstar Inc. Quotes delayed by up to 15 minutes, except where indicated otherwise. Fund summary, fund performance and dividend data provided by Morningstar Inc. Analyst recommendations provided by Zacks Investment Research. StockScouter data provided by Verus Analytics. IPO data provided by Hoover's Inc. Index membership data provided by Morningstar Inc.
ABOUT
Top Stocks provides analysis about the most noteworthy stocks in the market each day, combining some of the best content from around the MSN Money site and the rest of the Web.
Contributors include professional investors and journalists affiliated with MSN Money.
Follow us on Twitter @topstocksmsn.