Is the Tea Party ruining the economy -- again?
As US debt negotiations go down to the wire, economic growth is stalling and markets are being stressed. Feels like the 2008 panic all over again.
With stocks sliding for the sixth day in a row, word that the economy nearly dipped back into recession in the first quarter and signs of stress already beginning to appear in the funding markets, I can't help but feel like the economy is headed for a repeat of the 2008 panic that deepened the housing bust and made what would have already been a painful recession even worse.
People wonder why, three years into the official recovery, unemployment is still above 9%, housing is stabilizing at best and job growth remains anemic. It's because of the policy errors in those fateful days three years ago. Those wounds -- caused by far-right Republican intransigence against President George Bush's bank bailout proposal and the free-market zealotry that allowed Lehman Bros. to fail -- did serious damage. Inter-bank lending dried up. Businesses couldn't fund normal operations. Purchases were withheld. Hiring was postponed.
We're still paying the price for those crass political acts today. And now, with the U.S. Treasury on the precipice of its first-ever credit default because of an unwillingness among freshmen Tea Party members in the House to compromise with Democrats or even their own party leadership threatens a repeat at a time of extreme economic vulnerability. In fact, forget 2008. There are parallels to the policy errors that prolonged the Great Depression. Here's why.
There are a lot of moving parts to this issue, to be sure. But a few big points stand out:
* If we breach the Aug. 2 deadline, it will have serious consequences even if the Treasury prioritizes bondholders and avoids default. The government has payment obligations of $363 billion for the month of August, compared with expected revenue of $203 billion. Cuts will be made. The Bipartisan Policy Center did an exhaustive study of the issue and found that the Treasury has no "secret bag of tricks" to finance the government past the deadline.
Hard choices would have to be made. If you made payments on interest, Social Security, Medicare or Medicaid, defense vendors and unemployment benefits, that's worth $172 billion. So there wouldn't be money to pay for things like active-duty military, veterans affairs, Federal salaries, the FBI, the federal courts and IRS refunds.

* From a cash-flow perspective, Societe Generale notes that a "selective default" on U.S. Treasury debt would likely happen on Aug., 4 when a $30 billion slug of T-bills mature. Another $30 billion matures on Aug. 11. And a whopping $1.173 trillion worth of repayments and interest payments are due and would likely result in outright default and rating downgrades. Aug. 15 is the day of reckoning.
* As I've mentioned in a number of columns over the past two years, the economic recovery has been hamstrung by structural issues caused by the nature of the recession -- defined by an asset price bust (housing), a credit bust (defaults) and banking panic (Lehman). Between August 2008 and the October 2008 low, the Dow Jones Industrial Average lost 35%. We've seen how financial turmoil has long-lasting effects on the real economy. It's not something to take lightly for the sake of scoring political points.
* The economy is extremely vulnerable. Because of the structural issues outlined above, growth has been anemic. To make matters worse, it's had to absorb the knocks from the European debt crisis, the Japanese earthquake-tsunami-n​uclear meltdown, food and fuel price spikes, Middle East turmoil and more. And like a battered boxer with the heart of a champion, it keeps getting off the mat. Just-released data show that first-quarter GDP slowed to just 0.4%, while second-quarter growth came in a 1.4%.
This is below the U.S. economy's stall speed and isn't enough to pull down the unemployment rate. Unless growth re-accelerates soon, the dynamics of the economy will pull it back into recession. The debacle under way in Congress is just the latest blow.
* The need for long-term fiscal consolidation is clear. I'm sympathetic to the urges of the Tea Party members to control government spending and cut America's out-of-control debt load that is swelling beyond the dangerous level of 100% of GDP -- a level that is associated with slower economic growth.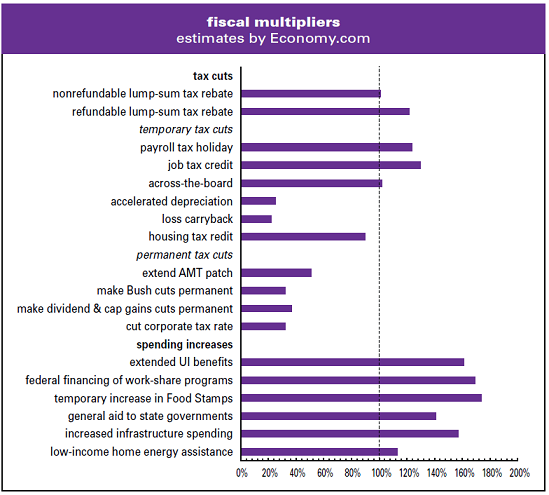 But as I discussed in a column back in February, there are a right way and a wrong way to go about fiscal austerity. Doing it all at once by deeply slashing discretionary spending programs is wrong. Doing it by holding the economy hostage is wrong. Doing it by relying entirely on spending cuts without tax increases is wrong. The chart above shows how extending the Bush tax cuts or cutting corporate taxes would provide very little economic benefit compared with things like middle-class tax cuts or infrastructure spending.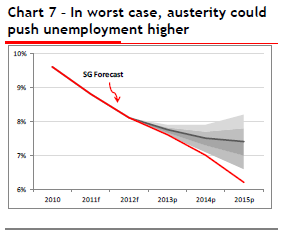 Doing it wrong, by cutting things that affect the economy more (like most spending programs) will push the unemployment rate higher, as illustrated by Societe Generale in the chart above.
The right way is to do it with a realization that part of the budget problem is related to the terrible state of the economy and that the "structural" deficit is tied mainly to popular entitlement programs. Mainly, I'm talking about health care costs, which I discussed in a recent blog post. If the Tea Party really wants to get tough and fix the problem, attack the free-for-all smorgasbord that is Medicare and Medicaid.
Getting it wrong is dangerous. As I wrote last October when covering the Tea Party's economic proposals heading into the mid-term elections:
"There is the dark parallel in these austerity proposals to President Herbert Hoover's tax hikes of 1932 and President Franklin D. Roosevelt's efforts to balance the budget in 1938, both of which magnified the effects of the Great Depression. And after all, it wasn't budget cutting that led the federal budget into balance during the 1990s; it was a tax hike, slower spending growth and a powerful economic boom."
It took a long time to get us into this mess -- and it's going to take a long time to get out. The first priority is ending the debt crisis before we have a repeat of the 2008 nightmare. The time for compromise is now. Second, we need a credible medium-term fiscal consolidation plan. Third, we need to look at ways to get the economy and the jobs market back on track. I suggested two ideas a few weeks ago.
And the thing is, the extreme position of the Tea Party -- massive spending cuts now with no tax reform -- is out of touch with where most Americans are, based on recent polling. This crisis isn't necessary. And the people don't want it.
I've been banging on the table over the past few months that the economy was showing hopeful signs of recovery. And indeed, initial weekly jobless claims dropped below 400,000 last week for the first time since April. If we don't get a quick resolution on the debt ceiling, all bets are off.
For investors, it's a difficult situation. Stocks are being hammered now, but no one knows when or whether a bipartisan compromise will be hammered out. And there is the issue of a possible credit downgrade from the rating agencies if a debt ceiling deal isn't accompanied by at least a $4 trillion cut to the deficit over 10 years.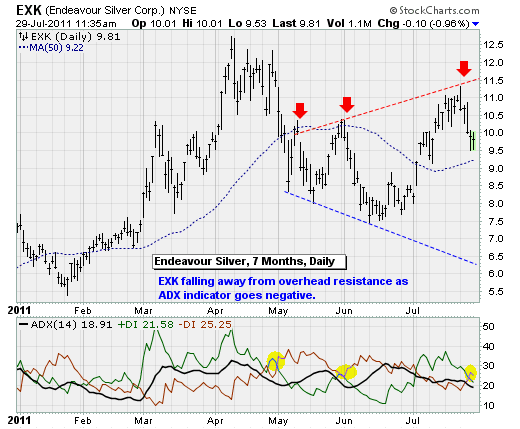 The best advice is to maintain a market neutral to mild short positioning by raising cash, targeting weak sectors and holding a few long positions in areas still showing strength -- a strategy I outlined in my column this week. For my newsletter subscribers, who are up 1% for the month, compared with a 3.6% loss for the S&P 500, that involves short positions like Endeavour Silver (EXK), which is down 2.8% as precious-metals stocks come under pressure.
The EXK short was found with technical screens developed with the help of Fidelity's Wealth-Lab Pro backtesting toolset. I'll add the position to my Edge Letter sample portfolio, which tracks my picks for MSN Money readers in real time here. (Editor's note: Fidelity sponsors the Investor Pro section on MSN Money.
Disclosure: Anthony has recommended EXK short to his newsletter subscribers.
Check out Anthony's new investment advisory service The Edge. A two-week free trial has been extended to MSN Money readers. Click here to sign up.
The author can be contacted at anthony@edgeletter.c​om and followed on Twitter at @EdgeLetter. You can view his current stock picks here. Feel free to comment below. 
DATA PROVIDERS
Copyright © 2014 Microsoft. All rights reserved.
Fundamental company data and historical chart data provided by Morningstar Inc. Real-time index quotes and delayed quotes supplied by Morningstar Inc. Quotes delayed by up to 15 minutes, except where indicated otherwise. Fund summary, fund performance and dividend data provided by Morningstar Inc. Analyst recommendations provided by Zacks Investment Research. StockScouter data provided by Verus Analytics. IPO data provided by Hoover's Inc. Index membership data provided by Morningstar Inc.
ABOUT
Top Stocks provides analysis about the most noteworthy stocks in the market each day, combining some of the best content from around the MSN Money site and the rest of the Web.
Contributors include professional investors and journalists affiliated with MSN Money.
Follow us on Twitter @topstocksmsn.