The right tech stocks are not overbought
Apple, Google and Baidu still have upside potential right now.

By
Ivan Martchev
On Feb. 28, the
Nasdaq-100 Index Trust
(
QQQ
), tracking the NDX, closed on the high tick of the day at $64.70. The level itself does not say much until you consider that the last time "the cubes" traded at such a price was February 2001. The 11-year highs prompted a message in my email box from a financial editor regarding my take on the on the issue
du jour
: Are technology stocks overbought?
My short answer: Not the right ones.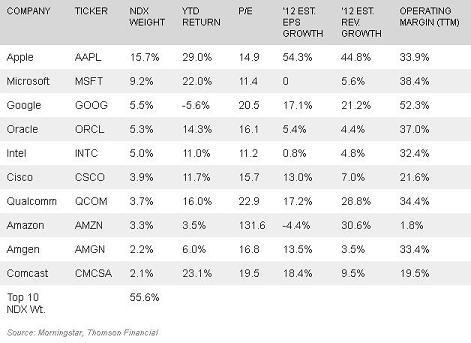 "Overbought" is a nebulous concept. It means different things to different people. Short-term aggressive traders looking to scalp the next point see it one way; analysts worried about earnings and growth potential see it differently.
One thing is certain: Eleven years ago, when the QQQ was in the $60s, the composition of that ETF was very different. Apple (AAPL) was barely making it and Amazon (AMZN) was mired in losses, while Google (GOOG) was not even public. Eleven years ago, shorting the cubes was a gift that kept on giving -- and for good reasons -- now only bullish strategies are paying off.
Apple sticks out like a sore thumb in the Nasdaq 100 (and the stock market in general) with a $500 billion market cap. We had similar market caps in 2000 from Cisco (CSCO) and the like, but there is now one huge difference with the tech bubble -- now there are profits. Tech stocks on average have little or no debt, fat operating margins and the biggest exposure to foreign exchange translation in the stock market. Since 2001, the dollar as measured by the U.S. Dollar Index is down from 120 to under 80, which has boosted foreign-generated earnings per share notably.
Apple trades at a price-to-earnings ratio of less than 15 because investors cannot believe that it can keep posting such incredible growth in earnings per share and sales, yet quarter after quarter, management keeps delivering. The stock has had the tendency to make huge moves around earnings releases as the surprises to the upside are digested by investors. With $97 billion in cash and 54.3% earnings per share and 44.8% revenue growth estimated for 2012, Apple is again defying the odds and the laws of large numbers (especially if that iPad 3 turns out to be as advanced as rumored).
Google (GOOG) is starting to remind me of Microsoft (MSFT) as it is trying to play catch up with Facebook (with Google+) and Apple (with the Motorola Mobility takeover). Unlike Microsoft, which missed the boat on so many tech trends in the past decade, Google still is agile and does have a dominant smartphone/tablet operating system (Jobs told his biographer Isacsson it stole from the iPhone OS).
Maybe Google will make great hardware someday -- those Motorola smartphones and tablets are nice -- and maybe Google+ will be a success. But it seems that they themselves have been outmaneuvered at several turns lately. Still, the popularity of Android is a way to dominate the smartphone/tablet market much in the same way Windows dominated PCs back in the day, except that PCs will be running Android the way things are going pretty soon (a tablet is more or less a computer with a touchscreen keyboard), so Google likely holds long-term potential.
Another "tech" stock that is not part of the Nasdaq 100 is Baidu (BIDU). Despite an 88.3% surge in earnings for full-year 2011, Baidu's ADRs advanced only 28.4% in 2011. There were plenty of headwinds during the year, none of which seemed to have affected the company's dominant search franchise in China. The only other more extreme dichotomy in recent memory is 2008, when Baidu's earnings per share surged from $18.11 (pre-split) at the end of 2007 to $30.19 at the end of 2008, yet the shares declined.
It seems like a huge strategic mistake on behalf of Google to pull out of the mainland Chinese market, as last quarter Baidu accounted for 78.3% of China's search-engine market by revenue, rising from 78.2% in the previous three months. Google's share dropped to 16.7% from 17.2%. This market share shrinkage by almost half for Google started after its decision to no longer comply with censorship laws since January 2010, in effect giving up its chance to effectively compete with Baidu in the world's largest Internet market. It is difficult to estimate how low Google's share can go, but this likely is a strategic mistake it will regret some day.
The average revenue per user in China is much lower for mobile customers because smartphones still are viewed as a luxury. As smartphone penetration grows, in addition to overall low Internet usage penetration, Baidu is likely to keep growing much faster than Google with much less competition. The shares are not overly expensive at 21.2 times forward earnings, which given the expected growth give credibility to the argument that they are cheaper than Google's (accounting for its projected earnings per share growth rate).
For 2012, consensus estimates call for sales and earnings per share to increase 55.6% and 53.6%, respectively -- Baidu still is in its hyper-growth stage. Growth is likely to slow due to the law of large numbers -- just like it did with Google -- but given the size of the Chinese market, it is unlikely to happen for a couple of years. China's Internet penetration rate is only 31.6%, while in the U.S. the number is 77.3%.
For buy-and-hold investors in the right technology stocks, "overbought" at present is not an issue.
But if you're not in the right technology stocks and want to play in the big leagues, may I suggest taking a look at the world's hottest tech stock?

Ivan Martchev is a research consultant with institutional money manager Navellier and Associates. The opinions expressed are his own. Navellier & Associates holds positions in Baidu and Apple for its clients. This is neither a recommendation to buy nor sell the stocks mentioned in this article. Investors should consult their Financial Advisor prior to making any decision to buy or sell the above mentioned securities.
Related Articles:
DATA PROVIDERS
Copyright © 2014 Microsoft. All rights reserved.
Fundamental company data and historical chart data provided by Morningstar Inc. Real-time index quotes and delayed quotes supplied by Morningstar Inc. Quotes delayed by up to 15 minutes, except where indicated otherwise. Fund summary, fund performance and dividend data provided by Morningstar Inc. Analyst recommendations provided by Zacks Investment Research. StockScouter data provided by Verus Analytics. IPO data provided by Hoover's Inc. Index membership data provided by Morningstar Inc.
ABOUT
Top Stocks provides analysis about the most noteworthy stocks in the market each day, combining some of the best content from around the MSN Money site and the rest of the Web.
Contributors include professional investors and journalists affiliated with MSN Money.
Follow us on Twitter @topstocksmsn.