Don't read too much into lagging transports
Feel free to worry away, but remember you are concerned about a subset, not the whole market.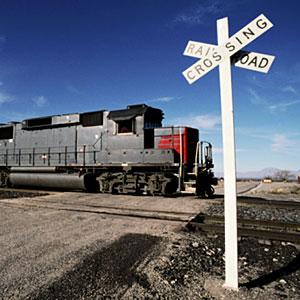 "Why is no one worried about transports?" Here's a question I was asked three times Friday, just offline, and online another three times this weekend.
That tells you two things. One, lots of people are worried about transports. Two, it doesn't seem to matter that lots of people are worried about transports, even amid nonconfirmation of Dow Theory, a most important and venerable idea that you can't sustain a broader rally if transports aren't on board to confirm the broader advance.
I have learned never to look through the Dow Jones Transportation Average. Whenever it does not confirm a Dow industrials climb, I always like to take a peek to see if "this time it is different" -- which is still one more form of code. When you don't want to be critical of the current advance and justify actions by saying, "this time it is different," you tend to your head handed to you.
My thinking is pretty clear as to why I thought the importance of this laggard index might be overblown in a newfound way -- coal. Think about it: Coal remains the most important cargo for rails, given that it can't be transported by truck. If you cut coal shipments, you cut into the core of coal earnings.
Given the lack of competitiveness to natural gas as a utility fuel, coal shipments to utilities have been curtailed drastically. Metallurgical coal-to-steel companies haven't been able to make up for the shortfall, because steel is more related to infrastructure and commercial construction, two subsectors have been in decline in the U.S. for years.
Coal's decline has been masked by the strength of other key cargos, namely in agricultural products, autos and fracking sand for natural gas wells. But the ag business took a real hit from the drought, and the bulk of fracking sand went to drilling natural gas wells -- a business that has slowed dramatically because of the natural gas glut. Only autos -- at a 14.5 million build, a boom-time figure -- have remained strong. Ag could come back with next year's harvest.
But coal has lost its competitive edge in a world in which you have to fix your old coal plants with expensive retrofitting because of a tough Environmental Protection Agency. It's simply better and cheaper to switch to natural gas, the former peak fuel. Exports of coal, which have doubled this year as China and India have remained voracious consumers, can't make up for the lack of demand because of a port shortage. That's particularly so out West, which limits Powder River Basin Coal from China.
But here's what worries me: When I look past rails, I see weakness in trucking, airlines and freight forwarding. In fact, only truck rentals -- such as Ryder (R) -- seem stronger than expected, and that's off a low base and a series of earnings warnings.
The woes of FedEx (FDX) and UPS (UPS) are representative of the trucking weakness, although they are clearly more internationally oriented. Yet the domestics are doing poorly, too. Airlines, or what's left of them, can't offset this, and they won't do so anyway. They aren't all that profitable, and oil has to come down substantially in order for them to make a difference.
Put all of this together and you are right to worry. So what's the saving grace? This rally has not been built on industrial stocks. It's been built on consumer packaged goods, health care, financials, telecom, the Internet and Apple (AAPL). These winners aren't shipped. So the weakness in transports, while important, simply isn't that representative of what's going up.
My take: Worry, and sell industrials because of the transports -- but, alas, these have nothing to do with the strength in Eli Lilly (LLY), Verizon (VZ) or Apple. They play a role in the advance, but not the role. So worry away, but remember you are concerned about a subset, not the whole market.

Jim Cramer is a co-founder of TheStreet and contributes daily market commentary to the financial news network's sites. Follow his trades for Action Alerts PLUS, which Cramer co-manages as a charitable trust and is long AAPL.
More from TheStreet.com

"Why is no one worried about transports?" Here's a question I was asked three times Friday, just offline, and online another three times this weekend.
That tells you two things. One, lots of people are worried about transports"
Err no it doesn't - it tells me that 6 people are "worried" and even then cramer probably made them up so he could spin his latest yarn around it.
Remember 5 years ago this man said stay out of the markets if you need the money in the next 5 years. The market was below 8000 ---- if you had followed his advice you would have missed an 80% or so gain. And he still has a job on TV and online !!!! WTF !!!

It's called "localization" as high fuel prices make shipping and travel unaffordable. Less vacations and more people choose to buy local or go without. It doesn't make much sense to buy  $5 item online when it's $8.95 to ship it. With the election coming up and surely more economic pain due regardless of who is elected, more consumer wallets are going to stay shut.

"My take: Worry, and sell industrials because of the transports..."
Great advice after you just told people to buy GE last week, not to mention at a 52 week high at that. While they may be listed as a technology and financial company, a HUGE part of earnings come from their industrial segment. Another worthless flip flop, pump and dump article.

Dear Active IRA,
That first thumbs up was me accidentally meaning to hit more to read the rest of your comment. First I actually I wasn't dissing Cramer on a personal bias. Second I didn't miss out on any rally. I have owned GE stock for that last 21/2 years and I bought in at about 16$ a share (you can read my comment from that article if you wish to confirm this) and am now up roughly 30% plus my reinvested dividends over that time, I'm also making over 4% dividends on my investment. Third I was referring to his article the other day about how everything in the world was great and how he said to buy GE at a 52 week high and now he says to get rid of industrials which despite what  you mentioned in your comment which  I already know is true about where GE gets its revenue, it also gets a rather large percentage from it's industrial unit. I'm not biased towards Cramer on a personal level because I have never and will never follow a word of his advice. His advice is just flat out bad and myself and 95% of the people that ever read his b.s. articles all know it. I guess your one of the 5%.
Are you sure you want to delete this comment?
DATA PROVIDERS
Copyright © 2014 Microsoft. All rights reserved.
Fundamental company data and historical chart data provided by Morningstar Inc. Real-time index quotes and delayed quotes supplied by Morningstar Inc. Quotes delayed by up to 15 minutes, except where indicated otherwise. Fund summary, fund performance and dividend data provided by Morningstar Inc. Analyst recommendations provided by Zacks Investment Research. StockScouter data provided by Verus Analytics. IPO data provided by Hoover's Inc. Index membership data provided by Morningstar Inc.
ABOUT
Top Stocks provides analysis about the most noteworthy stocks in the market each day, combining some of the best content from around the MSN Money site and the rest of the Web.
Contributors include professional investors and journalists affiliated with MSN Money.
Follow us on Twitter @topstocksmsn.