How skipping ads increases shameless plugs
More viewers are finding ways to avoid commercials, but some of their moves are hurting ratings and scaring advertisers.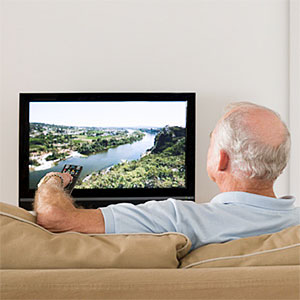 Hope you like streaming television episodes you missed and using your DVR to skip commercials, because you're killing free TV as we know it.
Yes, you, who can't be bothered to sit through 30 seconds of an advertiser's spiel just to get to your free showing of "Modern Family," "American Idol" or whatever else people like you are watching these days.

Oh yeah, we're talking to you, Mr. or Ms. "I won't pay Hulu Plus 8% a month to make me watch 10-second commercials." Remember your hardline stance against "The Man" the next time your favorite character blatantly plugs an automaker's small SUV in a road-trip episode while a member of the supporting cast clambers into the back and proclaims "I can't believe there's a third row back here!" in a perfectly natural and not-at-all-forced bit of dialogue.
Almost all the broadcast networks are struggling this year and blaming a commercial-skipping public for their woes. Little more than two months into the fall season, Disney's (DIS) ABC, CBS (CBS) and News Corp's (NWS) Fox have watched their collective ratings plummet roughly 10% among viewers 18 to 49. Though CBS has been the only network during that time to outright cancel a show -- cutting the legal drama "Made In Jersey" -- Fox's ratings alone have fallen nearly 30% in that span. Fox didn't have a show crack Nielsen's (NLSN) prime-time Top 20 last week and hasn't had one that popular all season. The one positive note comes from former cellar-dweller NBC, which is now No. 1 among viewers 18-49 after a 23% ratings jump among that demographic from last season.
Some of the blame rests with the programming itself. Disney chief executive Bob Iger told the Financial Times that the content ABC is dishing out is a big part of the reason its popularity has fallen nearly 7% among the 18-to-49 demographic.
"There seems to be somewhat of an absence of what I'll call new, big, real, buzz-worthy hits," Iger says, alluding to costly, ratings-averse dramas like "Last Resort" and "666 Park Avenue." Fox's woes, meanwhile, also seem tied to expensive duds like "The Mindy Project," "Ben & Kate" and "The Mob Doctor."
Other execs and advertisers, however, point the finger of blame directly into the commercial-hating mug of DVR users and streamers.
"People are watching more programming than ever but they are increasingly time-shifting," said Les Moonves, chief executive of CBS, in a conference call last week.
While CBS, ABC, NBC and Fox argue that all that watching means people want more of their content than ever, it's going to be a hard sell to advertisers who pump $70 billion into the television industry and have to be swayed to do so each spring. Even the networks don't seem to believe those sponsors will pay more for additional exposure they're already paying for.
Fox, CBS and Comcast's (CMCSA) NBC Universal have already sued Dish Network (DISH) this year to halt use of the company's Hopper set-top box, which records all the major networks' prime-time shows, stores them for eight days after their initial broadcast and allows customers to skip all commercials without fast-forwarding through them by pressing the AutoHop button. The networks claim the AutoHopper service will destroy the "advertising-support​ed ecosystem" that provides free, over-the-air prime-time TV and that copies of the shows that Dish's hopper creates constitute copyright infringement. A U.S. district court judge denied Fox's bid to block the service, but ruled that the box's recording violated Fox copyright.
Meanwhile, TVGuide survey results last month found that nearly three quarters of viewers who subscribe to streaming services like Netflix (NFLX), Hulu Plus and Amazon (AMZN) Prime do so to catch up on TV episodes. When they do so on Netflix and Amazon, though, those episodes come through commercial free.
Advertisers already know this and are trying to sneak more ads into the episode content itself. Fox's "The New Girl" already rankled viewers with its in-episode pitch (see it on YouTube) for the Ford (F) Fusion while ABC's "Revenge" basically let Target (TGT) and Neiman Marcus build an alternate show reality within their ad campaigns on Sunday. Meanwhile, NBC's "30 Rock" has been taking a ham-fisted approach to placement of Apple (AAPL) products and other branded bill payers for years.
The pitched battle over shameless shilling came to a head this week when Anthony Bourdain, host of the Travel Channel's "No Reservations," lashed out at a campaign for General Motors' Cadillac brand that aired during his show and, he says, used his likeness without permission. Bourdain is leaving the show this month for a gig at CNN, but says the doctored Cadillac clips were just another example of networks -- or, in this case, Travel Channel parent company Scripps Networks (SNI) -- trying to fuse shows with commercial content that savvy viewers would otherwise skip right past.
"There's pressure from networks to 'integrate' products into the body of the actual shows whenever possible: to slip images of brands right into the action, or to transitions into commercials in such a way as to make the viewer think that it's still the show they're watching," Bourdain said in a blog post. 
Of course it isn't, but networks and their advertisers aren't really concerned about your feelings once you've been tricked. There are billions on the line and since you don't have the patience for jingles and poor acting anymore, companies and networks are going to try to get you to buy brands in the sneakiest ways possible. If that means stilted dialogue, awkward product placement and gratuitous displays of logos, vehicle grills, laptops, smartphones and just about any other everyday billboard a character can hold, so be it. Unless you're up for paying those commercials away, "free" comes at a cost.

More from Top Stocks

DATA PROVIDERS
Copyright © 2014 Microsoft. All rights reserved.
Fundamental company data and historical chart data provided by Morningstar Inc. Real-time index quotes and delayed quotes supplied by Morningstar Inc. Quotes delayed by up to 15 minutes, except where indicated otherwise. Fund summary, fund performance and dividend data provided by Morningstar Inc. Analyst recommendations provided by Zacks Investment Research. StockScouter data provided by Verus Analytics. IPO data provided by Hoover's Inc. Index membership data provided by Morningstar Inc.
ABOUT
Top Stocks provides analysis about the most noteworthy stocks in the market each day, combining some of the best content from around the MSN Money site and the rest of the Web.
Contributors include professional investors and journalists affiliated with MSN Money.
Follow us on Twitter @topstocksmsn.