Is McDonald's or Chipotle a better buy?
Despite reporting a decent quarter, McDonald's may not be able to hold a candle to Chipotle stock.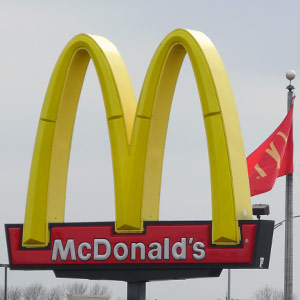 By 
Tim Parker
McDonald's
(
MCD
) reported earnings Wednesday morning that beat analyst expectations. The stock was up 0.5% in late-day trading.
The company posted earnings of $1.38 per share on $6.95 billion in revenues.
Analysts expected earnings of $1.33 per share with fourth quarter sales of $6.89 billion. The results were lower from the previous quarter figures of $1.33 earnings per share and $7.15 billion in sales.
Global comp sales were up 0.1% versus analyst expectations of a decline of 0.3%. This was welcome news for the company. Analysts had largely written off the quarter, expecting the fast-food chain had fallen victim to a tepid and penny-pinching consumer that saved money as the fiscal cliff loomed.
According to the company's
press release
, CEO Don Thompson said, "We have a brand advantage in convenience, menu variety and value, a resilient business model, and the experience and alignment throughout the McDonald's System to navigate the current environment. For the near-term we expect top and bottom-line growth to remain pressured, with January's global comparable sales expected to be negative."
McDonald's remained downbeat on near-term economic conditions and cautious about growth in the coming quarters -- it believes that January same-store sales will be negative. On a more upbeat note, the release noted that the chain plans to open 1,500-1,600 new restaurants while reinvesting in existing stores. The slow environment, the release noted, is an opportune time to invest in new stores.
McDonald's has gained more than 10% in value since November despite challenging economic conditions, but is this "mature" fast food stock a better pick than a name like
Chipotle
(
CMG
)?
Sure, fast food aficionados will say that Chipotle is a different class of restaurant. Fast casual versus fast food, but regardless of the distinction, which is growing faster?
Chipotle began as a fast food darling. Its rapid multiple expansion indicated that investor excitement was through the roof and, as the chart indicates, outsized. Chipotle was priced for perfection and once it failed to meet those lofty expectations, the stock plunged.
After reaching a peak of $438, more than 55 times earnings, the big miss came in July.
Since that time, the stock is down more than 27% and now trades at 28 times forward earnings. This puts the company more in line with the industry average of fast food restaurant peers such as
Panera
(
PNRA
) and
Starbucks
(
SBUX
)
McDonald's stock  also had a tough 2012, but saw a more respectable loss of 8%. Its forward price-to-earnings ratio of 16 is lower than the industry average and pays a healthy 3.3% dividend.
More from Benzinga

Has anyone ever died from eating their hamburger's or nuggets. It's been around since I have been a kid. It's one of the first and I will continue to eat periodically at McDonalds. By the way I work out and splurge at times and love it!!!!!!!! You will be amazed at the things you eat on a daily basis. Everything we eat in this country has some sort of bad in it. People just got to complain about something!!!!!!!!!

hI wont eat there EVER again after I see what they do to the animals .. Did you know your eating every part of the cow? They say their is at least 100 different cow parts in 1 hamburger. And they force the cows to stand in their crap, up over their knees, some are so over weight they fall to the ground and the people will shock them to force them to walk to their death.. cows falling, and stumbling in pain, while a for lift jams its spikes into a  wounded cow to make her get up off her knees to walk to her death.

The chicken nuggets, those poor chickens NEVER see day light, they shove 500 thousand in a tent pumping them with steroids, the birds are so over weight they just lay  there and die. The ones that manage to survive the pick up and chunk in the grinder. Yep you guessed it, your eating everything in the chicken too.

Lawsuits in other countries are piling up on Mc Donalds because of all of the deadly chemicals in their meat and poultry  to kill the the flavor of their urine and crap your ingesting.  Nope.. Wont buy Tyson Chicken either, since they are the one who are packaging most of the food products.

Now  I research where I eat and where they buy their food. I know the animal is going to be put to death, but seriously do you have to make their entire life a living hell and then feed it to the people, what is wrong with these companies?


Are you sure you want to delete this comment?
DATA PROVIDERS
Copyright © 2014 Microsoft. All rights reserved.
Fundamental company data and historical chart data provided by Morningstar Inc. Real-time index quotes and delayed quotes supplied by Morningstar Inc. Quotes delayed by up to 15 minutes, except where indicated otherwise. Fund summary, fund performance and dividend data provided by Morningstar Inc. Analyst recommendations provided by Zacks Investment Research. StockScouter data provided by Verus Analytics. IPO data provided by Hoover's Inc. Index membership data provided by Morningstar Inc.
ABOUT
Top Stocks provides analysis about the most noteworthy stocks in the market each day, combining some of the best content from around the MSN Money site and the rest of the Web.
Contributors include professional investors and journalists affiliated with MSN Money.
Follow us on Twitter @topstocksmsn.