HP resembles a pitiful, helpless giant
Hewlett-Packard is faltering hard, losing market share to Apple and EMC.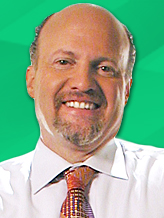 There are lots of takeaways from Hewlett-Packard's (HPQ)earnings report -- besides what a loser company it seems to have become.
Here are the three biggest:
1. The enterprise is still strong, which means that EMC (EMC) is seeing great strength, although it will most certainly be knocked down by the "sweeping generalization" types. This is cloud/virtualization​; the group got hit Tuesday and most likely will be today -- a good place to buy.
2. The personal computer is weak. We don't know whether that's because of the Apple (AAPL) competition and the iPad freezing the market, but it seems like a decent bet. The decline is too big to explain it away by saying weak consumer demand, especially given how strong both smart-phone and iPad sales are. This is looking more and more like Apple has a completely destructive technology.
3. The low-end router biz of HPQ is eating Cisco's (CSCO) lunch but isn't doing so well for HPQ's margins. Hewlett is making too many low-end deals on routers that are taking away core Cisco business.
Post continues after video:
The conclusion: Rather than say the industry is soft, it seems more accurate to conclude that HPQ is faltering -- and faltering so hard that it is losing share to Apple and EMC, although the latter is harder to prove, because it is so robust.
Here's where I am coming out: Apple is to Hewlett as all of the other discounters are to Wal-Mart (WMT). In other words, some of the newfound better-than-expected​ growth is coming out of one company -- HPQ -- and into another.
If you think back to Dell (DELL), you could draw the same conclusion. The Apple iPad is that powerful. Hewlett seems to be a spent company, a consumer play with some corporate biz that is not strong enough to offset the weakness. In that sense, still one more parallel to big dogs doing badly: Cisco. Its consumer business is struggling, too, and is up against some solid competition in a shrinking desktop market because of saturation and a decline in capital expenditures.
Given how big the installed base is for HPQ, given how strong the iPad is coming on, this ugly trend may be in its infancy, which is why it makes so much sense that HPQ is down so much. In early trading today, shares were down 11.4% at $42.73.
Moreover, HPQ continues to while away its shareholders' money by spending $2.3 billion on buybacks and $175 million on dividends. To me, the buyback is a gigantic mistake that the company -- like so many tech companies, including Cisco -- refuses to own up to. Without that dividend protection, without momentum, without strategy, HPQ seems like a pitiful, helpless giant that remains a sell, even after this decline.
At the time of publication, Cramer was long Apple and EMC.
Jim Cramer is co-founder and chairman of TheStreet. He contributes daily market commentary for TheStreet's sites and serves as an adviser to the company's CEO.
Follow Cramer's trades for his charitable trust.
Related Articles

It's obvious why the PC market is slumping as the i-pad and i-phone flourish...most people used their PC to access the Internet, chat, etc. They rarely used the computing power of their machines to "compute" anything. Now they can perform their mindless activities from a carry-around device and maximize the time they waste on texting, chatting, and posting about their miserable lives on social networks.
HP has been on a downward spiral since they fired Mark Hurd....then they go and hire a guy with a second rate performance record and resume. They need an entirely new Board of Directors who will make the right decisions or else they will continue to fall. As a long time HP stockholder I am about ready to dump this one.

Both Dell and HPQ should deemphasize their consumer PC business, Dell has already begun, IBM got totally out and they invented the PC, and focus more and more on enterprise hardware and software infrastructure.  It's not so much that Apple has destructive technology, form is not technology, it's that the PC (desktop, notebook,etc.) are now commodities that are better left to Asia (Levono, Samsung, Toshiba, etc.) just like TVs.  Apple maintains higher margins since it has no competition with the same hardware and software combination.  Intel and Microsoft have the highest margins because they have no competition with the same combination.  HPQ's downside is that in deemphasizing PCs they they will become a smaller company in terms of revenue but with higher margins.  That's OK, it's the most profitable enterprises that survive not those with the largest revenues.   Only governments with large revenue and large losses are survivable.
Are you sure you want to delete this comment?
DATA PROVIDERS
Copyright © 2014 Microsoft. All rights reserved.
Fundamental company data and historical chart data provided by Morningstar Inc. Real-time index quotes and delayed quotes supplied by Morningstar Inc. Quotes delayed by up to 15 minutes, except where indicated otherwise. Fund summary, fund performance and dividend data provided by Morningstar Inc. Analyst recommendations provided by Zacks Investment Research. StockScouter data provided by Verus Analytics. IPO data provided by Hoover's Inc. Index membership data provided by Morningstar Inc.
ABOUT
Top Stocks provides analysis about the most noteworthy stocks in the market each day, combining some of the best content from around the MSN Money site and the rest of the Web.
Contributors include professional investors and journalists affiliated with MSN Money.
Follow us on Twitter @topstocksmsn.