Why Wal-Mart could be an $80 stock
The giant retailer is taking some right steps to improve store productivity.
By 
Trefis
 Jan 11, 2013 11:19AM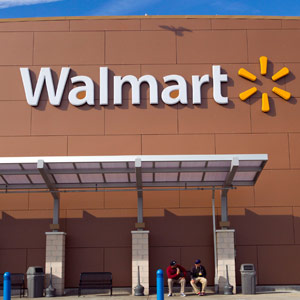 Wal-Mart
(
WMT
) is the largest retailer in the world with close to $450 billion in annual revenues. The retailer operates its typical big box stores in the U.S. and international markets, which combined account for more than 90% of its estimated value.
Our price estimate for Wal-Mart stands at $80
, implying a premium of about 15% to the market price. Here we take a look at some of the key factors that can drive the retailer's stock going forward.
Given Wal-Mart's large presence in the U.S., it is taking steps to improve its store productivity. The retailer is also looking to open smaller format stores in the urban areas. The growth in international markets also looks promising as some of the biggest emerging economies remain largely untapped. Wal-Mart has also increased its focus on social media and technology to attract more customers.
For these reasons, we think the company will continue to grow sales and improve operating margins, driving the stock price higher.
Shifting focus to increasing store efficiency
Opening more supercenters and large format stores may not be a possibility given Wal-Mart's massive presence with 3,868 stores in the U.S. in 2012. Therefore, instead of store expansion the company is focusing its efforts on increasing productivity of its existing stores in the U.S. To achieve this, the retailer has been remodeling its stores and converting a lot of its discount stores to supercenters. Discount stores offer a wide assortment of general merchandise and limited variety of food products, whereas supercenters offer a full-line supermarket along with a wide assortment of general merchandise. We note that while Wal-Mart closed 446 discount stores between 2007-2011, it opened 773 new supercenters. We expect this trend to continue in the the near future.
Smaller format store growth in urban areas
Wal-Mart's executives have indicated that the retailer's future stores will occupy 8% less space, cost 16% less and will run more efficiently. Wal-Mart's smaller stores, called Express stores, are one-tenth the size of a typical Wal-Mart supercenter, and offer 15,000 items in comparison to 100,000 offered at a supercenter. Although their size is much smaller, Express stores offer day-to-day groceries and general merchandise and are focused on attracting customers who shop regularly for their daily needs.
Wal-Mart opened its first Express store in June 2011 and had 11 stores operational at the end of July 2012. We believe that this format can be successful in big cities, which have space constraints and where busy schedules limit many customers from driving to a supercenter.
International business driving growth
Wal-Mart is focused on expanding in emerging markets. In 2011, Wal-Mart acquired a 51% stake in Massmart for $2.4 billion. Massmart runs nine wholesale and retail chains with approximately 288 stores in 14 African countries. Wal-Mart believes that South Africa is a key market for growth, accounting for roughly 20% of the consumer spending in the African continent.
Wal-Mart is also looking to expand its online presence in certain important markets such as the U.K., China and Brazil. Recently, it acquired a major stake in Yihaodian, a Chinese e-commerce retailer. With this acquisition, Wal-Mart hopes to expand its market share in China and improve its overall reach in the country.
Additionally, the growth in the Latin American countries such as Brazil and Mexico has been substantial, where Wal-Mart's annual revenue growth has averaged more than 10% over the last two quarters. In 2012, the retailer also revealed plans to open stores in the second most populous country in the world, India, within the next two years.
Although the international markets contribute about 28% to the retailer's revenues currently, they account for more than 40% of its value due to higher expected growth from this segment. Wal-Mart currently operates around 6,000 international stores and has opened roughly 600 new stores annually over the past five years. Going forward, we expect Wal-Mart's international expansion to slow, but it will still remain significantly higher than its growth in the U.S.
We note that the revenue contribution of Wal-Mart's international business has increased from 22% in 2006 to 28% in 2011, and further expect it to increase to 35% by the end of our forecast period.
Focus on social media & technology
Wal-Mart has made strong efforts to improve its IT capabilities and has leveraged social media in order to reach its prospective customers. Its digital technology unit, @WalmartLabs, creates platforms and products around social and mobile commerce. Since its inception, @WalmartLabs has been actively scouting for acquisitions. In November 2011, it acquired Grabble, the maker of 'point of sale technology' that ties in with mobile phones. Wal-mart is also trying to leverage social media to drive its sales. In 2011, it partnered with Facebook and also acquired Kosmix, a social media company to promote its offerings.
Given the increased usage of mobile devices and social media, Wal-Mart's investments in this arena are likely to payoff and help it in facing competitive threat from online retailers such as Amazon.
Risk: Cannibalization and slow Economic growth

Like any retailer, Wal-Mart's long-term sales and income growth depend largely on the its ability to open new stores and expand into new markets. However, due to Wal-Mart's size, it runs the risk of cannibalizing its own sales in the U.S. It will be interesting to see if expansion into urban areas with its smaller format stores has an impact on sales at its supercenters.
Wal-Mart currently operates around 4,000 stores in the U.S. market including discount stores, supercenters and neighborhood markets. From 2007-2009, Wal-Mart has opened around 100 stores annually. We expect this slowdown to continue in near future.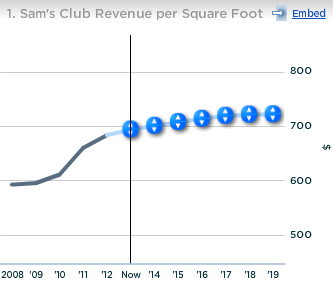 In addition, the retailer's growth may also be hindered by slow growth in the U.S. economy. Given that its U.S. operations account for more than 50% of its value, the state of the U.S. economy remains an important factor driving Wal-Mart's stock.
DATA PROVIDERS
Copyright © 2014 Microsoft. All rights reserved.
Fundamental company data and historical chart data provided by Morningstar Inc. Real-time index quotes and delayed quotes supplied by Morningstar Inc. Quotes delayed by up to 15 minutes, except where indicated otherwise. Fund summary, fund performance and dividend data provided by Morningstar Inc. Analyst recommendations provided by Zacks Investment Research. StockScouter data provided by Verus Analytics. IPO data provided by Hoover's Inc. Index membership data provided by Morningstar Inc.
ABOUT
Top Stocks provides analysis about the most noteworthy stocks in the market each day, combining some of the best content from around the MSN Money site and the rest of the Web.
Contributors include professional investors and journalists affiliated with MSN Money.
Follow us on Twitter @topstocksmsn.