Spat settled: Zombies back on Dish Network
A $700 million settlement between the satellite provider and AMC Networks ends a 3-month blackout.
Rest easy, Dish Network (DISH) subscribers: Your zombies, meth dealers, alcoholic ad execs and Portland hipsters are back.
"The Walking Dead," "Breaking Bad," "Mad Men," "Portlandia" and other AMC Networks (AMCX) shows are returning to Dish Network after the satellite provider reached a settlement with AMC Networks and its former parent company Cablevision (CVC) in a dispute dating back to 2008. AMC was back on Dish Network Sunday for the second episode of "The Walking Dead," but IFC, Sundance Channel and We TV won't return to the lineup until Nov. 1.
If you're a Dish customer still wondering what the kerfuffle was all about or a non-Dish television viewer who wonders why a company would block access to some of the most water cooler-worthy shows on television, let's go back to the year of the last presidential campaign for a second. In 2008, Cablevision sued Dish in 2008 over a now-long-dead HD satellite service called Voom. Cablevision claimed Dish breached a 15-year contract to offer the service to its 14 million TV subscribers.
AMC kept that suit going and sought $2.4 billion in damages. A jury trial was already underway in New York State Supreme Court in Manhattan and the situation outside the courtroom was as ugly as the legless, bloated undead.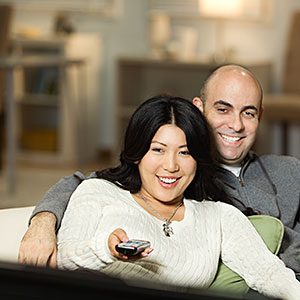 Dish dropped AMC on July 1, just two weeks before the season premiere of "Breaking Bad." That prompted a flurry of AMC ads telling viewers to petition Dish for the network's return and to make videos chastising Dish for its decision. Dish Network Chairman Charlie Ergen fired back with some schoolyard jabs about how Dish subscribers, who make up about 13% of the homes that get AMC, don't really watch AMC Network shows anyway. He insinuated that the shows' low ratings and availability on Netflix (NFLX) diminish their value. Also, they're not particular favorites at the Ergen compound.
"I've had satellite television for as long as satellite television has been around and there's never been one minute that I know of anybody in my family, or anybody who's came to my house, has ever watched one second of any of those channels," Mr. Ergen said during a conference call in August.
Apparently, news of some of those Emmy wins for "Breaking Bad" made their way into the Ergen family breakfast nook, as Dish agreed to pay Cablevision and AMC $700 million and enter into a long-term distribution agreement with AMC Networks to carry its channels.
Dish Network is the No. 3 pay-TV company in the country behind No. 2 DirecTV (DTV) and market leader Comcast (CMCSA), and is starting to feel some of their pain when it comes to negotiating with content providers. DirecTV, for example, yanked MTV, Comedy Central, Nickelodeon and other networks out of its lineup in July during a dispute with Viacom (VIA). That dispute was resolved before August, with the Viacom networks returning to air and DirecTV paying 20% more for the privilege of airing them.
Dish was in an even shakier position once its dispute with AMC headed to court this year. The satellite company was accused of deleting relevant e-mails before trial and was admonished by the trial judge for not disclosing evidence to him. Worse still, the provider forced "Breaking Bad" fans to miss the first portion of its two-volume final season.
While Dish Network execs asserted back in July that cable and satellite providers were growing increasingly powerful, Dish and DirecTV's struggles this year say otherwise. While spokespeople for both Dish and AMC issued glowing statements about each other after their settlement, AMC's take seemed to come with a lesson:
"We are glad to partner again with Dish Network and are delighted to bring back our popular channels and programming to their customers," said Josh Sapan, CEO of AMC Networks, in a statement Sunday.
When cable or satellite customers pay a premium for content and it suddenly disappears, they have to make a decision. If that decision's based in their wallets, they'll likely just stand pat and accept that doing nothing is often less expensive than doing something. If that decision's based on what's on their screens, then they'll just go where their favorite shows are. The AMC dispute was rooted in the latter, and even payments from fans of low-rated shows can make a big difference for third-place Dish.
More from Top Stocks

DATA PROVIDERS
Copyright © 2014 Microsoft. All rights reserved.
Fundamental company data and historical chart data provided by Morningstar Inc. Real-time index quotes and delayed quotes supplied by Morningstar Inc. Quotes delayed by up to 15 minutes, except where indicated otherwise. Fund summary, fund performance and dividend data provided by Morningstar Inc. Analyst recommendations provided by Zacks Investment Research. StockScouter data provided by Verus Analytics. IPO data provided by Hoover's Inc. Index membership data provided by Morningstar Inc.
ABOUT
Top Stocks provides analysis about the most noteworthy stocks in the market each day, combining some of the best content from around the MSN Money site and the rest of the Web.
Contributors include professional investors and journalists affiliated with MSN Money.
Follow us on Twitter @topstocksmsn.