Don't fight the 'fiscal slice'
The market looks overvalued but is giving bullish signals nevertheless.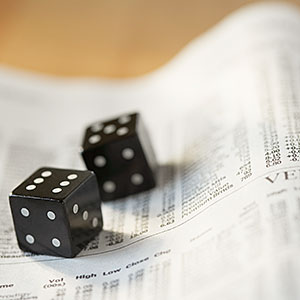 The "fiscal slice" -- the recent congressional agreement to avoid the fiscal cliff -- was met with initial jubilation, but investors are now wondering what will come next. There are a few things that we know and a few that we don't know, but there is a simple rationalization that will allow us to move forward regardless.
We know:
1.  The current multiple of the S&P 500 is 16.25.
2.  The earnings growth rate for the S&P 500 in 2012 was 4.16%.
3.  GDP growth averaged about 2.57% in 2012.
4.  There is a clear relationship between low GDP and low earnings.
5.  GDP is expected to grow by only 1.9% after the "fiscal slice."
My assessment on earnings and market valuation is that the multiple is undeserved given current and expected earnings growth rates. However, the jubilation still exists.
We also know:
1.  QE3 sounds good on paper -- $85 billion per month.
2.  But the U.S. treasury also sells $74 billion more bonds every month as well.
3.  The "fiscal slice" will take about $16 billion per month out of the system.
4.  The real liquidity added to the system per month is roughly -$5 billion.
5.  QE3 is not stimulative like QE2, but it does increase the velocity of money.
We know:
1.  The Investment Rate tells us we are in the third major down period in U.S. history
2.  This is like the Great Depression and stagflation; it tells us this will last until 2023.
3.  The rate of change in the decline of the Investment Rate gets more negative after 2012.
4.  The Investment Rate is natural and inevitable.
5.  This is a demographic study that has never been wrong.
With no real stimulus the economy is actually left to grow more naturally, and therefore the Investment Rate will likely result in a slow but steady economic deterioration as this year progresses.
However, the market is always right, even when it is wrong. We cannot impose our will on it. If the market is poised to move higher than we must respect that, as we must do if it is poised to move lower. At least for now, the market appears poised to move higher. It broke above important Fibonacci-based inflection levels on Wednesday, and if it stays above these further gains in the S&P 500 (
SPY
), NASDAQ (
QQQ
), and Dow Jones Industrial Average (
DIA
) appear likely. In addition, the Russell 2000 (
IWM
) has broken above a major longer-term resistance line, which is also a bullish sign.
Although my assessment is clear and rational, please notice the conditional tone and take it to heart.  From both a valuation and a macroeconomic perspective the market has no business rising from these levels. But the market is always right and we must respect what it does and where it is going. 
Purposefully my asset allocation models are not dependent on market direction and can work regardless of where the market goes. For example, the Swing Trading strategy -- which only returned about 14% last year, lagging the S&P -- can work if the market rises, falls or moves sideways. I suggest investors adopt a similar model because the market is not acting rationally, but we can't fight it.
Find more from Stock Traders Daily here.  

I believe we have more to fear from banks than from a standing army.  That's never been more true than now.
Don't blame the Fed. for everything.  The fiscal policy side is totally corrupted.  Even if the Fed were absolutely perfect it couldn't fix the corruption(corporate​ welfare for campaign help) that is so deeply imbeded in our Congress and the Presidency.  And, don't put all the blame on the Presidency.  It is the House of thieves that carries the purse strings.  They never met a corporate welfare bill they didn't like.
That's the reason the incumbents have the advantage in elections.  And it's all legal.  Of course it is.  Why would congress (incumbents) pass a law against themselves?
I doubt there has ever been a fiscal bill passed that wasn't packed with corporate welfare, pork, and similar remunerations.

Raising taxes is a tried and proven method for SLOWING down any economy.   No tax increase ever created demand nor has one generated economic growth.
We have increased our debt from 10.2 trillion to 16.4 trillion in under 4 years.  We are projected to top 21 trillion over the next  4 years.  
This democrat idea that you can Borrow and Spend your way out  of debt is insane.
Neither can we Tax and Print our way to prosperity.  We need to SLASH government spending.  Instead we have increased it from 2.95 trillion in 2008 to 3.8 trillion this year.  Tax revenue will top 2.7 trillion in the coming year, a record.   We need to slash defense spending by 200 billion.  We need to then slash the rest of the budget 1 trillion.   THIS year  not 10 years from now that never comes.  
Instead we have the Lazy, Arrogant, Corrupt Imbecile Obama wanting more (in his own words "FAILED LEADERSHIP") debt.   He refuses to cut spending.  He insists on mortgaging our children's future.  He insists on devaluing the dollar via inflation.
The people that voted for this idiot deserve everything they get.   How is that first paycheck of the new year working out for ya?

Since there has been free lawn care, etc., in Hillsborough County, Florida via the rats,  I am figuring the Federal Reserve doesn't have the balls to stop back door banking, ergo the low interest rates continue.  My concern, I don't want another fiscal clift, and since we have started the new year with free stuff like the last starring the rats, what will happen at the end of this year? 

The real truth, back door banking for free stuff to the rat inner circle means unstable financial institutions.  Alright, I didn't receive my free car, truck, home, etc., etc.

How do you get on the rat kiss ars list for free stuff anyways?



GDP is expected to grow by only 1.9% after the "fiscal slice."
Expected to grow only 1.9% by whom?  So we take a $100 month of FICA out of 150m pay checks and that's going to cut GDP growth by .6% of $16,000,000,000,000?​ That would be a cut of $96 billion caused by a $15 billion increase in payments to Social Security and that's not going to happen.
The economy may slow down to 1.9% GDP growth in the first quarter because if the FUD created by articles like this one but it'll speed up if Congress doesn't crash and burn increasing the debt limit.
Are you sure you want to delete this comment?
DATA PROVIDERS
Copyright © 2014 Microsoft. All rights reserved.
Fundamental company data and historical chart data provided by Morningstar Inc. Real-time index quotes and delayed quotes supplied by Morningstar Inc. Quotes delayed by up to 15 minutes, except where indicated otherwise. Fund summary, fund performance and dividend data provided by Morningstar Inc. Analyst recommendations provided by Zacks Investment Research. StockScouter data provided by Verus Analytics. IPO data provided by Hoover's Inc. Index membership data provided by Morningstar Inc.
ABOUT
Top Stocks provides analysis about the most noteworthy stocks in the market each day, combining some of the best content from around the MSN Money site and the rest of the Web.
Contributors include professional investors and journalists affiliated with MSN Money.
Follow us on Twitter @topstocksmsn.