Obama, GOP face off at the edge
With a second term secured, the president squares off against Congressional Republicans with deadlines on the fiscal cliff and the nation's debt ceiling fast approaching.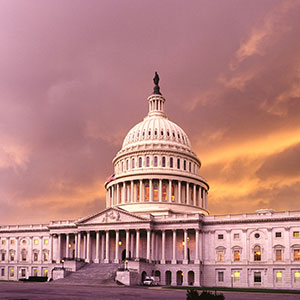 Wecome to Obama vs. the Tea Party, Round 2.
Apparently, suffering through the economic and financial turmoil of August 2011, when the U.S. Treasury lost its "AAA" credit rating from Standard & Poor's as President Obama and Tea Party Republicans in the House fought over the nation's debt limit, wasn't enough.
Because on Election Day, Americans kept the fight going. And the stakes are higher this time.
As I've been writing over the last few weeks, the "fiscal cliff" of tax hikes and spending cuts worth some 5% of GDP are set to hit on Jan. 1 unless action is taken. The cliff is made up of tax cuts and spending hikes that have been a source of gridlock on their own. (See the seven parts of the fiscal cliff.)
Now, we're facing a fiscal cliff deadline, plus the country is again approaching its debt limit, now at $16.4 trillion. Add in a nervous business community, recent pullbacks in capital investment, hiring and stocks, and this is shaping up to be a battle royale. Here's where I hope the politicians take us.
As I said in my recent column on the subject, avoiding the cliff by keeping taxes low and spending high will cause the national debt to explode -- an option that will eventually weigh on economic growth and worsen the deficit via higher interest costs. And jumping off the fiscal cliff isn't really a viable option either since it will torpedo the economy and result in a recession/deficit death spiral of the like being suffered by Greece.
So we need a compromise solution focused on short-term pro-growth measures mixed with an attack on the structural, medium-term drivers of the deficit which are, mainly, out-of-control healthcare cost inflation. When people get jobs and make more money, they will pay more taxes and absorb less government benefits.
That will fix the cyclical deficit. But underfunded health-care entitlements will kill us, fiscally, unless we act. As things stand, the Congressional Budget Office believes the cost of government health care spending will grow from 5.4% of GDP now to 12% by 2055. And before people get upset at the term "entitlements," know that a typical middle-class couple retiring in 2010 is on track to collect $387,000 in Medicare benefits after paying in only $156,000 in taxes.
Republican House Speaker John Boehner has opened the door a little, saying he is looking for a temporary reprieve from the fiscal cliff during the current lame-duck session to give Washington time to work on a deal in 2013.
On the tax issue, he believes raising taxes on the wealthy, which Obama wants to do, will further damage the economy by slowing job creation. This is an important point I've discussed before, given that many pass-through small business entities pay the personal income tax rate and are having trouble raising capital from banks right now.
Instead, Boehner proposes adding revenue by reforming the tax code. This plan for a simpler, cleaner tax system with fewer loopholes could boost tax revenues while still boosting business confidence by reducing the economic dead-weight loss of tax compliance. It also looks a lot like what Mitt Romney was calling for, a plan that 48% of the country supported. Whether ardently anti-tax Tea Party Republicans would go along is another question.
I hope Obama sees that he can still get the rich to pay more in a way that won't damage sentiment, such as leaving the system unreformed and simply raising the margin rates on top earners would.
For his part, Obama also seems to be softening his position a little by opening the negotiating process to business and civic leaders and saying he is not "wedded" to every detail of his existing deficit reduction plan. He has also emphasized the need for infrastructure investment, which would be another short-term pro-growth stimulus and a positive for the economy. But he does say he has a mandate for tax hikes on the wealthiest Americans.
Still, a simple look at the numbers courtesy of Merrill Lynch shows that we can't tax our way out of this. Ending the Bush tax cuts on the wealthy will only result in about $40 to $80 billion of the first-year, $720 billion toll of the fiscal cliff. And anything above that risks recession, which will only make the deficit worse. Other items, like the cuts to the Pentagon budget, the cost of extended unemployment benefits, and the payroll tax cuts, will have a much larger impact on the bottom line.
My hope is that the Republicans placate Obama's emphasis on taxing the wealthy via tax code reforms so that the real work can begin on addressing health-care costs.
What are investors to do in the meantime?
While stocks have been doing their best to scare investors since President Obama's reelection, gold and silver have been quietly marching higher. The mining stocks are following, with the Market Vectors Junior Gold Miners (GDXJ) popping out of a three month consolidation pattern on a nice increase in volume.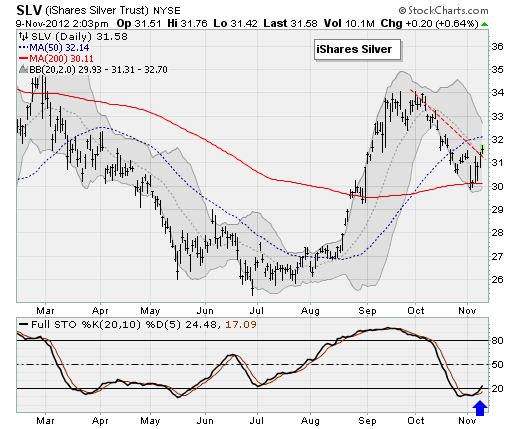 Technically, the setups beautiful and suggest a medium-term uptrend -- of the kind we haven't seen since last July -- is getting started, particularly for the mining stocks. But there are fundamental reasons to believe the run will continue too.
For one, the political uncertainty surrounding the fiscal cliff and the debt ceiling has people looking for safe havens.
Plus, inflation is actually creeping higher as the Federal Reserve prepares to unveil a possible QE4 initiative next month to replace its expiring "Operation Twist" program and complement its QE3 of ongoing $40 billion-a-month mortgage purchases. If the Fed wanted to maintain its current pace of money printing, QE4 would need to result in $45 billion a month worth of Treasury bond purchases.
In anticipation, I'm adding the ProShares UltraSilver (AGQ) to my Edge Letter Sample Portfolio.
Disclosure: Anthony has recommended AGQ and GDXJ to his clients.

Be sure to check out Anthony's new investment newsletter, the Edge, and his money management service, Mirhaydari Capital Management. A two-week free trial has been extended to MSN Money readers. Click the link above to sign up. Mirhaydari can be contacted at anthony@edgeletter.c​​om and followed on Twitter at @EdgeLetter. You can view his current stock picks here. Feel free to comment below.  
More on MSN Money 
DATA PROVIDERS
Copyright © 2014 Microsoft. All rights reserved.
Fundamental company data and historical chart data provided by Morningstar Inc. Real-time index quotes and delayed quotes supplied by Morningstar Inc. Quotes delayed by up to 15 minutes, except where indicated otherwise. Fund summary, fund performance and dividend data provided by Morningstar Inc. Analyst recommendations provided by Zacks Investment Research. StockScouter data provided by Verus Analytics. IPO data provided by Hoover's Inc. Index membership data provided by Morningstar Inc.
ABOUT
Top Stocks provides analysis about the most noteworthy stocks in the market each day, combining some of the best content from around the MSN Money site and the rest of the Web.
Contributors include professional investors and journalists affiliated with MSN Money.
Follow us on Twitter @topstocksmsn.