Economy is worse than you think
The global slowdown infecting Europe and China has hit the US. But there's good news: Investors now have a beautiful opportunity to profit from the chaos.
It has begun. After months of warning that a warmer-than-normal winter was skewing the economic data to the upside, seasonal factors are reversing. What's being revealed is an American economy suffering from the same ailment that's already affected Europe and China. The May payroll report came in well under expectations as cyclical, goods-producing payrolls fell for the first time in nine months. Factory activity is slowing. Home sales are cooling just as more distressed properties hit the market.
It's an ugly picture. But Wall Street is already looking ahead to new stimulus measures from the Federal Reserve at its June 19 meeting and the inflation that another round of money printing will create. That's boosting the fortunes of precious metals and related mining stocks, as expected. But it also sets the stage for another bout of confidence-crushing inflation.
To summarize, things are getting worse now. They are likely to get better, at least for stocks, once the Fed and the European Central Bank yield to the inevitable and unleash another flood of cheap cash. But the tailwind should last only for a few months before deep-rooted inflationary pressures (from a drop in labor productivity and an increasing in rental housing demand) and speculative fever (hitting food and fuel prices) damage consumer confidence again.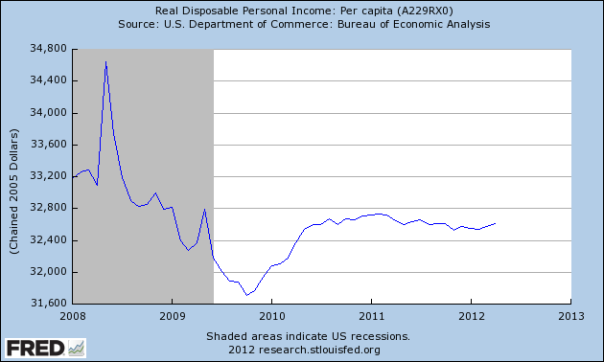 This was the dynamic that has helped short-circuit growth over the past few months -- a repeat of the dynamic that played out in mid-2011 -- keeping real, inflation-adjusted disposable income down at 2010 levels via higher prices on things like gasoline. With work-based pay declining (down 0.2% last month, down two of the past three months) people have been drawing on savings and using credit cards again to maintain spending.
This can't last.
Wall Street expects that a round of quantitative easing -- which is simply printing money and using it to buy long-term bonds in the open market to push down interest rates -- will ignite a big rally in risky assets as traders pull cash out of bonds and into stocks. The Fed hopes this will encourage fresh economic growth via the wealth effect from higher stock prices and lower borrowing costs.
While this strategy worked great in late 2008 and early 2009, it's not working so well anymore, because circumstances have changed. Fear over the eurozone crisis has already pushed interest rates very low, with the 10-year Treasury yield dropping into the 1.5% range. In early 2011, the 10-year yield hit a high of 3.8%. Credit is already cheap enough.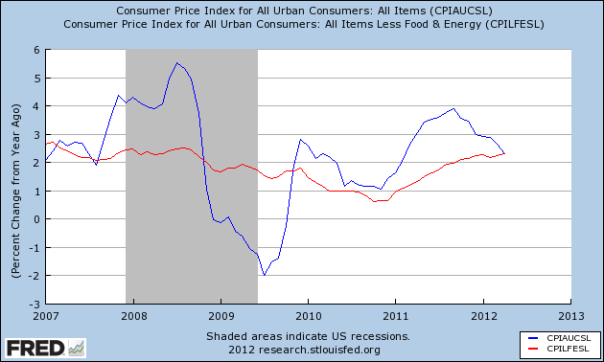 Also, inflation continues to creep higher. Each iteration of the Fed's policy easing pushes inflation to new post-recession highs before consumers fall away, and inflation drops as the economy slows again. Rinse and repeat.
The risk is that the Fed will lose control and encourage a round of nasty stagflation as inflation pops, the economy slows and the Fed is left powerless. That's because its actions are cumulative. The money supply (the M2 measure) has increased 33% to nearly $10 trillion since the recession started in late 2007. Yet the economy, in inflation-adjusted terms, has only now expanded over its pre-recession peak.
To summarize, since 2007 we have nearly 8 million fewer full-time workers and the economy is only 1.2% larger, yet we have trillions of dollars in extra cash floating around and the lowest interest rates in human history.
Without even getting to the problems in Europe (structurally flawed monetary union, banking woes, uncompetitive economies) or China (overdependence on exports, bad real-estate loans), the situation is scary. It's scary because after all that's been done via stimulus measures, we have so little to show for it.
Eventually, the economy will seize and policymakers will be out of options. We're not quite there yet, since overall inflation has cooled over the past few months, giving the Fed and ECB room to maneuver. They might not be so lucky next time.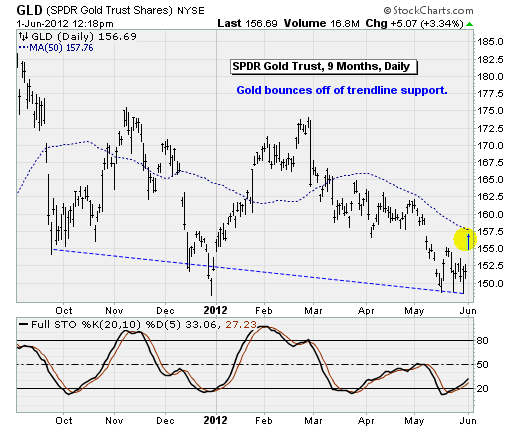 For now, investors have a beautiful opportunity to profit from the chaos with precious metals as the dollar drops on the weak data and the expectation of Fed action later this month. I discussed why the dollar is overbought, and gold oversold, in my last column and blog post.

Trading update
The Edge Letter Sample Portfolio benefited from Friday's rebound in precious metals in a big way. The Velocity Shares 3x Gold (UGLD) and Velocity Shares 3x Silver (USLV) were both up about 10%.
I want to expand my exposure to the area with two new individual names: Great Basin Gold (GBG) and Agnico Eagle Mines (AEM).
I found both GBG and AEM with the help of technical screens developed with Fidelity's Wealth Lab Pro back-testing tools, which you can find here. (Fidelity sponsors the Investor Pro section on MSN Money.) 

Check out Anthony's investment advisory service The Edge. A two-week free trial has been extended to MSN Money readers. Click here to sign up. Contact Anthony at anthony@edgeletter.c​​om and follow him on Twitter at @EdgeLetter. You can view his current stock picks here. Feel free to comment below.

DATA PROVIDERS
Copyright © 2014 Microsoft. All rights reserved.
Fundamental company data and historical chart data provided by Morningstar Inc. Real-time index quotes and delayed quotes supplied by Morningstar Inc. Quotes delayed by up to 15 minutes, except where indicated otherwise. Fund summary, fund performance and dividend data provided by Morningstar Inc. Analyst recommendations provided by Zacks Investment Research. StockScouter data provided by Verus Analytics. IPO data provided by Hoover's Inc. Index membership data provided by Morningstar Inc.
ABOUT
Top Stocks provides analysis about the most noteworthy stocks in the market each day, combining some of the best content from around the MSN Money site and the rest of the Web.
Contributors include professional investors and journalists affiliated with MSN Money.
Follow us on Twitter @topstocksmsn.