US Airways: Short-term profit or long-term growth?
The carrier has missed opportunities in South America and China and may not be a good merger partner for American Airlines, expert says.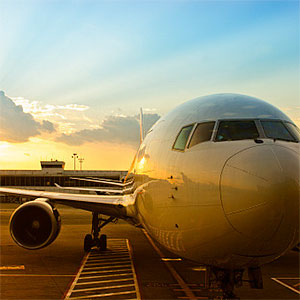 By Ted Reed
A transportation expert blasted US Airways (LCC), saying the carrier has ignored long-term growth for short-term profits in order to gain support for a merger with AMR (AAMRQ) that would not add any value to American Airlines.
A merger "would benefit US Airways a hell of a lot more than it would benefit American," said Aaron Gellman, a professor of transportation at Northwestern University, during a conference call with reporters on Thursday. "It may be they are counting on merging with AA and thereby getting (international) growth opportunities under their belt. (But) their strategy did not early enough look at these other opportunities.
"I think, if they were to be able to merge with AA, they would gain a lot globally, but at the same time they would have real problems with management," he said. "I'm not sure what benefit would flow to AA from such a merger."
Gellman's general argument was that while capacity discipline has benefited U.S. carriers in the short-term, it has caused them to ignore the long-term value of expanding into the most rapidly growing emerging markets in China and South America. In his view, US Airways is a primary practitioner of this failed strategy. Gellman has consulted for AMR in the past.
US Airways CEO Doug Parker has said repeatedly that US Airways' principal hubs in Charlotte and Philadelphia are not sizable enough, when compared to Atlanta, Chicago, Dallas and Newark, to support vast international flying. But Gellman said: "I don't think their hubs are too small. Charlotte and Philadelphia are not small hubs."
Among his criticisms, Gellman said US Airways did not begin to pursue major growth opportunities until after the AMR bankruptcy. He said US Airways "had the right to fly to China (and) didn't do anything with it." He said US Airways has not sufficiently pursued growth opportunities in South America. Rather, "they stayed a domestic airline and chose to go heavy into Europe which is fine, but they ignored the really big growth opportunity to the south (South America) and in the far west, China," he said.
US Airways unsuccessfully pursued mergers with Delta (DAL) and United (UAL) before pursuing American. As for China, regulators awarded US Airways route authority to fly Philadelphia-Beijing​ in 2007 and US Airways returned it in 2009.
US Airways spokesman Todd Lehmacher said the carrier gave up its China authority due to escalating fuel prices -- which also caused some peers to return China authorities -- and questions about aircraft capability. US Airways operates A330s, but "the route was at the edge of the range," Lehmacher said. "We would have gone to another aircraft type." He said Airbus A350s are scheduled to begin to arrive in 2017, which "does open additional markets in Asia."
In the meantime, "we've decided to focus in the short term on Europe, which is very successful," Lehmacher said. To South America, US Airways operates Charlotte-Rio flights and hopes to begin Charlotte-Sao Paulo service as well. It has obtained a Sao Paulo route authority, but continues to face delays in securing takeoff and landing times as well as space to park the plane at Sao Paulo's Guarulhos International Airport. In general, Sao Paulo is a difficult place for a U.S. carrier to establish new routes.
Gellman said that US Airways has focused on short-term profitability, "on quarter-to-quarter improvements," rather than taking a longer view which "could lead to lost opportunities in the future.
"I'm not criticizing Doug Parker or his team," Gellman said. "But they have to live with what they've done today for many tomorrows if they don't pay attention."
More from TheStreet.com

The benefit to AA is a 
domestic/internation​​al
 (albeit smaller) partner that makes the combined airline number 1 in the east, number 1 in the mid-west and number 3 out west. It fills American's international aircraft, something that they previously neglected and helped them into bankruptcy. You know what they say...if you can't do, teach, right professor?
Are you sure you want to delete this comment?
DATA PROVIDERS
Copyright © 2014 Microsoft. All rights reserved.
Fundamental company data and historical chart data provided by Morningstar Inc. Real-time index quotes and delayed quotes supplied by Morningstar Inc. Quotes delayed by up to 15 minutes, except where indicated otherwise. Fund summary, fund performance and dividend data provided by Morningstar Inc. Analyst recommendations provided by Zacks Investment Research. StockScouter data provided by Verus Analytics. IPO data provided by Hoover's Inc. Index membership data provided by Morningstar Inc.
ABOUT
Top Stocks provides analysis about the most noteworthy stocks in the market each day, combining some of the best content from around the MSN Money site and the rest of the Web.
Contributors include professional investors and journalists affiliated with MSN Money.
Follow us on Twitter @topstocksmsn.