Goldman's commodities call is fanciful
Commodities aren't moving based on supply and demand. They're moving on trader and political demand.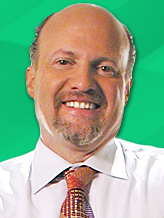 Which comes first, the chicken or the dollar? That's what I am trying to figure out about the Goldman Sachs (GS) call this morning that talks about actual commodity demand and not just some sort of dollar-commodity trade.
Goldman's call is that there is innate demand here and commodities should stop going down, that commodities are needed by actual users, not traders.
That's enough to get things going, at least this morning. But it prompts a question: When people see commodities higher, do they then sell the dollar because commodities are supposed to be up only because the dollar's down?
Yeah, it has become that stupid.
Last night I was trying to explain to a "Mad Money" viewer why a strong dollar sends stocks down, and I felt like saying, "Listen, bub, it is because stocks are commodities and commodities go down when the dollar goes up." Yeah, we are in that ridiculous zone for certain.
I have always seen justifications for every major move in the markets. There are justifications for the boom in Internet plays as there were in 1998-2000. Justifications for the commodity trades, as there have been since China's coming of age. Justifications for the oil rally like we had in 2008. They always sound good. They fit in a box with a nice ribbon, just like this current perceived wisdom: Commodities are down because the dollar's higher.
But, in truth, the answer is always more difficult. The dot-coms rallied because too much retail money chased too many slivers of stocks, just as the underwriters hurt the process with the LinkedIn (LNKD) sliver deal. Oil rallied big in 2008 because a couple of hedge funds were caught short, not because of demand. There was no demand from $110 to $147, just funds covering their short positions. In the great Chinese commodity bubble leading up to the pricking of 2008, some of the commodities got too expensive because nonusers got in front of the Chinese and bought the commodities the Chinese needed.
So that's why I find the "commodities are cheap" call by Goldman so fanciful. Commodities aren't trading on supply and demand. They are trading on trader demand, or political demand, as is the case with the grains and our ethanol policy. In fact, the only commodity that is actually trading on supply and demand isn't a commodity at all. It's a currency: gold.
So when someone says the commodities are up and we hear that it is because the dollar is down, let's put an asterisk next to it and add "but Goldman Sachs says there is actual demand here." That ought to throw every pundit for a loop!
One day there will be enough money in this market that stocks will stop trading in unison. Until then, we will hear nothing but the rationalizations: Stocks are up because the dollar's down, commodities are down because the dollar's up. The explanations are just facile enough to confuse everyone, including those who spout them but pretend that they actually know what they are doing.
Too bad. It obscures everything, including the very values that this nonsense creates.
At the time of publication, Cramer had no positions in the stocks mentioned.
Jim Cramer is co-founder and chairman of TheStreet. He contributes daily market commentary for TheStreet's sites and serves as an adviser to the company's CEO.
Learn how to follow Cramer's trades for his Charitable Trust.
Related Articles

 Goldman Sachs is a manipulator of bonds, commodities, currencies and equities for their clients and their own benefit regardless of the truth and consequences.   They are one of the primary parties responsible for the world wide financial crisis and got off with a $500 mil fine, GS officers should have been prosecuted for fraud, fined and jailed.  They are also partially responsible for the current EU, Greek, debt crisis, using the same derivative approach to Greek debt that they used to US housing debt.  GS should be prosecuted, found guilty and liquidated and the proceeds put in the US Treasury.  Who gives a rat's a$$ what they think about commodities?

Jim,
Wise words, indeed.
The commodities market has become a bad punch line to a bad joke. -When someone I knew asked me about a sizeable purchase in physical silver, I became really concerned about the market. -He had heretofore no interest in investing (and didn't know the composition of his retirement account.) I knew then that the market had gone completely irrational and I begged him not to put too much money into the idea, but to purchase only what he needed to sleep at night. That was within $3 of the last top.
The non-currency commodities markets may well go higher, but they will inevitably go much lower.
-And the little guys will take their losses and go back into hiding.
It is so sad.

Goldman's call comes exactly when they are losing money on their commodity positions. Surprise, Surprise.
They make money investing, they don't want to lose money, so they are going to do whatever they can to manipulate the price up. What makes them real punks though is trying to explain their "view" with statements about supply and demand............
Right...............​
Are you sure you want to delete this comment?
DATA PROVIDERS
Copyright © 2014 Microsoft. All rights reserved.
Fundamental company data and historical chart data provided by Morningstar Inc. Real-time index quotes and delayed quotes supplied by Morningstar Inc. Quotes delayed by up to 15 minutes, except where indicated otherwise. Fund summary, fund performance and dividend data provided by Morningstar Inc. Analyst recommendations provided by Zacks Investment Research. StockScouter data provided by Verus Analytics. IPO data provided by Hoover's Inc. Index membership data provided by Morningstar Inc.
ABOUT
Top Stocks provides analysis about the most noteworthy stocks in the market each day, combining some of the best content from around the MSN Money site and the rest of the Web.
Contributors include professional investors and journalists affiliated with MSN Money.
Follow us on Twitter @topstocksmsn.