5 dividend traps to avoid in 2013
Increased payouts in 2012 enticed investors looking for yield, but despite their payouts, these stocks can derail any portfolio.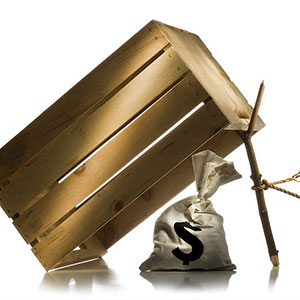 By
Paul Rubillo
,
Dividend.com

In uncertain economic climates, investors flock to any type of asset class that promises the best bang for their buck. Throughout history, dividend investing has been that security blanket for investors who still want to play the market and get the best return on investment. But while dividend investing can be a great way to increase wealth, there are potential dividend traps that can derail any investment strategy.

2012 was a great year for dividends, with companies across the globe boosting their payouts at a record pace. Still, investors need to be very selective with their portfolios in 2013.

Here are five dividend stocks investors do not want to own next year.

Pitney Bowes Inc.
Pitney Bowes (PBI) is a maker of postage meters and scales, mail sorters, and other office products. Since the company produces many products that deal with physical mail distribution, it is closely tied with the future of the United States Postal Service and mail in general. This is not a good industry to be directly related to. The USPS is operating at a tremendous deficit and is essentially a bankrupt company. Companies and consumers just don't mail in the same amount as they used to and this has resulted in a limited demand of PBI products. Pitney Bowes is in the process of becoming an irrelevant company if it does not innovate towards a sustainable future.

While the company has a seemingly attractive dividend yield of 14.04%, this is only due to a constantly falling stock price. The stock plunged 42% in 2012. The company's history of having annual dividend increases is in jeopardy if PBI wants to have a financially successful future. A constantly falling stock price and an unsustainable dividend yield makes Pitney Bowes a very risky dividend investment in 2013.

Roundy's Inc
Roundy's (RNDY) is a midwestern supermarket chain that became a public company on February 7, 2012. It has since been one of the worst performing IPOs of the year. Supermarkets across the country are performing poorly as profits are squeezed due to higher costs, and Roundy's is no different.

The company's stock has fallen 48% since its IPO and currently has an unattractive sub $5 stock price. The dividend yield is extremely high at just over 10%, a red flag for a sustainable dividend payout. The yield remained high even after the company cut its original dividend by almost 50%, from 23 cents per share to 12 cent per share. The low stock price, poor financial outlook, and another potential dividend cut makes Roundy's an unsound investment next year.

R.R. Donnelley & Sons Company
R.R. Donnelley (RRD) is a commercial printing service provider that has not raised its dividend payout since 2003, a classic sign that a dividend cut should be coming soon. This potential cut should be expected in the near future as its current 11.44% dividend yield is usually too high to maintain.

The future of the company is also bleak in respect to capital growth as the stock sank 37% year-to-date. With the stock falling, the company reporting losses, and an unsustainable dividend, investors should steer clear of investing in this company in 2013.

Cliffs Natural Resources Inc.
Cliffs Natural Resources (CLF) is an iron and coal miner that bucked the trend of low yields from mining plays this year and more than doubled its dividend payout, from 28 cents per share to 62.5 cents per share. However, investors should be wary of this 123% increase in dividend amount because commodity based companies are never hesitant to lower payouts due to the cyclical nature of their business.

Since CLF stock is 57% off its 52-week high and down 45.53% year-to-date, investors should expect the company to cut its dividend in the face of a high 7.36% yield. This potential cut in dividend makes Cliffs Natural Resources an uneasy play for the next year. Investors should probably stay away from this high dividend trap.

Exelon Corporation
Exelon (EXC) is a utility and electric power producer. While its 7.08% dividend yield looks good on the surface, it is probably too high considering that most of its competitors have a 3% to 4% yield.

The stock plummeted 31% in 2012 and is down about 16% since the beginning of November alone. Part of the reason for the recent downfall is that CEO Christopher Crane noted earlier in the month that the company could reevaluate its dividend in mid-2013. This will probably result in a cut in dividend since the company's financial reports have been disappointing in the recent quarters. With that information at hand, investors should be concerned regarding the dividend investing potential that Exelon has in 2013.

The bottom line
Investors need to make intelligent decisions when determining what dividend stocks are the best investments, regardless of the year. Remember that looking for stocks with high yields is not always a safe bet. Thorough understanding of total financial health is what makes for a sound dividend investing strategy. Staying away from dividend traps like the ones outlined above can make 2013 a financially prosperous year.
DATA PROVIDERS
Copyright © 2014 Microsoft. All rights reserved.
Fundamental company data and historical chart data provided by Morningstar Inc. Real-time index quotes and delayed quotes supplied by Morningstar Inc. Quotes delayed by up to 15 minutes, except where indicated otherwise. Fund summary, fund performance and dividend data provided by Morningstar Inc. Analyst recommendations provided by Zacks Investment Research. StockScouter data provided by Verus Analytics. IPO data provided by Hoover's Inc. Index membership data provided by Morningstar Inc.
ABOUT
Top Stocks provides analysis about the most noteworthy stocks in the market each day, combining some of the best content from around the MSN Money site and the rest of the Web.
Contributors include professional investors and journalists affiliated with MSN Money.
Follow us on Twitter @topstocksmsn.