Why are people chastising this market?
They're not revealing their positions, and it's my belief that those who denigrate this rally are either betting against it or sitting it out.

"Are you short?"
"Did you miss the rally?"
"Do you have a ton of cash?"
"Do you need the market to go down to outperform?"
These are the questions I want answered right now when I hear people denigrate this market. These are the questions that cut to the psyche of an investment professional -- because, right now, many of those individuals you see being interviewed, or whom you might be reading, have missed this market. They are, therefore, of a different mindset than they might otherwise be.
In other words, they need the averages lower, not higher, in order to catch up. Even if they don't like the market, they do have to catch up if they are going to be rewarded as handsomely as they hope to be, with new money, with bigger bonuses, or whatever perks for which they might be striving.
I believe that not only that this rally is hated, but that the people who hate it are either betting against it or sitting it out. So many people came on air Tuesday and backhandedly chastised this market that I've had to figure they are of the cohort that didn't make the money when the money-making was there to be had. What's backhanded? Here's some I heard: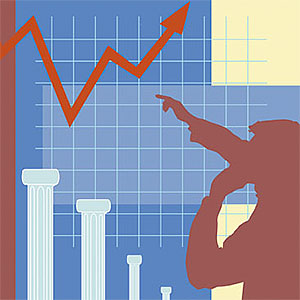 "The market is too extended right now, so I think it is the wrong time to commit capital."
"I would like this market on a 5% pullback."
"I am looking to buy more stocks as the market goes down."
The simple truth is that anyone who follows these dicta has not been able to keep pace -- because the market has been traditionally overextended for ages, and we haven't seen that kind of a pullback. Not only that, but as the market goes higher, a 5% pullback would only bring it back to a level where these people hadn't liked it anyway.
Let's take the consensus case manager. That's someone who says, "I will wait to see what happens with the sequester, and then I will buy, but I will buy small, because I think the Federal Reserve might discontinue its bond-buying and then the rally could fizzle."
My thinking is that this is the same kind of money manager who didn't take advantage of the decline before the fiscal-cliff resolution and had to pay up afterwards. We know, of course, that this was a costly strategy, but as of Tuesday it had still been better than doing nothing.
This kind of money manager is clearly not all in, or has very little conviction, due to fears about the fickle nature of Washington. They fear the Fed minutes. They fear the Thursday employment numbers. They fear the Labor Department nonfarm payrolls. They fear the words of every Fed governor who talks about the bond-buying. They fear all testimony by Fed chief Ben Bernanke. They fear all press conferences by House Speaker John Boehner and President Barack Obama. For all I know, they fear "Meet the Press" on Sunday.
You simply cannot invest in a climate of self-imposed fear in the kind of bull market we have now. If you find yourself thinking, "OK, we are fine right now, but just wait until the bloodshed," then you aren't going to take positions with any confidence, and you'll be spooked by every mention of anything involving the Fed. That means you are going to be so defensive, that you'll have much less exposure to stocks and more in cash, which is a license to fall behind in rapid fashion. You will most likely not have participated in the consumer packaged-goods upswing, and you certainly aren't going to be involved in the industrials or the home plays, because both would be hurt by the Fed's actions.
You would most likely be short those sectors if you were a hedge-fund manager.
Consequently, that advice, at least from this kind of person, is tainted or questionable. That's why I want to know your positioning. I know that's a bold interrogatory. But I am unique here. I have to play with an open hand. I feel the sword of this market on my neck every minute, courtesy the public portfolio that is Action Alerts PLUS, and all I can say is that at least you know for certain where I am coming from.

Jim Cramer is a co-founder of TheStreet and contributes daily market commentary to the financial news network's sites. Follow his trades for Action Alerts PLUS, which Cramer co-manages as a charitable trust.   
More from TheStreet.com
DATA PROVIDERS
Copyright © 2014 Microsoft. All rights reserved.
Fundamental company data and historical chart data provided by Morningstar Inc. Real-time index quotes and delayed quotes supplied by Morningstar Inc. Quotes delayed by up to 15 minutes, except where indicated otherwise. Fund summary, fund performance and dividend data provided by Morningstar Inc. Analyst recommendations provided by Zacks Investment Research. StockScouter data provided by Verus Analytics. IPO data provided by Hoover's Inc. Index membership data provided by Morningstar Inc.
ABOUT
Top Stocks provides analysis about the most noteworthy stocks in the market each day, combining some of the best content from around the MSN Money site and the rest of the Web.
Contributors include professional investors and journalists affiliated with MSN Money.
Follow us on Twitter @topstocksmsn.