Sweet spot in gas market that wants high prices
Refiners are squeezing huge profits out of America's gasoline addiction, even as oil supplies increase. There are 2 ways to profit.

By Dana Blackenhorn
Shortly after Hurricane Katrina, I had to drive up to North Carolina on business.
The hurricane had knocked out Louisiana refining capacity, dramatically cutting supplies, so traffic was very light. I gassed up before leaving and took a picture of the sign outside the station, because I was shocked at the prices -- $3.15 a gallon for regular!
Today, we'd call that a bargain.
Americans have become inured to gas prices we previously found unacceptable, and the industry has taken note. They have learned the supply chain of this global market can be regularly manipulated at many different points to maintain that price.

In some ways, these high prices are good news. They encourage efficiency, and efficiency pays. Buy a higher-mileage car and you make up most of that cost in energy savings -- you get a sweeter ride, too. The same holds for appliances, heaters, air conditioners and for industrial boilers. Efficiency is the cheapest form of renewable energy and a source of economic growth.
But with U.S. oil now supplying 83% of domestic needs, according to Bulldogcapitalgroup.​com , and oil trading in a narrow range at a $20 per barrel discount to European suppliers, as ArmoTrader Jerry Hachoyan writes , producers have had to find a new choke point in order to maintain pricing.
And that choke point is refining.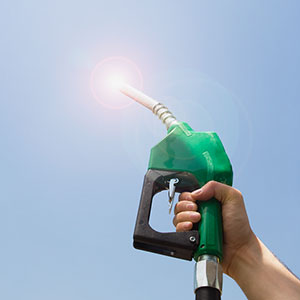 Domestic refining capacity hasn't increased in over a decade, according to the Department of Energy, and very little capacity is idle. So by rescheduling the move from "winter" to "summer" fuels and by suddenly scheduling maintenance, refiners have turned oil abundance into a gas shortage, despite the fact that stocks of gas are near their yearly high, as Business Insider writes.
Also see: Woodshed stocks face another valuation warning
The winners, for now, are those who hold stocks in refiners, like Valero (VLO), Tesoro (TSO) and HollyFrontier (HFC), which are on fire, writes Inthemoneystocks. But earnings multiples are still cheap, according to Chris Damas at Seeking Alpha. You can still get in.
So far there has been little screaming about this from Washington or Houston, because high gas prices are in everyone's interest. They spur both efficiency and production and they assure profits both upstream and downstream from the refiners.
Higher oil and gas production means lower trade deficits, lower costs for U.S. manufacturers compared with Chinese rivals and increased hiring. But combine high gas prices with the sequestration coming in March and it's easy to see at least two consecutive quarters of negative economic growth, also known as recession, despite fundamentals that should show clear skies ahead.
Again, this seems to be in the oil patch's interest. They can blame the president for the country's troubles, as our Peter Morici does, while adding to Republican coffers with the industry's excess profits. It's the same game Arabian sheiks have been running on us for a generation.
How long can this go on? That's the real question. At some point lower demand has to result in lower prices. But lower demand must be sustained. Reuters writes that, despite today's prices, demand for gasoline is slightly higher than it was at this time last year.
So the power over gas prices remains with the consumer. Hit the brakes and prices will plummet. Keep them on while supply continues to increase, and prices will stay down. The pusher has no reason to give the addict an even break -- only the addict can stop their addiction.
Until then, however, buy refinery stocks. And while you're add it, buy infrastructure companies. I have some Kinder Morgan Partners (KMP). The profits will fill your tank and that's what matters most, right?
At the time of publication, the author was long KMP.
More from TheStreet.com
DATA PROVIDERS
Copyright © 2014 Microsoft. All rights reserved.
Fundamental company data and historical chart data provided by Morningstar Inc. Real-time index quotes and delayed quotes supplied by Morningstar Inc. Quotes delayed by up to 15 minutes, except where indicated otherwise. Fund summary, fund performance and dividend data provided by Morningstar Inc. Analyst recommendations provided by Zacks Investment Research. StockScouter data provided by Verus Analytics. IPO data provided by Hoover's Inc. Index membership data provided by Morningstar Inc.
ABOUT
Top Stocks provides analysis about the most noteworthy stocks in the market each day, combining some of the best content from around the MSN Money site and the rest of the Web.
Contributors include professional investors and journalists affiliated with MSN Money.
Follow us on Twitter @topstocksmsn.