America's 5 biggest low-wage employers
Two-thirds of workers earning under $10 an hour work for large corporations. Here are the biggest employers in low-wage industries.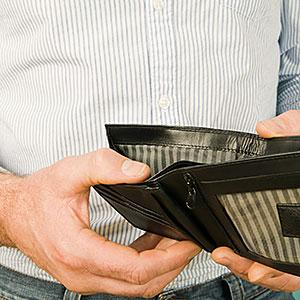 By Trey Thoelcke, Michael Sauter, Alexander E. M. Hess and Samuel Weigley, 24/7 Wall St.
The gap between rich and poor is well illustrated by the large multi-billion-dollar​ corporations employing thousands of low-wage workers. With the Great Recession over, not only are many of these companies now hitting record profits, but their executive pay remains spectacularly high.
Yet, according to a refport released by the National Employment Law Project, the current federal minimum wage the workers are often paid, is worth 30% less than it was in 1968 in terms of purchasing power.
Two-thirds of low-wage workers -- those that are paid less than $10 an hour -- are employed by large corporations with at least 100 employees reports NELP. All of the largest companies in low-wage industries, including McDonald's (MCD)and Wal-Mart Stores (WMT), have hundreds, even thousands, of stores across the country. Based on NELP's July 2012 report, "Big Business, Corporate Profits, and the Minimum Wage," 24/7 Wall St. reviewed the 12 American companies that pay the least. You'll find the biggest 5 listed below.
These employers fall into one of two categories. They are are either large national restaurant chains employing tens of thousands of cashiers and cooks, or large national retailers, employing tens of thousands of cashiers and salespeople.
At 24/7 Wall St.: 10 brands that will disappear In 2013
In addition to low wages, many of these companies have a history of poor labor relations that extends beyond underpaying their employees. Long hours, unsafe or unpleasant working conditions, limited benefits and restricting access to full-time work, often accompany minimum wage jobs in many of these companies.
The recession has affected every company on this list. Many used the downturn to explain reductions in employee benefits, long hours, and continued low pay. However, the recession is over for a majority of minimum-wage employers. Nine of the 12 companies on this list have been profitable for the past three years. Of these 12 companies, a full ten had higher revenue compared to 2010.
Despite this fact, improvements in employee benefits or an increase in pay have not materialized for workers at most of the companies on the list.
At 24/7 Wall St.: America's most miserable states
Based on the National Law Employment Project's report, 24/7 Wall St. identified the 12 largest companies in industries that are primarily low-wage employers. The report also provided the most recent available data on the total size of the companies' workforces, the recent performance of the corporations in terms of revenue and profit, and the highest executive pay at these companies. 24/7 Wall St. also reviewed revenue, income, and the number of stores from company filings.

These are the companies paying Americans the least.

1. Wal-Mart Stores (WMT)
 U.S. workforce: 1,400,000
 CEO compensation: $18,131,738
 Revenue: $446.95 billion
 Net income: $15.70 billion
 No. of U.S. stores: 3,868

The labor practices of Wal-Mart Stores (WMT) have long received negative attention in the press, but that has not affected investors much. WMT's share price rose more than 48% in the past five years. In 2008, Walmart agreed to pay $640 million in settlements of dozens of class-action lawsuits that claimed the company deprived workers of pay for time worked. In October a class action lawsuit was filed in a Chicago federal court alleging that the retailer had violated minimum wage and overtime laws. Walmart workers have begun to strike, and some plan to walk off the job on Black Friday, the busiest shopping day of the year. Walmart has filed an unfair-labor-practic​e complaint against the United Food and Commercial Workers International Union to prevent this from happening.

2. Yum! Brands (YUM)
 U.S. workforce: 880,330
 CEO compensation: $20,411,852
 Revenue: $12.63 billion
 Net income: $1.33 billion
 No. of U.S. stores: 16,006
Because Yum! Brands (YUM), the operator of the Taco Bell, Pizza Hut and KFC chains, is one of the biggest employers of low wage workers, it takes benefits seriously. According to watchdog group Center for Media and Democracy, the fast food giant co-chaired the labor and business regulation subcommittee of the American Legislative Exchange Council, a "corporate-funded bill mill" that encourages laws that benefits its corporate members. At a 2011 meeting, attendees considered model bills designed to override paid sick leave legislation in the states. In 2012, following negative press over ALEC initiatives and the departure of McDonald's, Wendy's, Yum! Brands became one of several large companies to abandon the council.
3. McDonald's (MCD)
 U.S. workforce: 859,978
 CEO compensation: $4,073,748
 Revenue: $27.01 billion
 Net income: $5.50 billion
 No. of U.S. stores: 14,098
McDonald's (MCD) is the king of fast-food, with revenue greater than any other restaurant operator on this list, and far more locations as well. The company's website offers a long list of awards and recognition for the diversity of its workplace. But even McDonald's is not immune to economic pressures. The company just reported its first monthly drop in global revenue at locations open more than a year, down 1.8% in October. McDonald's USA president, Jan Fields was subsequently ousted to be replaced by Jeff Stratton, who is currently global chief restaurant officer.
Target (TGT)
 U.S. workforce: 365,000
 CEO compensation: $19,707,107
 Revenue: $69.87 billion
 Net income: $2.93 billion
 No. of U.S. stores: 1,763
Shortly after competitor Wal-Mart announced that it would open its doors for Black Friday shoppers at 8 p.m. Thursday, Target (TGT) then said that it would also open its doors Thursday night. Employees were not thrilled by the news. One California-based Target worker drafted a petition calling on Target to "save Thanksgiving" and stick to its Friday opening time. More than 220,000 people have signed the petition. Target insists that it took employees into consideration before making the decision to open early. One executive said, "We had so many team members who wanted to work on Thursday that hundreds of our stores are now keeping lists of volunteers who want to work if shifts open up."
5. Sears Holdings (SHLD
 U.S. workforce: 264,000
 CEO compensation: $9,932,924
 Revenue: $41.57 billion
 Net income: -$3.11 billion
 No. of U.S. stores: 3,510

Many companies like to tout how important their employees are, and Sears Holdings (SHLD) is no different. "Our associates are at the heart of our company and we value teamwork, integrity, and positive energy," says the company's website. Unfortunately for the employees, the operator of Sears and Kmart has struggled in recent years, as evidenced by its recent massive $3.11 billion net loss, despite having revenue of $41.6 billion. In addition, similar to Walmart and Target, Sears and Kmart stores will be open on Thanksgiving for early Black Friday shopping, meaning the employees will have to work this holiday. Sears said it expects holiday hiring to be about the same as a year ago, while Walmart, Toys"R"Us and other retailers increased their seasonal hires.
Click here to read the rest of 24/7 Wall St.'s "Companies paying Americans the least."
DATA PROVIDERS
Copyright © 2014 Microsoft. All rights reserved.
Fundamental company data and historical chart data provided by Morningstar Inc. Real-time index quotes and delayed quotes supplied by Morningstar Inc. Quotes delayed by up to 15 minutes, except where indicated otherwise. Fund summary, fund performance and dividend data provided by Morningstar Inc. Analyst recommendations provided by Zacks Investment Research. StockScouter data provided by Verus Analytics. IPO data provided by Hoover's Inc. Index membership data provided by Morningstar Inc.
ABOUT
Top Stocks provides analysis about the most noteworthy stocks in the market each day, combining some of the best content from around the MSN Money site and the rest of the Web.
Contributors include professional investors and journalists affiliated with MSN Money.
Follow us on Twitter @topstocksmsn.