Earnings warnings mean it's time to buckle up
The reporting season isn't even a week old, and already the markets are getting roiled by harbingers of missed estimates.
The stock market slumped Tuesday. It slumped again on Wednesday, and it's been pressured on Thursday.
The reason is a theme that has quickly emerged as the third-quarter earnings season begins. Companies, particularly big industrials, are warning shareholders that the next few months at the very least will be dicey. This is especially true for companies that do business in China and in Europe.
Slowing economies are cutting demand for imported goods. For China, the problem is Europe, its biggest export market. For U.S. companies, it's China, whose economy is slowing and thus isn't buying enough American goods.
It's a big reason light sweet crude oil (-CL), supposedly poised to head north of $100 a barrel, is still trading in the low $90s. It's a big reason the dollar continues to be relatively strong against the euro and other currencies.
We saw this theme for the first time several weeks ago when package shipper FedEx (FDX) warned that its international business, especially in Asia, had slowed and profits would fall. FedEx was already seeing pressure on its domestic business.
Wednesday, the company unveiled a three-year plan to cut expenses by $1.7 billion. Wall Street cheered, pushing the stock up $4.41 to $89.99.
Engine maker Cummins (CMI) said late Tuesday it is seeing problems in just about every market it serves, including the domestic market for truck engines. It may cut as many as 1,500 jobs. On Wednesday, the stock fell as much as 4.8% before recovering to $87.79, down $3.05.
Truck-parts maker Accuride (ACW) also warned about the truck market Wednesday. It saw its stock fall by a nearly a third to $3.17.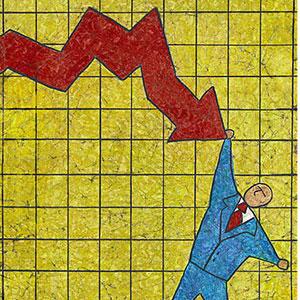 But that's not the only problem. Coal producers are having major trouble, even if GOP nominee Mitt Romney likes coal. The problem is that coal is dirty and, more to the point, it costs more than natural gas. So electric utilities are switching to gas. Coal-fired plants are being shut down.
Railroad giant Norfolk Southern (NSC) raised this issue in when it warned on Sept. 19 that earnings would miss Street estimates. In the past, about 30% of the railroad's revenue has come from shipping coal to electric utilities. Coal shipments are down.
The stock fell 12.5% over the next six sessions to $63.66. It's back to $66.40.
So what exactly will the next few months mean? It depends. Europe's debt problems aren't going away and will weigh on markets through the end of the year and then next year and maybe longer than that. It's simply not easy to fix a flawed currency used by 17 nations.
One or more countries may give up the euro as their currency, and no one knows how the financial markets will react. But Moody's did downgrade Spanish debt on Wednesday nearly to junk level.
China will be a weight because its growth is slowing as manufacturers worry about who will buy their products. Its leadership change is also adding to the uncertainty. Plus, China and Japan are arguing over the ownership of several small islands.
The United States is actually doing better because housing is starting to look stronger. JPMorgan Chase (JPM) CEO Jamie Dimon suggested Wednesday that the banking giant's business is fairly good. Auto sales have been quite strong, and retailers are saying consumer spending is still fairly solid.
The Federal Reserve's Beige Book on Wednesday described an economy growing modestly but also noted the housing gains.
But the fiscal cliff -- the combination of expired Bush tax cuts and required spending cuts -- is a potentially big issue.
None of these problems are new. In fact, analysts have predicted the emergence of profit and revenue pressures for some time.
Thomson Reuters noted last week that a larger-than-expected​ number of companies have reported disappointing results. Earnings warnings were rising. And, Thomson Reuters said, preannouncements are actually a good indicator of what to expect during an earnings season.
Bottom line: Buckle up.
ABOUT
Top Stocks provides analysis about the most noteworthy stocks in the market each day, combining some of the best content from around the MSN Money site and the rest of the Web.
Contributors include professional investors and journalists affiliated with MSN Money.
Follow us on Twitter @topstocksmsn.