Chain restaurants look to craft beer
Sorry, Bud. A pilot program at Chipotle restaurants in Chicago may be a sign of changing consumer tastes.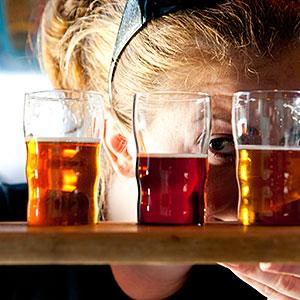 More signs that American culinary tastes are changing, or perhaps becoming more diverse: 15 Chipotle Mexican Grill (CMG) restaurants in Chicago have begun to sell locally-made "craft beers" on a trial basis, the Chicago Tribune reports.
Earlier this year, the pasta restaurant chain Noodles & Co. announced a similar policy, offering its customers craft beers and upscale wines.

American craft brews are a big growth business. The Brewers Association reports dollar sales for the country's small and independent craft brewers were up 14% in the first half of 2012, while the volume of craft brewed beer sold rose 12% in that same time period. Oh, and the number of total breweries in the U.S. is currently at a 125-year high.
"Generally, most craft brewers are continuing to see strong growth in production, sales, brewing capacity and employment, which is to be celebrated during challenged times for many of today's small businesses," said Brewers Association Director Paul Gatza in a statement. "Plus, it's a fact that beer drinkers are responding to the quality and diversity created by small American brewing companies. India pale ales, seasonal beers, Belgian-inspired ales and a range of specialty beers are just a few of the beer styles that are growing rapidly."
Industry experts say the trend of national chain restaurants selling local beer brands is hardly shocking news.

"I would say it's not surprising as all, given the growing popularity and the enthusiasm and the passion that's being driven by the craft beer segment in the United States," says Eric Shepard, executive editor at Beer Marketer's Insights, which covers the beer industry. "It's still only 6% of the total volume, but seems to grow under a lot more of that in terms of the passion and media coverage."
Shepard points towards the so-called "locavore" movement -- where consumers prefer food, beverages and produce grown regionally -- as a model for the national restaurant chains to consider.

"I think some of the other restaurant chains have already adopted this to a certain extent," he said, "where they give a certain amount of freedom to their franchisees to choose based on where they are and the local tastes and food as well. That they would do that in beer as well just makes a whole lot of sense."
But nothing is simple, and that's certainly true when you talk about defining what exactly is a craft beer.  

The big brewers are creating their own craft beers -- such as Blue Moon, produced by MillerCoors (TAP) or Shock Top from Anheuser Busch (BUD). "They see where the growth in the industry is and it's been fairly explosive in crafts over the last four or five years," says Shepard. "And they want to play in that space as well. Ultimately the consumer will sort all of this out."
More from Top Stocks
THANK YOU!!! I took the time to understand and learn the craft art of brewing beer. I will NEVER go back to commercial, although I will imbibe in a Sam Adams or similar craft brew in a restaurant. The idea of offering local craft in your establishment is marketing genius! A higher quality beverage isn't slugged down like urinal lagers (Bud, Miller, Coors, et al) it is enjoyed and appreciated for the flavor and body. Paired with signature dishes, a Chef can only do no wrong. Across America is a huge variety of product worth taste-testing and champions worth paying an extra dollar for.
Here's to all the micro-breweries nationwide who invested the time patience and craft to make great beers!!! Here's to Chipotle for the experiment! James Madison proposed brewing as the national passtime and beer the national drink. The words of Ben Franklin say it all: God made beer because he loves us and wants us to be happy. You can't make war with a full mug in your hand.
Are you sure you want to delete this comment?
DATA PROVIDERS
Copyright © 2014 Microsoft. All rights reserved.
Fundamental company data and historical chart data provided by Morningstar Inc. Real-time index quotes and delayed quotes supplied by Morningstar Inc. Quotes delayed by up to 15 minutes, except where indicated otherwise. Fund summary, fund performance and dividend data provided by Morningstar Inc. Analyst recommendations provided by Zacks Investment Research. StockScouter data provided by Verus Analytics. IPO data provided by Hoover's Inc. Index membership data provided by Morningstar Inc.
ABOUT
Top Stocks provides analysis about the most noteworthy stocks in the market each day, combining some of the best content from around the MSN Money site and the rest of the Web.
Contributors include professional investors and journalists affiliated with MSN Money.
Follow us on Twitter @topstocksmsn.