Best Buy tired of being a showroom
The electronics chain hopes some mobile trickery will get customers to the store to actually buy something.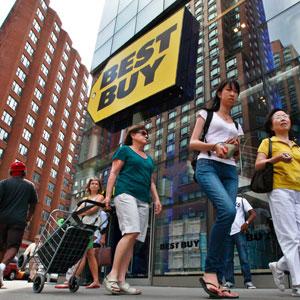 It's not consumers' fault that their smartphones know more about the items on Best Buy's (BBY) shelves than the blue-shirted folks selling them. It's when consumers use their devices to buy those items for less online that Best Buy has its perfect scapegoats.
"Showrooming" says so much about where we're at as a retail culture. Consumers haven't grown so lazy that they're completely unwilling to go to a store, but they've grown so accustomed to online pricing that they're no longer willing to pay extra for store amenities like leases, lighting, security and a workforce of not-so-knowledgeable​ folks in uniform. For Best Buy, it's a conundrum that's costing the company millions.
According to AdAge, Best Buy is partnering with Nashville startup edo Interactive to monitor customers' credit card spending and send them online deals they can access using the same cards. Just accept the deal on your computer or mobile phone, swipe your card at the store, take your item and go. It keeps folks in the store, and Best Buy is hoping it will stop them from showrooming and get them to take something home for once.
Good luck with that. Market research firm NPD Group found that 15% to 20% of consumers showroomed stand mixers, electric knives, sewing machines, floor cleaners, power tools and other items in 2011. IDC Retail insights estimates that 48 million U.S. shoppers will showroom items this holiday season, up from 20.5 million in 2011. The group estimates showrooming could influence as much as $1.7 billion in purchases this holiday.
A survey released by CouponCabin in October found that 40% of smartphone or tablet owners used their devices in a store to compare prices. Of those, 97% of those people bought the products online for less.
This isn't really news to Best Buy, which closed stores this year and saw same-store sales fall 4.3% last quarter. That led to a net loss of $10 million on the quarter and led new Best Buy chief executive Hubert Joly to take drastic steps like vowing to match prices from online retailers like Amazon (AMZN), NewEgg and others through Dec. 27.
Competitors have taken notice, as Target (TGT) launched a similar price-matching policy that is in effect only  until Dec. 16 and began allowing customers to scan items from its store and buy them cheaper on its own website. Wal-Mart (WMT), meanwhile, is testing single-day shipping to take on Amazon Prime. It's an uphill battle for the brick-and-mortar retailers, as the National Retail Federation says 51.8% of consumers plan to do their holiday shopping online this year. That's the first time more than half of shoppers have committed to buying gifts online, and many of them are going to be in the very stores they're shunning to check out the merchandise.
Best Buy can try to trick them into leaving with something they'd like, but years of pushy and oblivious salespeople, unnecessary money-grabbing computer "optimization" by the Geek Squad and remarkably lower online pricing have conditioned consumers in a way gimmick offers never could. When Best Buy offered no service to speak of, it made price the all-important factor the company's name suggests. When those prices aren't low enough to make up for Best Buy's myriad shortcomings, customers accustomed to ignoring staffers and leaving empty handed will have no problem dropping by Best Buy's costly showrooms just to take a few measurements.
More from Top Stocks
last time i checked in this country if you didn't want to work in a job you were free to go get another . how about all our police, firefighters , drs and nurses , prison guards , casino workers , and those working in gas stations all over the country ??? and never forget our military members .. this is just another bunch of bull coming from some union clowns that want to get their hands on the workers money .. look what they've done to the auto industry, hostess , and about anything they get into .. are agents for ball players any better ?? all they want is to fill their pockets and to hell with everybody else .i for one am glad that the whole thing turned into another dud .
Are you sure you want to delete this comment?
DATA PROVIDERS
Copyright © 2014 Microsoft. All rights reserved.
Fundamental company data and historical chart data provided by Morningstar Inc. Real-time index quotes and delayed quotes supplied by Morningstar Inc. Quotes delayed by up to 15 minutes, except where indicated otherwise. Fund summary, fund performance and dividend data provided by Morningstar Inc. Analyst recommendations provided by Zacks Investment Research. StockScouter data provided by Verus Analytics. IPO data provided by Hoover's Inc. Index membership data provided by Morningstar Inc.
ABOUT
Top Stocks provides analysis about the most noteworthy stocks in the market each day, combining some of the best content from around the MSN Money site and the rest of the Web.
Contributors include professional investors and journalists affiliated with MSN Money.
Follow us on Twitter @topstocksmsn.