Wal-Mart faces a tough holiday season
From Costco on one end to Dollar Tree on the other, there's no shortage of rivals looking to take the retailing giant's business.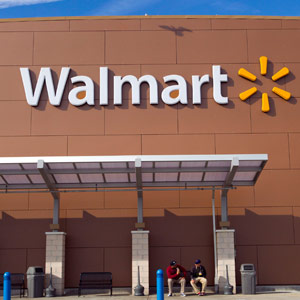 Traders started the day worrying that sluggish sales at
Wal-Mart
(
WMT
) were a harbinger of trouble across the retail sector. Before the markets opened Thursday, the world's largest retailer reported third-quarter earnings of $1.08 a share, a penny a share above Wall Street projections, but disappointing revenue of $113.93 billion, short of the $114.03 billion Wall Street consensus.
Revenue climbed just 3.4% year over year and same store sales were up just 1.5%. Looking ahead, the company guided analysts to earnings per share of $1.53 to $1.58 in the fourth quarter versus the consensus projection of $1.57. Full 2013 earnings, the company said, would be $4.88 to $4.93 a share versus the $4.93 Wall Street consensus.
On that news, Wal-Mart shares opened at $69.66, down from the previous close at $71.31. The shares dropped to close at $68.72, down 3.63% for the day.
The Wal-Mart news took other retailers down as well.
Costco Wholesale
(
COST
) and 
Target
 (
TGT
), two of Wal-Mart's biggest competitors, for example, for example, were down at the open. Costco opened for the day at $93.80 after closing at $94.47 the day before. Target slid to $61.22 after closing at $61.38 the day before.
But the market quickly rethought its logic on the sector. Wal-Mart, the rethink concluded, was having trouble precisely because these competitors were taking sales from Wal-Mart. Target, for example, had recovered to show a gain of 1.73% by the close. Costco had edged ahead by 1.3%. 
Dollar General
(
DG
) was up 1.65%. (Costco and Dollar General are members of my
Jubak's Picks
portfolio.)
Wal-Mart has had to cut prices to fend off competitors. You could see that at Wal-Mart's Sam's Club units, which go head to head with Costco for sales to businesses. Comparable store sales were up just 2.7%, well below the company's prior guidance for 3% to 5% growth. "Sam's Club is stepping up price investment for the holidays, and we are well prepared for our members' gifting and entertaining needs," the company said.
But Wal-Mart is also facing increased competition from such discount chains as
Dollar Tree
 (
DLTR
) and Dollar General. Those stores have attracted increased traffic because of prices that can be even lower than Wal-Mart's, because of smaller stores that allow cash-strapped shoppers looking to make multiple trips to stretch out a weekly check to get in and out more quickly, and by adding food items that let shoppers do more of their weekly purchases at these discount chains.
The fourth quarter is shaping up as a decent but intensely competitive period for retailers. Shoppers are going to be looking for value and are likely to start their holiday search-and-buy missions at stores that promise the greatest chance at bargain prices.
Wal-Mart did a good job laying out the trends in its conference call. At Sam's Club, shoppers are switching to chicken from steak and at Wal-Mart they're buying cheaper detergent, said chief financial officer Charles Holley. Customers with cash are buying in bulk to save money (Costco) and customers who are stretched at the end of the week or month are buying in smaller sizes (Dollar General.)
"It's going to be a very competitive holiday season," Holley said. "Consumers want to get more for their money."

At the time of this writing, Jim Jubak didn't own shares of any companies mentioned in this post in personal portfolios. The mutual fund he manages, Jubak Global Equity Fund (JUBAX), may or may not own positions in any stock mentioned. The fund did not own shares of Wal-Mart, Costco, Target, or Dollar General as of the end of September.
For a full list of the stocks in the fund as of the end of the most recent quarter, 
see the fund's portfolio here
. 

I don't understand this kind of analysis.  So Wal-Mart falls short of someone else's expectations by .08 percent and they are "disappointing".  Revenue is up, profit is up - maybe Wall Street's expectations of Wal-Mart were calculated incorrectly.  This sounds stupid.
  Then other retailers stocks drop before the "market rethought its logic".  Priceless.  Are these the same Wall Street geniuses that killed the economy in 2008?



I can't believe all the negative opinions I have read in this forum about Wal-Mart.  The two stores in our area (Redding and Anderson California) have a ton of food and great products at good prices.  They are clean and well lit.  The employees are helpful and courteous.  Whenever I have had a problem they always help out and make the situation right. None of the employees that I know personally are on government assistance.   It sounds like the stores in your area need to be updated.  Maybe then the employees would have a better attitude, maybe you too.. 
Once upon a time, I meet Sam before he pass away and I was around when he had motto the American people comes first, I was in a store in the South in Alabama close to the coast off  a major Blvd., all the employees on the floor scraping up gum off the floor I got to wonder why they the owner is here and said if the store was not in twelve hours he will shut it down, see when you have a store an your employees show not interest them fire them and quickly they are the ones that down grades your store, but Sam was there until they had it cleaned his way you could say he gave them a second chance, see Sam would come in as like just me and you and check on his property and see what is missing now he is gone the stores to me is not ran the way he brought them up, he was for the Unions he did have Union made products in his stores before, I am 51 and I know what I am saying because I seen it in his stores, but now the kids took over they are UNION busting and are a bunch of CAPITALIST PIGS that deserves to loose everything they are the UNION BUSTERS Sam was not people are being mis-taught about UNIONS but my problem is this if we are so call brothers and sisters in the UNIONS why did not we help the Air Traffic Controllers during the Reagan term and why did not we help HOSTEE why did not we call out on a NATIONAL STRIKE STRIKE where is the true UNION trades oh overseas they are stronger the facts are there accept it now please.
Are you sure you want to delete this comment?
DATA PROVIDERS
Copyright © 2014 Microsoft. All rights reserved.
Fundamental company data and historical chart data provided by Morningstar Inc. Real-time index quotes and delayed quotes supplied by Morningstar Inc. Quotes delayed by up to 15 minutes, except where indicated otherwise. Fund summary, fund performance and dividend data provided by Morningstar Inc. Analyst recommendations provided by Zacks Investment Research. StockScouter data provided by Verus Analytics. IPO data provided by Hoover's Inc. Index membership data provided by Morningstar Inc.
ABOUT
Top Stocks provides analysis about the most noteworthy stocks in the market each day, combining some of the best content from around the MSN Money site and the rest of the Web.
Contributors include professional investors and journalists affiliated with MSN Money.
Follow us on Twitter @topstocksmsn.