$100 for a carry-on?
Spirit Airlines is charging high fees to encourage customers to check their bags.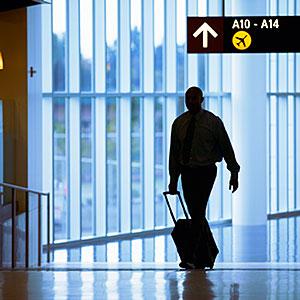 Is Florida's Spirit Airlines (SAVE) trying to anger customers just in time for the holidays? This week, the low-cost carrier quietly implemented a change it first announced in May: It's charging up to $100 for large carry-on bags brought to the boarding gate and meant for the overhead bin.

On its web site, Spirit says it empowers passengers "by offering ultra-low fares with a range of optional services -- including bags -- for a fee, allowing you the freedom to choose only the extras you value."
Management seems to understand its luggage fee hike is not popular. "What's most important is that we truly don't want any of our customers to have to pay $100 for a bag," airline spokeswoman Misty Pinson told the International Business Times. "The fee is intentionally set high to encourage customers to reserve their bags in advance, and it is meant to deter customers from waiting until they get to the boarding gate."
The fee, which Spirit hiked from a previous $45, is only for large carry-on bags declared at the gate. Passengers won't have to pay for bags they can safely stow under their seats.

Analysts believe Spirit's high baggage rate is part of an effort by many discount airlines to re-train customers' behavior regarding baggage in order to keep operational costs down and planes on schedule.
"Spirit certainly marches to the beat of a different drummer, in that they are a very pure, low-cost carrier," says Jay Sorensen, president of IdeaWorksCompany, a Milwaukee airline consulting firm. "They have a core customer base that understands how they do business. And these customers appreciate the trade-off between fees that might be charged in the low-base fare charged by the airline. "
IdeaWorksCompany, along with the global reservations and travel technology company Amadeus, recently estimated that airline ancillary revenue -- that is, the money generated by airlines beyond the actual movement of passengers from one destination to another -- will reach $36.1 billion globally this year. And within the United States, 20% of that ancillary revenue comes just from baggage fees. Domestic airlines reportedly made $3.4 billion in revenue from checked bags in 2011 -- compared to $464.3 million in 2007.
Given those soaring baggage rates, Sorensen (who, for disclosure sake, notes Spirit is not a client of his company) says Spirit and other low-cost airlines present a trade-off to their customers. "They can come in with this kind of quid pro quo offer to the consumer saying, 'OK, yes, we do charge fees, and if you want extra convenience and comfort, there will be a charge for that,'" he says. "'However, if you can get by with the bare minimum, we're going to offer you a fare that the others simply can't touch.'"
While a core base of air travelers might understand the reasoning behind Spirit's actions, observers wonder whether the general public will be as forgiving.

"Unless you're a very, very large brand like Apple (APPL) and Google (GOOG), you really don't have the money to change consumer opinion," says Darrin Duber-Smith, a marketing professor at Metropolitan State University of Denver.

"You can maybe change the opinion of a very small target market, but it's not necessarily something that an airline can do," he says. "Now the industry can do it, as a concerted effort through the association. The industry can certainly do some things that might alter consumer perception. But to think that one small airline with very little brand equity can do that is I think a bit of an overreach."
But both Duber-Smith and Sorensen believe consumer anger over higher airline baggage fees will fade. Earlier this month, the U.S. Bureau of Transportation Statistics announced domestic air fares rose to $385 in the second quarter of 2012 -- up 4.1% compared to the same time a year earlier. And as air travelers deal with higher fares, they will also become accustomed to the new baggage rates -- especially as the more traditional U.S. airlines like Delta (DAL), US Airways (LCC) and United (UAL)  try to remain competitive with their low cost rivals.
"The word here is transition," says Sorensen. "I don't expect the messiness to continue forever. I think that, over time, consumers will begin to accept the new normal and airlines will get better at presenting this information in a fair and transparent manner."
More on Top Stocks
DATA PROVIDERS
Copyright © 2014 Microsoft. All rights reserved.
Fundamental company data and historical chart data provided by Morningstar Inc. Real-time index quotes and delayed quotes supplied by Morningstar Inc. Quotes delayed by up to 15 minutes, except where indicated otherwise. Fund summary, fund performance and dividend data provided by Morningstar Inc. Analyst recommendations provided by Zacks Investment Research. StockScouter data provided by Verus Analytics. IPO data provided by Hoover's Inc. Index membership data provided by Morningstar Inc.
ABOUT
Top Stocks provides analysis about the most noteworthy stocks in the market each day, combining some of the best content from around the MSN Money site and the rest of the Web.
Contributors include professional investors and journalists affiliated with MSN Money.
Follow us on Twitter @topstocksmsn.