A defensive investing strategy for any market
Just as defense wins championships in sports, taking control of your portfolio risk is important.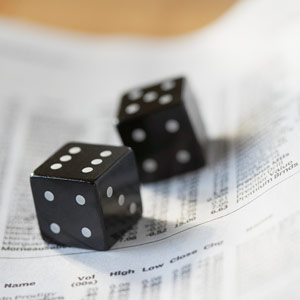 No one talks about it until everything looks ugly, but everyone knows that defense wins championships. As much as this is true in sports, this is also true in our business and the stock market. Of course, investors appreciate stepping up to the plate and taking higher degrees of risk than they might normally from time to time, but prudent investors will never take such risks like with substantial amounts of money.
Instead, controlling risk is the practice of smart money investing, while assuming unnecessary risk is something left to the smaller unwitting investor. For example, I have seen many small investors bet the farm on a very speculative play. I have seen them go all in at market tops, and I have seen them sell it all at market bottoms.

My experience tells me this will almost always be true -- investors who are less educated about the underpinnings of the economy and market cycles will always lag behind others, but over time those lessons can be learned and steps to prevent recurrences can actually result in quite handsome profits.
I will be more specific as I continue, but the most obvious best decisions over the past 12 years was to sell everything when the Internet bubble was peaking in 2000. Then buy everything back when they were capitulating late in 2002, sell again at the end of 2007, and buyback aggressively again at the beginning of 2009.

Most investors were not so lucky, most investors also have tremendous amounts of trouble making these important decisions at those relative peaks. But for those who were able to stir up the courage, those relative peaks and valleys could have made these sideways years quite profitable.
Of course, we all know someone who for one reason or the other was not invested near relative market peaks and who had the money to buy stocks when the market capitulated, and he boasts about his returns enough to make us all jealous sometimes, but those persons should consider themselves lucky because most people have not earned a dime over the past 12 years. The S&P 500 is basically flat from where it was in 2000.
With that said, selling everything and then going all in and then repeating this practice is aggressive by nature. It involves a high degree of risk, and although some people hit the nail on the head, it is not easy to do. If it were easy to do we all would be professional investors. What is easy to do is an alternative approach that I developed about eight years ago.
In February, 2002, I notified my clients that an incredible buying opportunity was coming, and with the integration of our technical tools we pinpointed the bottom that occurred in October, 2002, within four points. I followed that up late in 2006 with a warning that the top of the economic and market cycle was coming; that report was called Top of The Market to You.
Around that same time I introduced a strategy that I called our swing trading alerts strategy. It is a simple strategy design to trade the technical channels of the NASDAQ with the ETFs associated with it (we started with correlated stock selection).

When the market offers buy signals we buy QLD (QLD), an ETF that should return twice the daily performance of the NASDAQ-100 Index. When the market offers sell signals we buy QID (QID), an ETF that should return twice the inverse of the daily performance of the Dow Jones Industrial Average. And when the market flounders we are often in cash. The strategy is not perfect, but it can work in both up markets and down markets and it has integrated risk controls.
Although we all like the idea of buying near the bottom and selling near the top, it is often hard to pinpoint these turning points and therefore smart money would rather adopt a strategy that can work regardless of market direction. Furthermore, that strategy must include defined risk controls and follow a strict set of rules, and I believe our swing trading strategy does exactly that.
As an alternative for people who might be wondering which way this market will go, and even though I believe the direction will be down in a violent way over time, the swing trading strategy can work if the market increases, if it declines, and no matter what happens to the economy. It is by nature defensive because it has integrated risk controls, and its performance versus the S&P 500 proves once again that defense wins championships.

If you are interested in the performance worksheet we have it on our Website. The rules associated with the strategy are available upon request.

To say the least, this article is very intriguing; it certainly piques my interest, and I'm sure, that of many other readers!  Your "defensive investment strategy for any Market," almost sounds "too good to be true," but I'm not going to judge you or your investing strategy until I thoroughly check it out -- not just on your website, but by doing an extensive Internet search about you and your investment company, "Stock Trader Daily."  Moreover, I recommend that ANYONE who might be interested in investing with Stock Trader Daily do the same.
Mr. "Stock Trader Daily," (the author of this article) please don't misinterpret what I am about to say.  I am NOT implying, inferring, comparing or saying that you or your investment company, Stock Trader Daily, are in any way remotely similar to FISHER INVESTMENTS (KEN FISHER, CEO and PRINCIPAL OWNER), an investment advisory/money management firm that, UNFORTUNATELY, I became "involved with" or "entrapped by," into its "elite and prestigious," Private Client Group, from April, 2008 -- June, 2012.  It's just that the "too good to be true" inference, which I perceived from the article, conjures up traumatic flashbacks about my disastrous and VERY COSTLY investment experiences with FISHER INVESTMENTS (a singular noun).  Simply stated, in less than 4 1/2 years as an investor with this egregious and deceitful firm, it's owner, and the notorious buffoons called the "Investment Policy Committee", I lost over $90,000 + paid an additional $30,000 for "investment advisory fees."  If  interested, you can read about my entire "incredible journey" with FISHER INVESTMENTS on one of my many previous blogs (comments) on MSN Money.  In departing, I leave the readers with my familiar, clever (just joking), but absolutely necessary and true, WORDS OF WARNING:  BE AWARE and BEWARE of FISHER INVESTMENTS!
Don Moore
Are you sure you want to delete this comment?
DATA PROVIDERS
Copyright © 2014 Microsoft. All rights reserved.
Fundamental company data and historical chart data provided by Morningstar Inc. Real-time index quotes and delayed quotes supplied by Morningstar Inc. Quotes delayed by up to 15 minutes, except where indicated otherwise. Fund summary, fund performance and dividend data provided by Morningstar Inc. Analyst recommendations provided by Zacks Investment Research. StockScouter data provided by Verus Analytics. IPO data provided by Hoover's Inc. Index membership data provided by Morningstar Inc.
ABOUT
Top Stocks provides analysis about the most noteworthy stocks in the market each day, combining some of the best content from around the MSN Money site and the rest of the Web.
Contributors include professional investors and journalists affiliated with MSN Money.
Follow us on Twitter @topstocksmsn.