Sell GM, Ford, Toyota and other auto stocks
Here are 3 reasons to drive away from these companies fast.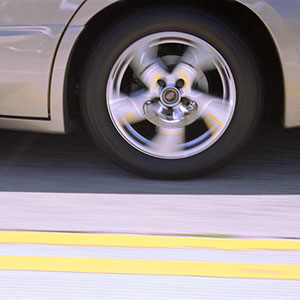 By Jeff Reeves
There was recently a big stink made about the fact that General Motors (GM) wants to get out from under the onus of Uncle Sam's ownership and how the Treasury isn't willing to sell right now, since it would set up the government (and taxpayers) to record a big loss.
From the WSJ: "GM executives have grown increasingly frustrated with that ownership, and the stigma of being known as 'Government Motors.' Executives have said the U.S.'s shadow is a drag on its reputation and hurts the company's ability to recruit talent because of pay restrictions. Privately, executives are also irked at the continued curbs on corporate jet use."

Love that dig about the corporate jets, don't you?
At any rate, this story made waves recently in part because of the big American International Group (AIG) sale that reduced the government's stake in the infamous insurer to a minority position -- and might result in a profit.
But the big reason investors should pay attention to this story isn't the government's stake or taxpayers trying to make a profit. That's the least of GM's worries. No, the bigger issue is that General Motors -- and auto stocks in general -- is looking pretty ugly right now. That also includes Ford (F), Toyota (TM), Honda (HMC) and, well, every major publicly traded auto stock.
Here are three big reasons:
Europe. Europeans are not buying cars. Period. This was painfully obvious when GM reported a 41% drop in profits and a 5% revenue slide driven by a loss in its European operations. That's right, GM didn't make one red cent in Europe. That trend has continued, and is industry-wide. Data most recently shows this via car registrations seeing their biggest decline in six months across the continent, indicating softness all around as German demand fell. Leading the way down was Ford, seeing a 29% drop year over year. The Brussels-based European Automobile Manufacturers' Association is forecasting a 17-year low for full-year sales.
China. That big bet on China that luxury stocks, automakers and others have made in the last few years? Well, turns out that the soaring spending there may have hit a ceiling. Consider that for the full-year 2011, China auto sales growth trailed the U.S. for the first time in at least 14 years at just 2.5%. Total vehicle sales were up year-over-year by just 8% in July, and momentum continues to slow. Plus, throw in a very public trade spat in an election year, and the U.S. challenging China on improper auto parts subsidies, and it could mean very bad things for the Chinese auto business in the next year. As a result Moody's (MCO) just lowered its growth forecast for the auto industry in China (and, by the way, on Europe, too).
US. The average age of cars and light trucks on the road is now double what it was in 1970 -- a stunning 11 years. That is partially due to the great technology of modern vehicles, allowing them easily to top 100,000 miles, but it's also reflective of the consumer spending habits that are keeping folks from making big-ticket purchases. Auto sales have been slowly on the mend since the Great Recession but are hardly back to peak levels. In short: While automakers avoided bankruptcy and have managed to pare down costs, it's not the same as having a booming auto sales environment like we saw in the mid-200s.
The Bottom Line
It all adds up to any ugly outlook for auto stocks. If the slowdown in China is real, the recession in Europe is cutting sales and American buyers aren't as willing to spend, it doesn't leave a heck of a lot of room for growth.
With easier year-over-year comparisons behind them, auto stocks have struggled -- Ford, GM, Toyota, Honda, Nissan (NSANY) and Fiat (FIATY) are all in the red year to date, while the S&P has tacked on more than 14%. In the case of Fiat, Nissan and Ford, the stocks are actually down by double digits.
Not good and not a sign of an auto "recovery."
Jeff Reeves is the editor of InvestorPlace.com and the author of "The Frugal Investor's Guide to Finding Great Stocks." Write him at editor@investorplace​.com or follow him on Twitter via @JeffReevesIP. As of this writing, he did not own a position in any of the stocks named here.

More from InvestorPlace
DATA PROVIDERS
Copyright © 2014 Microsoft. All rights reserved.
Fundamental company data and historical chart data provided by Morningstar Inc. Real-time index quotes and delayed quotes supplied by Morningstar Inc. Quotes delayed by up to 15 minutes, except where indicated otherwise. Fund summary, fund performance and dividend data provided by Morningstar Inc. Analyst recommendations provided by Zacks Investment Research. StockScouter data provided by Verus Analytics. IPO data provided by Hoover's Inc. Index membership data provided by Morningstar Inc.
ABOUT
Top Stocks provides analysis about the most noteworthy stocks in the market each day, combining some of the best content from around the MSN Money site and the rest of the Web.
Contributors include professional investors and journalists affiliated with MSN Money.
Follow us on Twitter @topstocksmsn.