8 huge special dividends to watch out for
With the looming fiscal cliff, these tech companies could announce one-time payments before the end of 2012.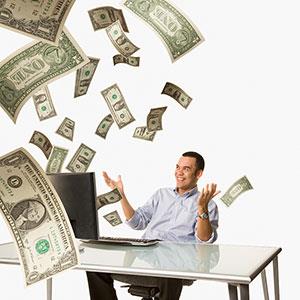 By Jon C. Ogg, 24/7 Wall St.
With possible higher taxes on dividends and capital gains coming in 2013 as a result of the fiscal cliff, more companies are announcing dividends or special dividends before the end of 2012. The current dividend tax rate of only 15% will likely never be lower, and companies are starting to accelerate and boost those after-tax returns to shareholders as a result.
24/7 Wall St. has gone through the universe of large technology companies that could declare one-time dividends payable to holders before year-end. There is, of course, a catch. Some companies do not pay regular dividends even though they should. Another catch is that many of these companies have substantial business offshore and much of that cash or short-term and long-term investment capital would get eaten up if and when it is repatriated from overseas back into U.S. banks.
Many companies were eliminated from this analysis because they were just under too much business pressure even though they have solid balance sheets. Dividends rarely require shareholder approval and these companies are generally strong enough and have low enough debt levels that debt covenants would likely not be a serious issue.
With this being the last week of November, if a company is going to issue a special dividend, time is running out. These are eight technology players that could substantially reward their common shareholders with large one-time payments before 2012 comes to an end:
Apple (AAPL) sits on the world's largest cash pile. Its market cap remain huge at $551 billion even after shares dropped so much from the highs of over $700 recently. Most of its "cash" is in long-term securities, but if you tally up Apple's liquidity it has about $120 billion in its arsenal. Apple could easily pay out 8% to 10% of its market cap in a special dividend and it would not be noticed in the grand scheme of things. If the company wanted to get very aggressive, it could even borrow $25 billion to turn around and distribute it to shareholders. Apple generates so much cash that it could pay that back in a year and still show positive cash growth.
Corning (GLW) may have gotten some good news on glass demand this week, but it is still suffering relentlessly from competition in glass screens. With a market cap of about $18 billion, this leader trades at a discount to its book value. Corning also has close to $11.4 billion in cash, short-term assets and long-term assets. Corning already raised its dividend in November and offers close to a 3% yield, but it could easily pay out 10% of its market cap to its shareholders without increasing leverage too much.
Dell (DELL) may need to hoard its cash to remain defensive and it may need to look for more acquisitions in the IT-services sector. With its shares down and out, you have to wonder about its cash balance and long-term investments coming to roughly $15 billion as of Tuesday. While we don't expect this to occur, the PC maker could literally scrape up enough cash to pay out a special dividend that comes to 25% to 50% of its $17 billion market cap. With the tax deadline looming, envisioning a 10% or 15% special dividend would be no sacrifice to the company. It already pays a 3.4% yield as it is.
eBay (EBAY) is no longer a high growth company, and since it trades close to its 52-week high it is even hard to call it a value stock any longer. The company has made many deals in the past but has yet to pay a dividend. With a $66 billion market value, eBay has close to $12 billion on its books in cash and short-term and long-term securities. As it already has close to a monopoly in online consumer auctions in America, does it really need to hold all of this cash? Paying a 5% special cash dividend and finally instituting a dividend with a 2% yield would not hurt the company at all.
Juniper Networks (JNPR) has been overlooked in the technology value plays. It currently does not pay a regular dividend. Some have consider it a takeover candidate. If you tally up the networking equipment maker's cash and short-term and long-term investments it comes to over $4 billion against a market cap of $8.7 billion. Even if Juniper has significant assets locked up it could easily scrape up almost $1 billion to come up with a 10% special cash dividend for its shareholders. With shares at $16.80, its 52-week range is $14.01 to $25.04.
Microsoft (MSFT) has such a large cash balance that you wonder just what it will or can do with it. Unfortunately, a large portion of its capital is overseas due to its sales being global. If you tally up the long-term investments and its cash and short-term assets, Microsoft is sitting on some $75 billion. With a market cap of $230 billion, Microsoft could pay a 10% special dividend without blinking an eye. (Microsoft owns and publishes Top Stocks, an MSN Money site.)

Oracle (ORCL) is a great laggard when it comes to dividends. Its yield is less than 1% and its market cap is over $150 billion. CEO Larry Ellison and friends have a cash arsenal of more than $31 billion. Ellison recently said that he would rather return cash gradually with hikes, but even if he wants to save the company's cash for another large deal out in a year or two as he had telegraphed before, he does not need $31 billion. By sending back half of that cash, Oracle could have a 10% special cash dividend and still have more than $15 billion on its books.
Yahoo (YHOO) just became a cash monster now that it monetized part of its Alibaba stake and repatriated that cash. If you tally up its cash and short-term and long-term investments it now sits on close to $13 billion in liquidity with close to no long-term debt. With a market cap of $22 billion this perpetual turnaround company trades at about two times its tangible book value. The company previously pledged to return 85% of that $4+ billion in net after-tax proceeds to holders but it did not specify how. CEO Marissa Mayer has brought the stock back up to $19, a 52-week high, so she can do whatever she wants and likely be able to sell it. Our take is that a large one-time dividend would be best, but the company can likely do what it wants without being punished right now.
More from 24/7 Wall St.
DATA PROVIDERS
Copyright © 2014 Microsoft. All rights reserved.
Fundamental company data and historical chart data provided by Morningstar Inc. Real-time index quotes and delayed quotes supplied by Morningstar Inc. Quotes delayed by up to 15 minutes, except where indicated otherwise. Fund summary, fund performance and dividend data provided by Morningstar Inc. Analyst recommendations provided by Zacks Investment Research. StockScouter data provided by Verus Analytics. IPO data provided by Hoover's Inc. Index membership data provided by Morningstar Inc.
ABOUT
Top Stocks provides analysis about the most noteworthy stocks in the market each day, combining some of the best content from around the MSN Money site and the rest of the Web.
Contributors include professional investors and journalists affiliated with MSN Money.
Follow us on Twitter @topstocksmsn.