Market stuck in wait-and-see mode
With a big eurozone summit starting Thursday, investors don't want to take big risks. That should change soon.
You'd be excused for dozing off. For the better part of two months, stocks have been bouncing around within a narrowing trading range. Looking at the small caps in the Russell 2000, the March-May support line near 785 is offering resistance, while the 50-day moving average is offering support. There have been a few attempts to break out, both to the upside and the downside, but no real progress.
With the global economy clearly in trouble, much of Europe already in recession and fundamentals like corporate earnings growth rolling over, there isn't much else to wait for besides new stimulus measures from policymakers or progress toward a definitive resolution in Europe. Thus all eyes are on the two-day eurozone summit starting Thursday.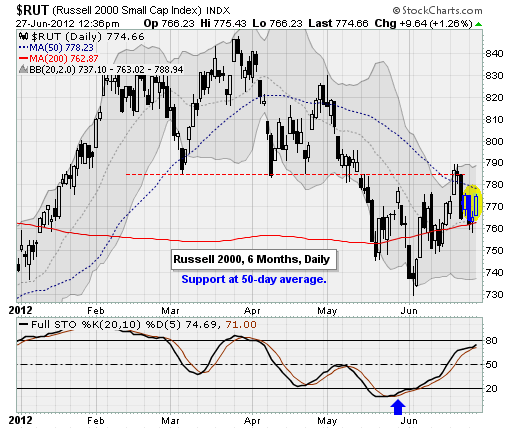 I'm getting sick of writing about the eurozone crisis, and you're probably sick of reading about it. But it's what's driving the market these days, so we have to keep going.
For one, policymakers in China, the United Kingdom and the United States have already unveiled new stimulus measures, thanks to actions by their central banks. Japan, the other large economy, is a mess, mired in political bickering over a planned sales tax increase to address a runaway debt/deficit problem. So that's a no go.
Also, the real economy is really struggling.
You can see this in the way the Citigroup Economic Surprise Index, which measures how economic data are posting compared with analyst expectations, has dived to levels not seen since early last year. Earnings estimates are dropping with Q2 EPS projections for the S&P 500 down to minus 0.6% versus a gain of 6.2% in Q1. If that panned out, it would be the worst quarterly performance since the recession was ending in Q3 2009.
Even people in the corporate suites are worried. Seventy-three companies in the S&P 500 have already released negative Q2 guidance.
We also have the "fiscal cliff" problem here at home -- those tax hikes and spending cuts worth about 4% to 5% of GDP set to hit in early 2013 -- that will be a big issue soon.
But right now, with Spanish and Italian borrowing costs nearing unsustainable territory and with the new Greek government demanding concessions on the strict budget austerity requirements imposed on it as part of its bailout agreement, action is needed.
Global policymakers are practically begging Germany to interrupt the austerity, weak economy, weak banks, deeper deficits, more austerity death spiral it keeps pushing. I think it eventually will, since the costs of killing or exiting the eurozone are still higher than rescuing its neighbors.
I've been using the flat spot in the markets to harvest profits and raise some cash, getting "flat risk" with a big, unpredictable political event coming up. Also, I'm no longer getting strong directional signals from the overall market. And no sector or industry groups are breaking out in a big way. There's only some lingering strength in biotech and semiconductors and some emerging strength in financials.
It seems many are pulling in their horns. Newsletter writers have reached a level of neutrality (based on survey data) that hasn't been seen since 1983, according to the folks at Sundial Capital Research. Historically, such neutrality was resolved to the upside. Out of eight precedents of neutrality on the scale we're seeing now, the S&P 500 traded higher 1-3 months out seven times. Four months out, there was a positive return all eight times with an average gain of nearly 7%.
This fits with my overall thesis that we're headed for a quick multimonth rally before America's looming fiscal cliff and other issues create market weakness later this year.

Trading update

Existing Edge Letter Sample Portfolio positions continue to perform well. Spectrum Pharmaceuticals (SPPI) is up nearly 18% since I added it on June 15. I am adding one new financial position to my holdings: Synovus Financial (SNV).
Disclosure: Anthony has recommended SNV to his newsletter subscribers.

Check out Anthony's investment advisory service The Edge. A two-week free trial has been extended to MSN Money readers. Click here to sign up. Contact Anthony at anthony@edgeletter.c​​om and follow him on Twitter at @EdgeLetter. You can view his current stock picks here. Feel free to comment below.

DATA PROVIDERS
Copyright © 2014 Microsoft. All rights reserved.
Fundamental company data and historical chart data provided by Morningstar Inc. Real-time index quotes and delayed quotes supplied by Morningstar Inc. Quotes delayed by up to 15 minutes, except where indicated otherwise. Fund summary, fund performance and dividend data provided by Morningstar Inc. Analyst recommendations provided by Zacks Investment Research. StockScouter data provided by Verus Analytics. IPO data provided by Hoover's Inc. Index membership data provided by Morningstar Inc.
ABOUT
Top Stocks provides analysis about the most noteworthy stocks in the market each day, combining some of the best content from around the MSN Money site and the rest of the Web.
Contributors include professional investors and journalists affiliated with MSN Money.
Follow us on Twitter @topstocksmsn.