Abbott, Bristol-Myers race for hepatitis cure
Both companies want to develop a replacement to the standard year-long injection treatment.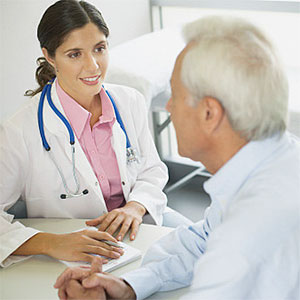 There was a lot of news in the hepatitis C space Monday out of the meeting of the American Association for the Study of Liver Diseases.
And big positive news came from both
Abbott Laboratories
(
ABT
) and
Bristol-Myers Squibb 
(
BMY
). Both stocks are members of my
Jubak's Picks portfolio
. 
Abbott announced that a test group that took a mixture of Abbott drugs along with the antiviral ribavirin showed that the combination wiped out all traces of the hepatitis virus in 99% of patients with the liver disease.
Bristol-Myers, also racing to develop a replacement to the standard year-long injection treatment, reported that its triple combination therapy of NS5A daclatasvir, protease inhibitor, and non-nuc NS5B showed a 94% early cure rate for patients with the hepatitis virus. While these results show that Bristol-Myers still lags the leaders -- Abbott and
Gilead Sciences
(
GILD
) -- the report does put Bristol-Myers back into the competition. That's major good news for the stock because Wall Street had pretty much written off Bristol-Myers' prospects in the hepatitis C market after it ended testing of its main drug candidate BMS-094 on worrying safety data.
Gilead is currently conducting an 800-person trial (versus Abbott's 571-patient trial) of a therapy that requires fewer pills than Abbott's. Wall Street still thinks this race is Gilead's to lose. Credit Suisse, for example, forecasts that Gilead will have $3.8 billion in hepatitis C drug sales in 2020 to $2.5 billion at Abbott and $1.3 billion at Bristol-Myers. And there's no doubt that Gilead's approach has an edge since it doesn't user ribavirin, which doctors would prefer not to use.
But these results do show that the hepatitis C market is still a horse race. Other horses in the race include
Vertex Pharmaceuticals
(
VRTX
) and
Achillion Pharmaceuticals
(
ACHN
).
Abbott Laboratories was, briefly, above my target price Tuesday, but the company's earnings report knocked the stock back down. I'll have an update with a new target price Thursday.

At the time of this writing, Jim Jubak didn't own shares of any companies mentioned in this post in personal portfolios. The mutual fund he manages, Jubak Global Equity Fund (JUBAX), may or may not own positions in any stock mentioned. The fund did not own shares of Abbott Laboratories or Bristol-Myers or any other stock mentioned in this post as of the end of June.
For a full list of the stocks in the fund as of the end of the most recent quarter, 
see the fund's portfolio here
. 

Anything that would make it more "user friendly, would save thousands of lives! Dont know what the statistics are but my personal experience of going through the year long course of treatment was to say the least, barely better than the alternative. The phyisical, mental,emotional and spiritual toll was devistating. i "knock on wood" have been clear for eight years now. in the mean time I only know of one other person that was able to cope with the side effects long enough to realize a "cure'. i know of at least a dozen others that did not make it. Some close family members... May the Great Spirit continue to help mankind eradicate this dragon as it continues to devistate families around the world. "None of us are getting out of here alive "...as the saying goes. But to lessen the pain and suffuring, the shame and ostracisim that the loved ones of the poor soul that has this disease is reason enough to spend the billions. And if people make a profit off it GREAT!!!

It is about TIME they do something about it. I went through the treatment and I would not wish it on anybody. Had to be on it for a whole year. I am clean but not sure if it will come back or not.  I  HOPE THEY CAN HELP OTHER NOT TO GO THOUGH WHAT I HAD TO. NEVER BEEN SO SICK FROM IT ALL.  THE GOV NEEDS TO STEP IN AND MAKE IT HAPPEN.    THANKS GREG

Beware this stks will crash if Romney gets in....
Which Romney will we see today on tv, the real one or the flip flopper ?????
For War against War, for women against women, for middleclass against middleclass, for coal against coal, for medical reform against medical reform.
A real shape shifter, a chameleon. America wake up to this guy he been an opportunist all his life !
Are you sure you want to delete this comment?
DATA PROVIDERS
Copyright © 2014 Microsoft. All rights reserved.
Fundamental company data and historical chart data provided by Morningstar Inc. Real-time index quotes and delayed quotes supplied by Morningstar Inc. Quotes delayed by up to 15 minutes, except where indicated otherwise. Fund summary, fund performance and dividend data provided by Morningstar Inc. Analyst recommendations provided by Zacks Investment Research. StockScouter data provided by Verus Analytics. IPO data provided by Hoover's Inc. Index membership data provided by Morningstar Inc.
ABOUT
Top Stocks provides analysis about the most noteworthy stocks in the market each day, combining some of the best content from around the MSN Money site and the rest of the Web.
Contributors include professional investors and journalists affiliated with MSN Money.
Follow us on Twitter @topstocksmsn.