5 stocks to hold for 20 years
What should you look for when investing for the long haul?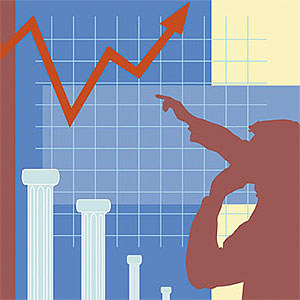 By
Scott Rubin
In today's fast-paced, hyperactive markets, holding times have been declining steadily among investors. These days, a "long-term investment" may mean holding a stock for six months to a year. 
This type of rapid-fire turnover has a number of inherent drawbacks, including the transaction costs. While commissions have been falling, trading costs still weigh on market returns.
Unfortunately, since the idea of truly long-term investing seems to have gone by the wayside, many investors who are interested in this approach have few resources. Some tips and pointers can be gleaned from the few investors who still employ a very long-term approach to stock picks.
The most famous is Warren Buffett. For simplicity's sake, this article will use a loose collection of rules that Buffett employs to offer a framework for long-term investing in addition to offering five ideas for the long haul, which more or less correspond to these rules.
The first rule is to focus on established companies. Generally, they will have market caps in the billions of dollars and a fairly extensive track record on the public exchanges. The logic behind this rule is fairly straightforward: These companies have business models that have withstood the test of time.
Second, investors should focus on companies that pay a quarterly dividend, even if only a small one. Over time, dividends accumulate and can account for substantial returns on their own. Good companies also tend to increase dividend payments over time.
Third, long-term buy-and-hold stock investors should focus on companies with easy to understand businesses. Unfortunately, many of the most exciting areas of the market, such as technology, are just entirely too difficult to forecast. Today's cloud-computing leader could be tomorrow's buggy-whip maker, given how fast technology becomes obsolete.
The fourth axiom is picking world-class brands. Buffett is known for equating a company's brand with a moat around its business that keeps competitors at bay over the long haul. Many of the most successful long-term stock plays have built up tremendous brands that have withstood the test of time.
The final rule is buying companies with strong track records of creating shareholder value. Scanning for companies that meet this requirement is as simple as looking at long-term stock charts. A company that consistently creates shareholder value will always have a proven, consistent business model and, more often than not, a history of honest and talented management. These two ingredients alone will often allow investors to outpace the market in the long run.
While very few stocks in today's market adhere to all of these long-term investing principles, fortunately the ones that do are frequently the most obvious. The reason is that most investors are quite familiar with them, as they have impeccable global brands, a history of creating shareholder value, and prominent, reliable businesses.
Below, Benzinga highlights five names that adhere to the investing philosophy articulated above.
McDonald's (MCD) 
This stock fits the criteria for long-term investing on every metric. The company is well-established and is the clear leader in its industry with a market cap of nearly $94 billion. McDonald's also pays out a very healthy dividend and is currently yielding around 3% at current levels. This compares to the yield on the 10-year note of 1.67%.
McDonald's also has an extremely straightforward, easy to understand, and predictable business model. Its quick-service restaurant model has endured the test of time thus far, and it is a fairly safe bet that the Golden Arches will still be ubiquitous twenty years from now. This leads to the next metric which McDonald's passes with flying colors -- the company possesses a world-class brand which serves as a strong moat around its business. Finally, the company has created tremendous shareholder value for its long-term owners. Over the last 10 years, the stock is up 418% and since going public in 1978, share have appreciated roughly 7,428%.
Starbucks (SBUX) 
Starbucks is to coffee what McDonald's is to hamburgers and fries. The company is the established leader in its market, and has a simple, straightforward business model. At current levels, the stock is yielding a respectable 1.30%. Since instituting a divided in 2010, the company has steadily increased its quarterly payout.
One of the primary reasons for the success of Starbucks is its cultivation of a brand which is recognized across the world. In all likelihood, if the company continues to do what has made it so successful, Starbucks will be even more well-known twenty years from now. The trajectory of the stock price reflects the high quality nature of the business and brand, and the successes of the company's management team. Since going public in 1992, the shares have risen around 7,420%, including a gain of 386% over the last 10 years.
Pepsico (PEP) 
This stock is definitely not the sexiest name in the market and certainly will not make investors rich overnight. Nevertheless, it has been a reliable vehicle of capital appreciation for the same reason as the names outlined above. It is a leader in its market and has a top-tier pedigree. Pepsico's business of selling beverages and snacks on a global basis could be understood by a third grader. Furthermore, it is reliable, consistent and relatively easy to forecast out into the future.
The stock also offers an attractive 3% dividend yield at current levels and the company has a track record of raising its payout over time. The Pepsi brand is also ubiquitous in many parts of the world, and over the next 20 years, it is likely that the number of consumers who will be introduced to its brand and products will continue to grow. Pepsico has also proven itself to be a long-term winner already. Over the last 10 years the stock has risen a market-beating 87%. Since going public in 1978, the stock has climbed around 4,690%.
Nike (NKE)
Like the other company's outlined in this article, Nike is the unquestioned leader in its industry. The company has a straightforward business model and has produced consistent returns for shareholders by focusing on global execution and growing the value of its brand. Over any significant period of time, the company has created value for its owners through share price appreciation and increased dividend payouts.
At current levels, the stock is yielding 1.50%, which is respectable given that this company has plenty of room to continue to grow. Nike is the most ubiquitous global athletic apparel brand by a wide margin, and it is one of the most valuable brands in the world on an absolute basis. The stock's historical performance reflects the high-quality nature of the company's business as well as its special brand power in the hearts and minds of consumers. Over the last 10 years, shares have risen 331%, and since going public in 1980, the stock has gained around 13,730%.
Disney (DIS) 
While Disney's business model is somewhat more multifaceted than the likes of a Starbucks or McDonald's, it is still simple enough that most kids could understand it. The stock and company also possess qualities that should appeal to long-term investors. The shares are currently yielding a little better than 1% and the company has a history of raising its payout. On the strength of its brand, which is among the most valuable in the world, Disney is without peers in its core businesses.
Furthermore, the trajectory of the stock price continues to reflect the inherent qualities which make Disney among the world's foremost companies -- a position that it has held over the long-term. The shares have risen a market-beating 245% over the last 10 years and the stock has soared an unreal 6,677% since going public in 1978.
DATA PROVIDERS
Copyright © 2014 Microsoft. All rights reserved.
Fundamental company data and historical chart data provided by Morningstar Inc. Real-time index quotes and delayed quotes supplied by Morningstar Inc. Quotes delayed by up to 15 minutes, except where indicated otherwise. Fund summary, fund performance and dividend data provided by Morningstar Inc. Analyst recommendations provided by Zacks Investment Research. StockScouter data provided by Verus Analytics. IPO data provided by Hoover's Inc. Index membership data provided by Morningstar Inc.
ABOUT
Top Stocks provides analysis about the most noteworthy stocks in the market each day, combining some of the best content from around the MSN Money site and the rest of the Web.
Contributors include professional investors and journalists affiliated with MSN Money.
Follow us on Twitter @topstocksmsn.