Will Jobs' absence hurt Apple?
The tech giant's CEO is taking another medical leave. But this time, the company seems well-prepared to march on.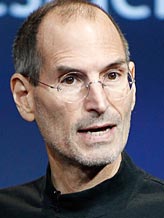 Steve Jobs delivered a
devastating blow
today: He's taking another unexplained medical leave of absence.
The
message
, sent by e-mail to
Apple (AAPL)
employees, said that although he's leaving to focus on his health, he will continue as chief executive. Chief operating officer
Tim Cook
will run day-to-day operations. "I love Apple so much and hope to be back as soon as I can," Jobs wrote.
Apple's shares are likely in for a significant drop when the markets reopen Tuesday. They're already falling overseas, down 7.5% today in Frankfurt. If the stock loses 7.5% when the markets open Tuesday, that would wipe out nearly all the 8% gain the stock saw in 2010.
Investors have been through this before. Cook led the company for the first half of 2009 while Jobs was recuperating from liver transplant surgery. This new leave of absence has raised all kinds of fears about Jobs' health, his future with Apple and Apple's ability to remain the superstar it has become in the past five years. Will Jobs come back? Can Apple make it without him? Jobs is so dominant at Apple, such a force in every aspect of its operations, that the idea of surviving without him seems nearly impossible. Post continues after video:
But let's give Jobs credit for this much: He has put the company in the best possible position to go on, whether he's at the helm or not. In fact, the Apple we see now is a much better company than the Apple of early 2009, when Jobs was temporarily gone.
The iPad business is stronger than most people expected, with surprisingly solid sales and, if reports are to be believed, a new version coming out in spring. The device will be able to survive the onslaught of rivals expected out this year and retain its market-leading spot.
The iPhone has just been expanded to
Verizon Communications (VZ)
, and Jobs was likely a key figure in wresting it from
AT&T's (T)
exclusive grasp. This was exactly what Apple needed to keep the phone strong against an army of new devices using Android software from
Google (GOOG)
.
Mac sales are stellar, and Apple is finally making some headway in getting into large corporations -- a place where the company has traditionally been ignored.
So, yes, Jobs' departure is a huge blow. But the news isn't as panic-inducing as it might have been in the past. Apple is resilient and innovative, and it's on its way to becoming the most valuable company in the world. With or without Jobs.
Apple's 8% rise in 2010, by the way, is the 29th-best among the Nasdaq-100. The index is up 4.8%, and Apple is still about 22% of the Nasdaq-100 market cap.
Here's what others are saying about today's news:
Henry Blodget at Business Insider
seized upon Jobs' comment about loving Apple so much. "Those are not the words of someone taking a short leave who is confident he will be back at the company soon (or ever). Rather, in our opinion, they read like the tragic, heartfelt sentiments of someone who thinks he might never be coming back."
Kara Swisher at ATD:
"In the both times he has taken time off for health reasons, Jobs has come back with fierce and game-changing innovation. The iPhone came out after his first big bout with his illness, the iPad after the second."
Daniel Ernst, analyst at Hudson Square:
"This time around you have to question his ability to bounce back. They've never discussed a succession plan, but it's pretty clear that Cook is the guy. . . . I think that people undersell the depth of the team at Apple. There's no operational risk to the story, but there's perceived risk."
Fortune:
"With COO Tim Cook running the show, Apple is in good hands. Each time he has stepped in for Jobs, the company's performance -- already pretty strong -- has improved. But that won't stop speculators from punishing the stock when the market opens Tuesday."
Benedict Evans, analyst at Enders:
"The editing and the quality control he provides on what they ship has been so crucial to Apple's success, and so on a two- and three- and four-year view, that is where Apple would really start to feel his absence. If he isn't able to play the role in Apple he has in the past, it is in the two-to-three-year view the product line will be affected."
Tim Sheperd, analyst at Canalys:
"This is bad news for Apple inasmuch as investors will be concerned about Steve Jobs' position longer term. But the real impact on the company and its operations will be limited. Jobs is continuing to be involved in major decisions, and Tim Cook has good experience of the day-to-day running of the company."
Charley Blaine contributed to this report.
DATA PROVIDERS
Copyright © 2014 Microsoft. All rights reserved.
Fundamental company data and historical chart data provided by Morningstar Inc. Real-time index quotes and delayed quotes supplied by Morningstar Inc. Quotes delayed by up to 15 minutes, except where indicated otherwise. Fund summary, fund performance and dividend data provided by Morningstar Inc. Analyst recommendations provided by Zacks Investment Research. StockScouter data provided by Verus Analytics. IPO data provided by Hoover's Inc. Index membership data provided by Morningstar Inc.
ABOUT
Top Stocks provides analysis about the most noteworthy stocks in the market each day, combining some of the best content from around the MSN Money site and the rest of the Web.
Contributors include professional investors and journalists affiliated with MSN Money.
Follow us on Twitter @topstocksmsn.