Attention, Sears shoppers: Go to TJX
The old-time retailer was hot in its day, but that was long ago.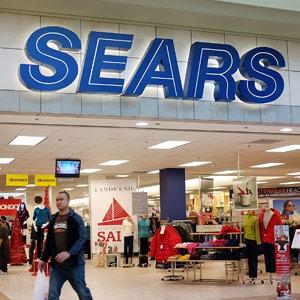 By Bill Gunderson
It was the Amazon.com (AMZN) of its day. Shoppers could buy goods through its revolutionary mail-order catalog. In fact, it was the largest mail-order and merchandising company in the United States for more than 60 years.
It owned the tallest building in the world, at 108 stories. But by 1995, there were no Sears (SHLD) employees to be found in the Sears Tower, despite its being the company's headquarters at one time. It is no longer the Sears Tower -- the company lost the naming rights in 2003, and the nation's tallest building is now called the Willis Tower.
Sears was kicked out of the Dow Jones Industrial Average ($INDU) back in 1999, and it is now being removed from the S&P 500 ($INX). This is the same index that added Monster Beverage (MNST) to the index just a few weeks back.
There is a very important lesson for individual investors to learn from this story.
It is better to own the Best Stocks Now, not the best stocks of yesteryear. Take note, all of you Cisco (CSCO), GE (GE), Hewlett-Packard (HPQ), JCPenney (JCP) and other stodgy old stocks of yesteryear devotees. Companies have life cycles. You want to own them in the prime of their life, not when they are way past their prime.
As a professional money manager, I can almost predict what stocks are held in a portfolio that is transferring to me from one of the big wire-house firms. In fact, I recently wrote an article about this for The Street: The Best Stocks to Own (Hint: They Are Not the Most Widely Held).
Like the "Carnak the Magnificent" skit on the old Johnny Carson show, I can usually hold their statements up to my forehead and see GE, Johnson & Johnson, Microsoft, Intel and Cisco before I even open it up.
Why? I guess it is because these household names are like a big fuzzy blanket wrapped around nervous investors.
Now, having said this, GE was once one of the best stocks in the market, as were Johnson & Johnson, Cisco and Microsoft. A lot of money was made in those stocks during their day.
The problem is that their day came and went a long time ago. Again, the trick is to own stocks in their prime.
What are some of the Best Stocks Now? Let's consider TJX (TJX), whose stores include retailer TJ Maxx. I have owned it for a long time.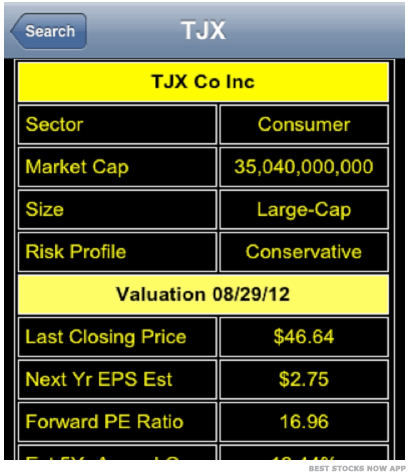 This company is now a $35 billion company. It passed Sears a long time ago in size. Consider that Sears now also includes K-Mart. Attention Sears Holding shoppers!
Here is the performance of TJX over the short term, intermediate term and long term.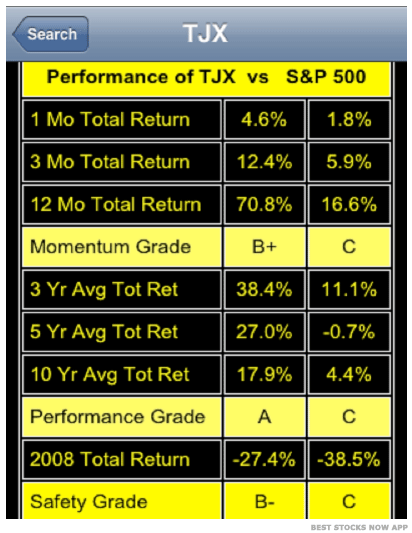 When I compare TJX with the 2,935 stocks in my database, it gets a performance grade of "A." Bravo!
Compare the performance of TJX with Sears Holding: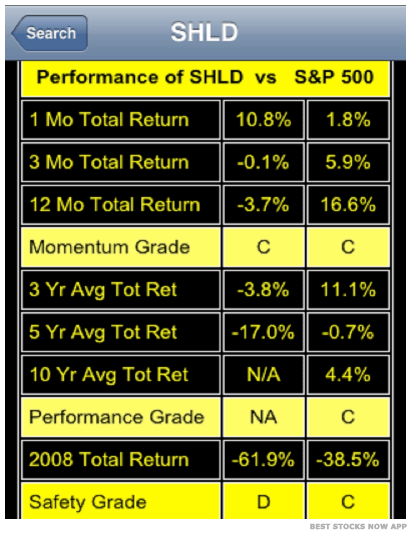 Yecch!
I am one of those hybrid investors who like to combine performance with value. Pure value investing leads to way too many value traps. Pure performance investing ignores value.
So then, what does the valuation of TJX look like right now?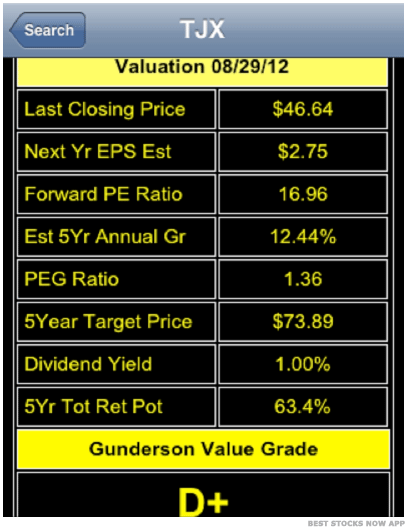 OK, TJX is not the cheapest stock right now, but filet mignon is not cheap either. I paid $17 a pound for a nice 8 oz. piece from my supermarket the other day. Ground chuck was a lot cheaper.
When I take the performance and the valuation of TJX together and compare against all of the other stocks in my database, it comes in at #120 and earns an overall grade of A-.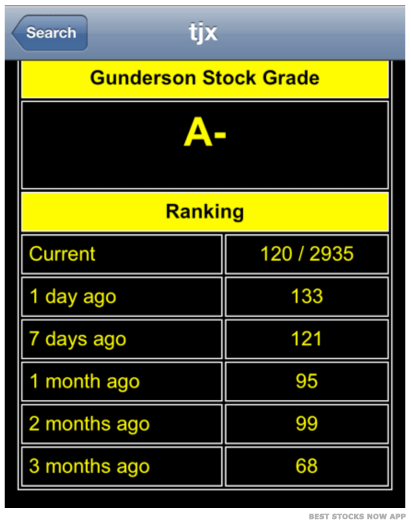 At any given time, I like to select from the top 200 stocks in the market. My final roster only has room for 25 players.
That is why I own TJX in the Conservative Growth portfolios that I manage. I doubt Sears Holdings will crack my top 200 any time soon.
More from TheStreet.com
DATA PROVIDERS
Copyright © 2014 Microsoft. All rights reserved.
Fundamental company data and historical chart data provided by Morningstar Inc. Real-time index quotes and delayed quotes supplied by Morningstar Inc. Quotes delayed by up to 15 minutes, except where indicated otherwise. Fund summary, fund performance and dividend data provided by Morningstar Inc. Analyst recommendations provided by Zacks Investment Research. StockScouter data provided by Verus Analytics. IPO data provided by Hoover's Inc. Index membership data provided by Morningstar Inc.
ABOUT
Top Stocks provides analysis about the most noteworthy stocks in the market each day, combining some of the best content from around the MSN Money site and the rest of the Web.
Contributors include professional investors and journalists affiliated with MSN Money.
Follow us on Twitter @topstocksmsn.