How to invest like Mitt Romney
He may have lost the election, but he could teach the commander-in-chief a thing or two about money.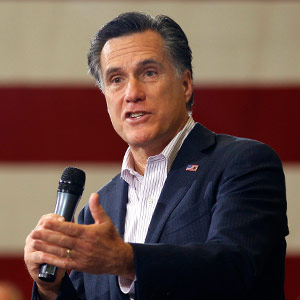 By Joseph Hogue
I was surprised by many of the investments, or lack thereof, when I came across President Barack Obama's most recent financial disclosure.
The president has been extremely passive and risk-averse with his money over the past year, leaving most of it in Treasurys or cash. The lessons the first family's portfolio holds for ordinary investors are to take very little risk and that cash flow is king.
But what about a superrich private equity founder? Although Mitt Romney could have made much more money if he had stayed in private equity instead of launching a career in politics, he still has a net worth upward of $250 million.
As you would expect of a private equity guru and someone with strong ties to Wall Street, Romney appears to be doing more things right than wrong with his investments.
What Romney is doing right
Smart Move 1: Don't give Uncle Sam more than his due
A media frenzy was created when Romney released his tax documents showing an effective rate of 14.1%. Democrats seized on the number to depict Romney as an elite insider compared to the Obamas and their 20.5% rate. Until Congress simplifies the tax code, there will be ways of minimizing your tax burden -- and you should take advantage of them.
Much of Romney's benefit came from the ceiling on capital gains taxes and tax-deferred accounts like IRAs and trusts. You might not have a millionaire's need for trusts, but there are still ways to lower your taxes, and few are better than investing in master limited partnerships (MLPs). These are stocks of companies owning energy assets that pay out most of their income as dividends. Because of a special tax break, most of the dividend isn't taxed until you sell the shares, so you receive cash now without the hit on April 15.
Smart Move 2: Invest in foreign assets
Among the few investments Romney holds in his personally managed accounts is up to $2 million in bonds issued by foreign governments. These bonds, with coupon rates ranging from 3.5% to 6.75%, are issued by some of the most financially sound countries, including Australia, Canada, Sweden and Norway.
The bonds serve two purposes. First, they are backed by countries that are as likely to default as the United States, so Romney is essentially getting a risk-free guarantee that pays up to three times what U.S. Treasurys pay. Second, the currencies issued by these countries are only getting stronger as the U.S. and the rest of the developed world devalue their own through quantitative easing measures. Not only is Romney getting a great return for his money, but that return becomes more valuable when converted back into dollars!
Investors can replicate this strategy with the SPDR Barclays International Treasury Fund (BWX), which holds bonds issued by 17 countries and has a 2.24% dividend yield. The fund has come under pressure over the past month along with the rest of the fixed-income complex, but it has still outperformed funds holding only Treasurys.
Smart Move 3: Be diversified to the max
While the president's portfolio held only shares of a passively managed S&P 500 fund, Romney is stacking his portfolio with funds that target a mix of strategies.
Up to $8 million is invested in four funds: iShares S&P Europe 350 (IEV), iShares S&P Latin America 40 (ILF), SPDR S&P Emerging Europe (GUR) and the Goldman Sachs Small Cap Value Fund (GSSMX).
Romney's mistakes
In a look through Romney's financial disclosure, only a few minor mistakes -- like parking too much in cash and some short-term bonds yielding less than 2% during his presidential run -- stand out. One mistake stands out above the rest, however, and it's something that many investors have done.
Mistake 1: Letting a quick decision change a good long-term strategy
Ahead of the public scrutiny of a political campaign, Romney's assets in a trust managed by Thornburg Asset Management were sold off completely. The trust held almost $2 million in names ranging from obscure small-cap companies to large tech bellwethers like Apple (AAPL).
Even though Romney did not manage the account, the fear was that some holdings would conflict with his stated values. For example, the fact that Fresenius Medical Care (FMS) is a German biotech company involved in stem cell research might alienate members of the Republican party.
While the opportunity to be the leader of the free world might be a tempting reason to sell out of your long-term investing strategy, the market has soared 30% since the end of 2011, when Romney probably sold the assets. Like Romney, many investors have abandoned their long-term financial well-being to reach for that high-risk, high-reward payoff. There's nothing wrong with shooting for the stars, but you need to step back and analyze the risk.
Risks to consider: As with Obama and his portfolio, Romney's investing profile and needs are dramatically different from yours or mine. While their portfolios might provide clues about what or what not to do, it would inappropriate to use either man's portfolio as a roadmap for your own.
Action to take: Just as Romney has, make sure your investments are well diversified and include assets that will benefit from emerging markets. Don't let your personal or professional ambitions get in the way of a well-constructed portfolio designed to reach your long-term goals.
Joseph Hogue does not personally hold positions in any securities mentioned in this article.
More from StreetAuthority
DATA PROVIDERS
Copyright © 2014 Microsoft. All rights reserved.
Fundamental company data and historical chart data provided by Morningstar Inc. Real-time index quotes and delayed quotes supplied by Morningstar Inc. Quotes delayed by up to 15 minutes, except where indicated otherwise. Fund summary, fund performance and dividend data provided by Morningstar Inc. Analyst recommendations provided by Zacks Investment Research. StockScouter data provided by Verus Analytics. IPO data provided by Hoover's Inc. Index membership data provided by Morningstar Inc.
ABOUT
Top Stocks provides analysis about the most noteworthy stocks in the market each day, combining some of the best content from around the MSN Money site and the rest of the Web.
Contributors include professional investors and journalists affiliated with MSN Money.
Follow us on Twitter @topstocksmsn.