US chip-makers pushed into secondary roles
Moore's second law increases the cost of making microchips and forces some hard choices.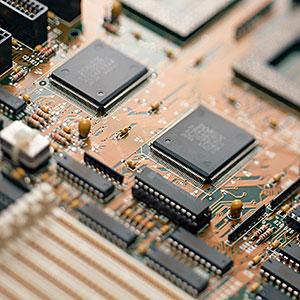 By Dana Blackenhorn
Since 1982, I have been writing about Moore's Law, the idea that semiconductor chips can get better-and-better, faster-and-faster. (Intel (INTC) now maintains the original 1965 Gordon Moore article on its Web site.)
But there has always been a corollary, what I call Moore's Second Law. As chips get more complex the cost of building a plant to make them, called a fabrication plant or "fab," also rises.
Thus in this century Moore's Second Law has caused chip companies to go "fabless." Most of America's new chip leaders, like Qualcomm (QCOM) and Nvidia (NVDA), are absolutely fabless. (Qualcomm's market cap recently passed that of Intel.) Intel's most dangerous competitor, ARM Holdings (ARMH), does nothing more than license chip designs to others, like the A5 chip in your iPhone. It's essentially a software house.
Moore's Second Law has had another impact: Most production has moved to the Far East. Even Intel and Texas Instruments (TXN), the best-known American chipmakers, have plants there. The center of the chip-making world is now Hsinchu, Taiwan, 90 minutes from Taipei by road, and the home base of Taiwan Semiconductor.
In the age of devices, Intel is being killed at both ends. On the design end, fab-less outfits can deliver custom designs that give phone and tablet companies control of their customers. On the production end, TSMC has cost advantages.
So when Apple (AAPL) decided recently it had to diversify away from Samsung for components, as CNET reported, because Samsung also makes devices and is actually beating it in that market, it went to TSMC first. It even made noises about dropping Intel from its Mac line, again as CNET wrote, in favor of the ARM-based design used in the iPad and iPhone.
The growing dominance of TSMC and fab-less chip companies, driven by Moore's Second Law, has helped move Apple's entire supply chain toward Taiwan.
American companies are being pushed into secondary roles. Texas Instruments makes chips for the new Lightning connector, which MacRumors thinks contains security software preventing third-party connectors from working, and power management chips for the iPhone 5. But that's it.
As a result of being pushed to the sidelines by the device world's largest purchaser, TI is losing top designers to Apple, according to TechnoBuffalo, and considering sale of the mobile unit to its largest remaining customer, Amazon.Com (AMZN),as CNET reported last month.
Apple can't afford to be sentimental or patriotic as it steps up its war with Samsung, writes Jonny Evans for ComputerWorld. It needs absolute control over its supply chain, but it also needs costs comparable to those of its Korean rival, which owns its own fabs and even makes the A5 inside your iPhone at a plant in Austin, Texas.
All this is why I wrote here the other day that Intel needs to make its own devices. Either that or it should split in two, competing with ARM on designs and TSMC as a third-party fab, head-to-head.
This much is clear. Moore's Second Law compresses margins constantly, forcing companies to take command of both their supply chains and their customers. The pressure on America's technology leaders is only going to increase.
At the time of publication, the author was long AAPL, INTC, and ARMH.
More from TheStreet.com

Moving forward. Intel has a significant advantage in manufacturing. Other manufacturing companies has reported problems moving to next nodes with significant reduced yield. Apple moving to TSMC (or Samsung) is good for the short term. However these decisions need to include the long term viability and competitiveness of Apple suppliers. As intel is moving to next nodes, other foundries continue offering services at previous nodes. Next nodes are more complicated and requires significant expertise to materialize high yields. Products in next nodes will have significant advantages such as reduced power consumption, increase silicon real state (therefore more circuitry in same die size, etc). Apple opting for TSMC is getting its products made in previous Si technologies. Furthermore Intel has demonstrated significant improvement in reduction on power consumption  with great computing power. I doubted that any chip made with ARM, in old silicon technology either offered by TSMC or Samsung, will compete against Intel. Therefore seriously doubt that Apple will severe relations with Intel. Apple needs options. Intel provides the best alternative option.  It will be good to see articles that base its findings  in trend analysis. Sound investing is not only for this year, it requires to get sound understanding of a company, its environment and translates that into the future. I see that lacking in this article.
Are you sure you want to delete this comment?
DATA PROVIDERS
Copyright © 2014 Microsoft. All rights reserved.
Fundamental company data and historical chart data provided by Morningstar Inc. Real-time index quotes and delayed quotes supplied by Morningstar Inc. Quotes delayed by up to 15 minutes, except where indicated otherwise. Fund summary, fund performance and dividend data provided by Morningstar Inc. Analyst recommendations provided by Zacks Investment Research. StockScouter data provided by Verus Analytics. IPO data provided by Hoover's Inc. Index membership data provided by Morningstar Inc.
ABOUT
Top Stocks provides analysis about the most noteworthy stocks in the market each day, combining some of the best content from around the MSN Money site and the rest of the Web.
Contributors include professional investors and journalists affiliated with MSN Money.
Follow us on Twitter @topstocksmsn.