Calvins get between PVH and profit
Is there a larger takeaway here for all of retail?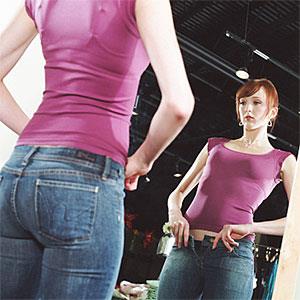 Darned earnings -- they can really screw it up, can't they?
Wednesday night, PVH Corp. (PVH), one of my absolute favorite companies, lowered the boom on 2013. The culprit? A new acquisition, Warnaco, failed to meet the targets that PVH set when the acquisition closed. So a buck-fifty-two goes to a buck-thirty-three for the quarter, and seven-forty-six goes to seven bucks.
Thud.
This was a tough one. I know I was hoping for better because I thought that the Warnaco acquisition that closed in February, bringing in the remaining Calvin Klein brands that were not held by PVH, would go smoothly for the company, the way the Tommy Hilfiger acquisition did several years ago.
That was wrong. As Manny Chirico, the terrific CEO at PVH told me last night, many of the Calvin Klein business lines just weren't doing that well, particularly jeans in the U.S., Europe and Korea, the latter being especially weak.
Consequently, instead of the synergies, the guide-ups, and the accretions, we got the dreaded word, dilution, 25-cents worth, and a reset. In short, 2013's no longer a growth year for PVH. Now it is an investment year. And if jeans stay weak, an investment year could mean even less growth than Manny's telegraphing now. In other words, we don't know if the 25 cents of dilution captures the entire weakness.
That's the bad news.
The good news is that once you ratchet things down and shake out all those who thought this deal would be accretive from the get-go, you might have a decent second-half investment. I would say that you might have a good trade Thursday -- down 5% to 7% -- but enough analysts will be surprised by the sudden inconsistency of this smoothly running operation that the stock has to lay low and repair for a bit. Fortunately, for Manny and the stock, the analysts at JP Morgan and Wells Fargo nailed the progression here -- or the regression, depending upon how you feel -- and had softened the beach for the miss. Hats off to JP Morgan's Matthew Boss and Wells Fargo's Evren Kopelman for nailing the problems ahead of the quarter. Going into the number, I had thought they were being overly cautious. They were just being right. Very good research.
Also see: Your 401(k) is invested in what?  
Unfortunately, for current shareholders, it will be hard to figure out what multiple to put on the new $7 estimate figure. I think there will be those who say, "I can't give apparel a premium multiple because it is too fickle" and they will sell PVH down to the high $90s -- a slight haircut to the multiple of the S&P 500 ($INX). I think that the quarter will weigh on VF Corp.(VFC), too, because it sells a ton of jeans. Ralph Lauren spillover shouldn't be that one-for-one, but I wouldn't be surprised if it also gets whacked pretty hard Thursday off this number. Heck, even the red-hot Deckers (DECK) could get knocked down a bit by this one. I am not extending it to Lululemon (LULU) because that stock's in a hurting world of its own.
Lost in the shuffle of the Calvin miasma is how well Hilfiger's doing -- just fine, thank you. Makes me feel that without this acquisition, PVH would have blown out the numbers again. But without it, PVH would not be able to take advantage of all of the brand equity of the House of Calvin Klein and would not be able to build out its whole enterprise in Asia and Latin America. Those are musts for the company. They have to be in those markets for Tommy label expansion, and they will fix Calvin. They didn't buy this idly. They knew what they were getting into. I think, though, that times were better when they bought Tommy, and Manny's quite straightforward when he says that Tommy's European operation was always a well-run gem. The biggest mistake Manny may have made was overestimating how much weakness there was in Calvin Klein right now. All of that can be fixed, though, and you want to be in this stock before that fix is complete. No hurry yet, however.
Is there a larger takeaway here for all of retail? Tough call. The holiday season was terrific for PVH, which didn't close on Warnaco until February. That's old news now, though. The new news? The month of March? Not so hot. Not so hot for the weather and, therefore, not so hot for sales. Yep, the temperature's been way too cold for Tommy shorts and the rest of the spring apparel the merchants are hawking. I think that we are going to hear that gripe from a lot of retailers next week, which bodes poorly for a bunch of operators, particularly Macy's (M) until, of course, it gets warm and then all is forgiven again. Always hard to play these weather trends.
Oh, and yes, there's the J.C. Penney (JCP) angle. Manny confirmed that it is awful for regular PVH, the premium brands, but it is terrific for the IZOD store-within-a-store​ heritage brands, which is performing on plan. Still, Penney, with its down 30% sales, cost PVH $40 million. One can only imagine how much it cost JCP. Penney, of course, is what makes Macy's a tough short off the weather. It still seems zero-sum.
In all, it was a jarring quarter coming on top of what people think was a weak one for Five Below (FIVE), which was just being cautious in its guidance. Total speed bump. But PVH? It's a reset and a reminder that PVH, alas, doesn't sell cereal or bleach, it sells fashion -- and fashion, by its nature, can go out of style.

Jim Cramer is a co-founder of TheStreet and contributes daily market commentary to the financial news network's sites. Follow his trades for Action Alerts PLUS, which Cramer co-manages as a charitable trust and has no positions in stocks mentioned.   
More from TheStreet.com

Actually Steve..."1984 by Orwell" was pretty much on target...But it laid out premise and scenarios, that had not played out, going forward.
Remembering who was President...Reagan who broke the Unions and started with the "Flight Controllers"....They​ were a collective of working citizens that weilded some power of their own.
Along with other groups that were at one time in History considered "dangerous Socialist" or Communist...Hell bent on bringing down "the Man" at the top...The capitalist.
Strangely Reagan had been a Union President for S.A.G., Screen Actors Guild.
Union power and participation, has declined ever since.
More and more States, by prodding from the Rich Capitalist and paid lobbying are pushing and getting "Right to Work" Laws passed...Minimum Wages have come no-where close to keeping up.
Keeping the working class begging and controlled.
"Trickle Down Economics", the promises to the Poor and Middle Classes that there would be a Turkey in every pot..Eventually.....​Inflation ran rampant, interest rates effecting the poor and buying Middle Class...Was a two-way street, giveth to one hand, taketh away "more" from the other.
Energy cost went wild, never to contract again..In effect, punishing the "Lower Classes" one more time; Still do today...The Rich get richer, the poor; Yes, poorer....Ever since.
Although somwhat connected, but a great opportunity presented itself when we were attacked on 911.
The average American had been losing Constitutional Rights for a couple of Decades...
The "frosting on the cake" when coming about...Allowed the Government to step in and step up a "World Domination" Mindset....By attacking Nations and disposing of Leaders....A mantra that essentially started as "World Cop" under Reagan...Carried by Bush1, to a higher level and eventually
culminating under Bush2....What appeared to be unfounded Wars and a final attempt at controlling the Economies and Countries or Nations, along with the on-going "saber rattling" towards those that do not conform to the Powerful's intentions..
But to top that off..."the frosting"...Our own Government has added layer upon layer of a Police/Military type controlling Agencies, that have abused Citizen's Rights from day one...
The Rich, Elite and Powerful have benefited or profitted emensely during the past few years.
The lower classes have stumbled backwards..
One of the final straws of late....
When the American Citizens were gaining ground to step up in Class stature...
Regulations were "overlooked" or not enforced(on the Powerful)....Laying a trap to ensnare the un-wary or the unknowing...Everyone​ thought the Turkey for the Pot had arrived, in a house they could afford....The Rich and Powerful couldn't stand it, nor comprehend;  Because they were supposed to be the "chosen ones"......And then the plug was pulled and the lights turned off...
Many an average American, lost or were forced to give up over 50% of everything they had worked or saved for all their lives....But the Rich and Elite are now better off then they have "ever been.."
We have a couple of copies of "1984", I think I have read it a couple of times, trying to follow "underlying meanings."....You may want to read it again...?
And then read Orwell's "Animal Farm" also..There is also another..

Right Steve.  The biggest philosophical discussion of the 21st Century should be about the Guberment stealing citizens property and Cramer decides a clothing retailer is of utmost importance.  The fundamentals for capitalism are based on free will, free markets,  and private property.  All of which appear to now be on the chopping block.  Folks need to wake up.  Now is the time to head off this takeover and restore individual liberty not when it is too late.  This is and has been the culmination of the dumbing down of the average American.  Like I said yesterday we have been enticed into a much smaller philosophical pen and our rights and liberties will now very quickly be denied us.  For those who don't understand it is like the frog in the pot of water.  The heat is now slowly being turned up.  With banking now completely on board there is no way anyone cannot be monitored or tracked.  With drones in the sky to shoot anyone deamned an enemy, bankers watching your every expenditure, and cellphones capable of monitoring your every move we have now reached that point where the state is in complete control.  And all without one shot being fired.  So how do those jeans look?
Are you sure you want to delete this comment?
DATA PROVIDERS
Copyright © 2014 Microsoft. All rights reserved.
Fundamental company data and historical chart data provided by Morningstar Inc. Real-time index quotes and delayed quotes supplied by Morningstar Inc. Quotes delayed by up to 15 minutes, except where indicated otherwise. Fund summary, fund performance and dividend data provided by Morningstar Inc. Analyst recommendations provided by Zacks Investment Research. StockScouter data provided by Verus Analytics. IPO data provided by Hoover's Inc. Index membership data provided by Morningstar Inc.
ABOUT
Top Stocks provides analysis about the most noteworthy stocks in the market each day, combining some of the best content from around the MSN Money site and the rest of the Web.
Contributors include professional investors and journalists affiliated with MSN Money.
Follow us on Twitter @topstocksmsn.