Why P/E ratios are for losers
Just because a stock has a lofty price-to-earnings ratio like Amazon, Chipoltle or Lululemon, doesn't mean it will drop.

By Rocco Pendola
Check out the standard bear case for stocks ranging from Amazon.com (AMZN) to Chipotle Mexican Grill (CMG) to Lululemon (LULU). For all three, "value" investors argue that the stocks must drop because they sport lofty price-to-earnings ratios. In fact, some folks make this prediction as if it is Newtonian law.
As of Friday's close, AMZN trades at a current P/E of roughly 139 and forward P/E of about 74. CMG clocks in at approximately 62 and 39, respectively, while LULU notches a P/E of 58 in the here and now and 35 looking out one year. These three stocks, with the exception of a few very normal fits and starts, have done nothing but go up.
 Two-Year, Five-Year Returns
AMZN: 30%, 204%

CMG: 231%, 535%
LULU: 256%, 426%
That's quite impressive, yet the bears remain defiant. As a popular talking point, bears compare these three companies (and others with high P/Es) to Netflix (NFLX). They express an unconvincing certainty that what goes up must come down. They blast Jeff Bezos for spending too much, operating on "razor-thin margins" and not collecting sales tax. They wonder how the market could value a burrito joint at such a high "multiple." And they label LULU a passing fad that sells overpriced clothing to a fickle set of bored housewives. Rarely will AMZN, CMG and LULU bears listen to more holistic arguments about long-term opportunities, sound and sustainable business plans and brand loyalty between company and relatively high-end consumer.
Related Articles
If they listened to these and other more complex points, AMZN, CMG and LULU bears would stop using NFLX as a case study.
As I noted in a recent article, Amazon.com has been spending "too much" for more than a decade. Because I've covered AMZN thoroughly there and elsewhere, I focus on CMG and LULU in this article.
Both companies target a relatively affluent consumer. LULU appears to trend higher end, but, without a doubt, both largely serve the upper middle-class and higher sets who make Chipotle meals a habit and drop $100 on yoga pants on a regular basis. In different ways, Chipotle and Lululemon build brand loyalty with their core groups.
For Chipotle customers, the perception that they can get a quick, high-quality meal keeps them coming back. Here's how the company frames itself in its most recent annual report:
Our vision is to change the way people think about and eat fast food. We do this by avoiding a formulaic approach when creating our restaurant experience, looking to fine-dining restaurants for inspiration. We use high-quality raw ingredients, classic cooking methods and a distinctive interior design and have friendly people to take care of each customer--features that are more frequently found in the world of fine dining. Our approach is also guided by our belief in an idea we call "Food With Integrity". Our objective is to find the highest quality ingredients we can--ingredients that are grown or raised with respect for the environment, animals and people who grow or raise the food.
Chipotle talks the talk. You simply do not plop a national burrito chain down in affluent burrito-loving cities like San Francisco (Chipotle has six locations there and one in Berkeley, as of this writing) without appealing to the population's sensibilities.
Lululemon does more than provide convenience and a healthy image. Like Apple (AAPL), it becomes part of its customers' lifestyles. LULU builds an intimate connection that the company provides color on in its most recent annual report:
Our primary target customer is a sophisticated and educated woman who understands the importance of an active, healthy lifestyle. She is increasingly tasked with the dual responsibilities of career and family and is constantly challenged to balance her work, life and health. We believe she pursues exercise to achieve physical fitness and inner peace.

 

As women have continued to embrace a variety of fitness and athletic activities, including yoga, we believe other athletic apparel companies are not effectively addressing their unique style, fit and performance needs.
We coach our store sales associates, whom we refer to as "educators," to develop a personal connection with each guest.
Chipotle and Lululemon have plenty of room to expand domestically and internationally.
Lululemon plans to open up to 30 new stores in the United States in 2012, which will take the total closer to 200, from the 155 locations it counts, as of the end of 2011. The company also plans further expansion in markets such as Australia, New Zealand and parts of Asia and Europe.
Chipotle, meantime, had 1,229 locations at the end of 2011, and expects to add between 155 and 165 more in 2012. As of the end of 2011, the company only has four locations outside of the U.S. (Two in Canada, two in the UK). It expects to open its doors to Paris in 2012.
At both companies, international expansion holds the promise of considerable kicks to revenue.
Both companies, like Amazon, operate from a position of strength. While not as well-heeled as Amazon, Chipotle and Lululemon carry relatively healthy balance sheets as they continue through their respective hyper-growth phases. Compare this to recent numbers at Netflix: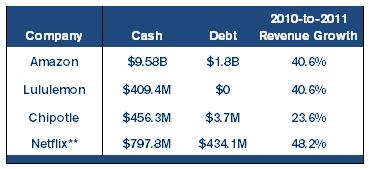 *Data courtesy of each company's 2011 annual report.
**Cash includes $400M in late 2011 fundraising; Debt does not include $3.9B in off-balance sheet obligations due within five years.
Of course, you could make the argument that Netflix is taking the same type of approach I laud Amazon and other growth companies for taking. But, after all that has happened with Netflix over the last year, can you honestly say that you could take this excerpt from Jeff Bezos's letter to his shareholders and apply it, with even of a fraction of the confidence, to Netflix:
We believe that a fundamental measure of our success will be the shareholder value we create over the long term ...

 

Our decisions have consistently reflected this focus. We first measure ourselves in terms of the metrics most indicative of our market leadership: customer and revenue growth, the degree to which our customers continue to purchase from us on a repeat basis, and the strength of our brand.

 

Because of our emphasis on the long term, we may make decisions and weigh tradeoffs differently than some companies. Accordingly, we want to share with you our fundamental management and decision-making approach so that you, our shareholders, may confirm that it is consistent with your investment philosophy ...


We will continue to make investment decisions in light of long-term market leadership considerations rather than short-term profitability considerations or short-term Wall Street reactions.
The answer is obvious.
But, there's something more important than that answer. If you look to a P/E ratio and short stocks like AMZN, CMG and LULU on the basis of valuation without considering the validity and sustainability of their business models, you have lost big over the last year. In this case, I think past performance will be indicative of future results.
If you shorted 100 shares of Netflix at this time last year, you're sitting on a gain of roughly $13,832. And that number was higher, at most times, during Q4 in 2011. If you did the same with the other three stocks, you would not have done quite so well. In fact, you would have lost several thousand dollars.
AMZN increased in price from $183.87 to $189.98 between April 20, 2011 and April 20, 2012. CMG spiked from $288.10 to $419.26 during the same period, while LULU appreciated from a split-adjusted $49.87 to $73.70 over the span.
Sometimes you can link high P/Es to inane valuations and irrational markets, but that's not always the case. Simply put, if you rely almost solely on valuation or some other set of quantitative metrics, you're likely to get burnt. High P/Es often reflect investor confidence in businesses rolling on all cylinders with no end to rapid growth in sight, not unfounded and overly-optimistic expectations.

Such a shame that the author really has no grounding in value investing philosophy. A value investor does NOT say that a high P/E stock will perform poorly in the short-term. He says that on average, a high P/E stock will perform poorly over the longer term, and there are no determinants to whether your stock at that moment in time is average or not. A value investor who shorts these stocks may lose on individual trades (just like any other investor), but will on average expect to profit.
Are you sure you want to delete this comment?
DATA PROVIDERS
Copyright © 2014 Microsoft. All rights reserved.
Fundamental company data and historical chart data provided by Morningstar Inc. Real-time index quotes and delayed quotes supplied by Morningstar Inc. Quotes delayed by up to 15 minutes, except where indicated otherwise. Fund summary, fund performance and dividend data provided by Morningstar Inc. Analyst recommendations provided by Zacks Investment Research. StockScouter data provided by Verus Analytics. IPO data provided by Hoover's Inc. Index membership data provided by Morningstar Inc.
ABOUT
Top Stocks provides analysis about the most noteworthy stocks in the market each day, combining some of the best content from around the MSN Money site and the rest of the Web.
Contributors include professional investors and journalists affiliated with MSN Money.
Follow us on Twitter @topstocksmsn.