Futures fall after Apple, Amazon results
As earnings season continues, two of the largest companies miss analyst expectations.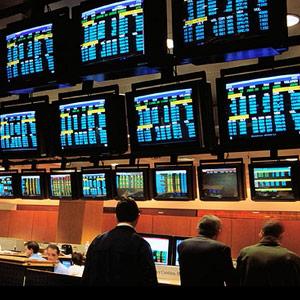 U.S. equity futures fell in early Friday trading after large companies, including Apple (AAPL) and Amazon (AMZN) reported earnings Thursday that missed analyst estimates.
Apple reported sales that beat expectations but earnings missed, and Amazon reported its first quarterly loss in years. S&P 500 futures fell below 1,400 on the recent string of weak earnings.
Also making headlines, the Japanese government announced a new round of stimulus measures totaling 422.6 billion yen, or $5.3 billion, as the country looks to boost growth from its decades-long stagnation. Economists are looking for the Bank of Japan to act next week in tandem with the fiscal authorities.

Top news
Spain's unemployment rate rose to 25.0% in the third quarter, up from 24.6% in the third quarter and slightly below economist expectations of 25.1%.
The IMF has finally admitted that Greece cannot meet its targets as set under the current bailout agreement, and it appears that the country will get extra two years to pay back the loans.
European Central Bank Governor Jorg Asmussen spoke overnight, saying that the new OMT program is not inflationary and that the aid request does not automatically trigger bond purchases, rather it is just one condition. Also, on China, he said that some local governments are effectively bankrupt and that the rich-poor divide continues to grow, not shrink.
Standard & Poor's downgraded BNP Paribas to A+ from AA- and lowered its outlook on Credit Agricole and Societe Generale, the other two French mega-banks.
S&P 500 futures fell 10.3 points to 1,397.90.
The EUR/USD was slightly higher at 1.2939.
Spanish 10-year government bond yields rose to 5.672%.
Italian 10-year government bond yields rose to 4.907%.
Gold fell 0.47% to $1,705.00 per ounce.
See more of Benzinga's market news here.
Commodities
Commodities were weak overnight on global growth fears. WTI Crude futures fell 0.72% to $85.43 per barrel and Brent Crude futures slipped 0.44% to $108.10 per barrel. Copper futures also fell on global weakness with futures falling 0.44% to $353.50 per pound. Gold was lower and silver futures fell 0.93% to $31.78 per ounce.
Currencies
Currency markets did not echo the strong risk-off tone seen in other markets overnight, as the dollar was effectively flat in overnight trading and moves remained tepid. The EUR/USD was slightly higher and the dollar fell against the yen, sending the pair back below 80. Overall, the Dollar Index was flat at 80.04 with the dollar gaining against its Canadian counterpart and the Swedish krona and falling against the euro and the yen. The Aussie dollar was slightly weak against a basket of currencies, the only risk-off sign in currency markets.
Premarket movers
Amazon shares fell 1.4% pre-marekt following weak earnings.
Boston Scientific (BSX) shares rose 0.78% in premarket trading after positive comments from Seeking Alpha.
Yum Brands (YUM) fell 1.7% premarket as investors fear that one of its strongest units, its Asian arm, is set to see growth rates continue to slow.
Freeport-McMoRan (FCX) fell 1.33% premarket as analysts warned on its earnings release.
Earnings
Economics
On the economic calendar Friday, the initial estimate of third quarter GDP for the U.S. is due out as well as consumer sentiment data.
Sign up for a free two week trial of Benzinga Pro here!
More from Benzinga

Oh, and after  almost a quarter century of massive government stimulus, Japan is beginning their  version of QE XXIV?  LOL...  talk about being unclear on the concept and trying the same thing over and over and expecting different results...
America may follow Japan's plan to reinforce Failure, by re-electing '57 States'.    The results will be the same...  

hmmm...
Jim Rodgers now predicting really bad economic times ahead.  Very troubling.  Everyone should read his take on Obamanomics.  He has rarely been wrong on spotting trends.
I see the GDP numbers are being cooked as well as the unemployment numbers.   
Obamanomics will bankrupt this country.  Prepare!

Trying to tax yourself to prosperity is like standing in a bucket and trying to lift yourself up by the handle. - Winston Churchill
That leaves the other pillars of Obamanomics....   Print, Borrow and Spend...  Can you really Print your way to prosperity?   How about borrow and spend your way out of debt and into prosperity?

MG I know you have your perception blinders on, but Mega Corps run the show, no matter who gets sent to prison for 4 year (out on 2 for 'good' time).  Allowing businessmen in to the White House will finish off the plan- remove all public options and cede control to oligarchies and plutocracies.  This should not be what you wish, and its something you would already understand, had you been born into wealth rather than being the small business guy you are.

But hey, you go on pulling their cart for them.  Cant wait to see how Mitt rewards your persistence.
Probably with more regulations on small  business and a freer hand for the large ones.


Are you sure you want to delete this comment?
DATA PROVIDERS
Copyright © 2014 Microsoft. All rights reserved.
Fundamental company data and historical chart data provided by Morningstar Inc. Real-time index quotes and delayed quotes supplied by Morningstar Inc. Quotes delayed by up to 15 minutes, except where indicated otherwise. Fund summary, fund performance and dividend data provided by Morningstar Inc. Analyst recommendations provided by Zacks Investment Research. StockScouter data provided by Verus Analytics. IPO data provided by Hoover's Inc. Index membership data provided by Morningstar Inc.
ABOUT
Top Stocks provides analysis about the most noteworthy stocks in the market each day, combining some of the best content from around the MSN Money site and the rest of the Web.
Contributors include professional investors and journalists affiliated with MSN Money.
Follow us on Twitter @topstocksmsn.