Facebook's bizarre new TV ad
The social network is trying to make a statement about connections, the universe, doorbells -- and chairs.
Facebook
(
FB
) created its first-ever TV commercial to commemorate hitting 1 billion users -- and it makes no sense.
The message is that chairs are like Facebook. Because chairs are for people to sit on and talk and listen. And people sit on Facebook and talk and listen, I guess? Facebook is also like doorbells and airplanes somehow.
The 90-second ad shows various images of people connecting. Reaching out to each other. Playing together. Bonding. And yet
not a single one is using Facebook
. What this video actually tells me is that we spend too much time on the darn computer and not enough connecting in real life.
Business Insider
transcribed
the commercial. Here's the text:
Chairs. Chairs are made so that people can sit down and take a break. Anyone can sit on a chair and, if the chair is large enough, they can sit down together. And tell jokes. Or make up stories. Or just listen.

Chairs are for people. And that is why chairs are like Facebook.

Doorbells. Airplanes. Bridges. These are things people use to get together, so they can open up and connect about ideas and music and other things that people share.

Dance floors. Basketball. A great nation. A great nation is something people build so they can have a place where they belong.

The Universe. It is vast and dark. And it makes us wonder if we are alone. So maybe the reason we make all of these things is to remind us that we are not.

OK, so maybe it's supposed to be one of those mind-boggling arty things that make you think deep thoughts. Business Insider covers all the
racial stereotypes
in the ad.
And of course, it didn't take long for someone to create the
@Facebookschair
Twitter account.
"Anyone know the phone number for Clint's debate opponent?" the chair wrote. "I'd love to share stories."
Here's some of the reaction to the spot: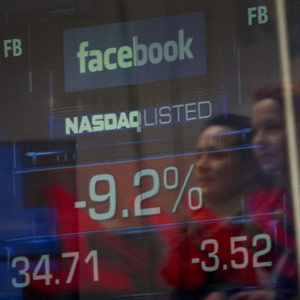 "An empty chair, a loner. It fits only one, not a community. I would have thought a sofa would be a better depiction. I'd flush this commercial." -- Business Insider commenter
"Facebook executives want you to think of their company -- which is, of course, just an immensely successful social networking website, and not the first -- as something utterly basic and necessary to your life, something you take for granted, and, crucially, use to do other things (like work, for instance)." --
Slate's
David Haglund
"Facebook is a chair, loved by one billion people, and this ad is confusing and stupid, like a chair made out of spiders and chicken tenders." --
Gizmodo's
Sam Biddle
"What we're trying to articulate is that we as humans exist to connect, and we at Facebook to facilitate and enable that process," Rebecca Van Dyck, Facebook's head of consumer marketing, in
Advertising Age
.
"The deepness doesn't come off as heartfelt, but just kind of silly," -- Rebecca Greenfield in
The Atlantic Wire
.
"Truly weird." --
Forbes
More from Top Stocks
DATA PROVIDERS
Copyright © 2014 Microsoft. All rights reserved.
Fundamental company data and historical chart data provided by Morningstar Inc. Real-time index quotes and delayed quotes supplied by Morningstar Inc. Quotes delayed by up to 15 minutes, except where indicated otherwise. Fund summary, fund performance and dividend data provided by Morningstar Inc. Analyst recommendations provided by Zacks Investment Research. StockScouter data provided by Verus Analytics. IPO data provided by Hoover's Inc. Index membership data provided by Morningstar Inc.
ABOUT
Top Stocks provides analysis about the most noteworthy stocks in the market each day, combining some of the best content from around the MSN Money site and the rest of the Web.
Contributors include professional investors and journalists affiliated with MSN Money.
Follow us on Twitter @topstocksmsn.