The market farce is ending
Friday's jobs numbers reveal that, despite unprecedented money printing from global central banks, the real economy continues to stall.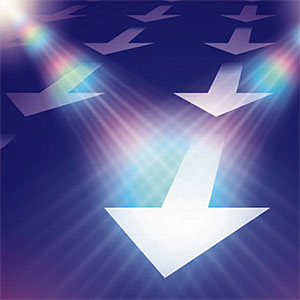 Over the last few months, policymakers have been feeding investors a lie.
The lie was that cheap money -- which was responsible for the dot-com bubble, the housing bubble, the massive accumulation of government and household debt, and the epic erosion of the purchasing power of the dollar since President Nixon closed the gold window in 1971 -- would solve the deep, structural problems that ail the economy. 
It wasn't just our Federal Reserve; it was the European Central Bank, the Bank of England, and the Bank of Japan too. But over the last 48 hours, I think we may have had our watershed moment. Stocks and other risky assets are dropping hard Friday -- as it becomes increasingly clear that monetary policy stimulus isn't working, that the economy is more vulnerable than the bulls want to admit, and that the illusion of market invulnerability is fading. Here's why.
For months, I've been writing about all that's wrong in the economy and in the markets (including "7 big worries about the economy"). But stocks kept drifting higher in a narrow breadth, no volume melt up enabled by mixed economic data and driven by a singular idea: That the central banks would inflate the market, so no point in fighting it.
But the lie is being revealed for what it truly is: A desperate, last gasp attempt by policymakers to avoid a second and potentially much scarier recession connected to the 2008 wipeout. It's no accident that, despite the fact the recovery is in its fifth calendar year, the Fed's policy stance is more aggressive now than it's ever been.
They are scared to death of a recession because we're so much more vulnerable now than we were in 2007. Government debt levels are in dangerous territory. Rich-world credit ratings are being slashed. The eurozone is in the midst of an existential crisis. Japan, with a debt-to-GDP ratio above 220%, is quickly approaching the point of insolvency. China, which doused its economy with cheap credit in 2008, is fighting simmering inflationary forces and a debt bubble.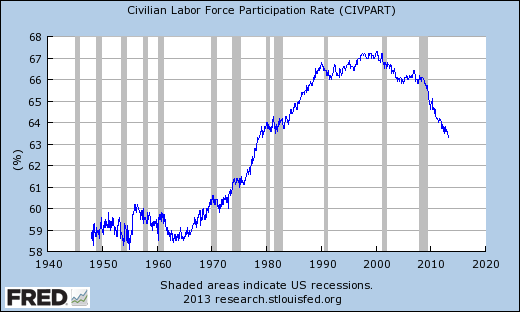 And what of the U.S. consumer? The labor participation rate has fallen back to 1979 levels. Prices of necessities like food, fuel, and medical care keep rising. Debt ratios are still high. People are increasingly being forced to replace full-time work with multiple, low-wage and no-benefit part-time positions. The savings rate has fallen to just 2.4%. There are a record number of food stamp and disability benefit recipients.
If we fall now, there are no easy ways to get back up again. It's like a boxer taking an uppercut in the first round or in the fifth round. When you're already bloodied and dazed, it hurts more.
So, what happened over the last 48 hours?
On Thursday, the Bank of Japan announced it would essentially double its monetary base over the next two years as it pours fresh, high-powered money into the Japanese financial system. At a monthly purchase run rate of 1.1% of GDP; the BoJ's pace of purchases will be roughly double what the Federal Reserve is doing right now under its quantitative easing programs.
On the announcement, the Nikkei stock index recovered from its lows as Japanese government bonds suffered a dramatic intra-day whipsaw. First, 10-year government borrowing costs fell to nearly 0.3% after the BoJ announcement. Then the sellers came in, pushing borrowing costs back up to 0.65%. Some are interpreting this as a sign the stimulus efforts are backfiring and risk creating a sovereign debt crisis given Japan's deep indebtedness.
If the BoJ loses control of interest rates, without a concurrent improvement in the real economy, Japan will essentially go bankrupt -- as interest expense on its debt load absorbs all tax revenue.
The second event was Friday's U.S. payroll report. Only 88,000 jobs were created last month, well below February's 268,000 gain and well below the 193,000 Wall Street was expecting. The unemployment rate dipped to 7.7%, but only because more and more Americans are simply giving up and leaving the labor force in disgust.
Philippa Dunne of the Liscio Report notes we've regained 5.9 million of the 8.7 million jobs lost in the recession. But at this rate, it will take nearly three years to close the rest of the gap. That's not going to happen. Not with the risks that remain. Not with the economy's trajectory turning lower, like it is now on metrics like factory activity.
Soon, people are going to wonder if the abuse of the global monetary system -- with all the risks inherent to that strategy -- really isn't the deus ex machina many thought it was. People don't think stocks could fall into a bear market with all the money printing that's going on, and don't think the deposit confiscation in Cyprus was a big deal; just as people didn't think home prices could fall on a nationwide basis or that the collapse of Bear Sterns in 2007 was an indication of deeper woes.
As people awake from this fantasy, fear and panic will quickly set in. We're already seeing a rush into safe haven assets, with Treasury bonds pushing higher as smaller, riskier stocks collapse. For now, I continue to recommend conservative investors move to cash or Treasury bonds as more aggressive traders profit via inverse ETFs such as the Direxion 3x Semiconductor Bear (SOXS) or the ProShares UltraShort Semiconductor (SSG).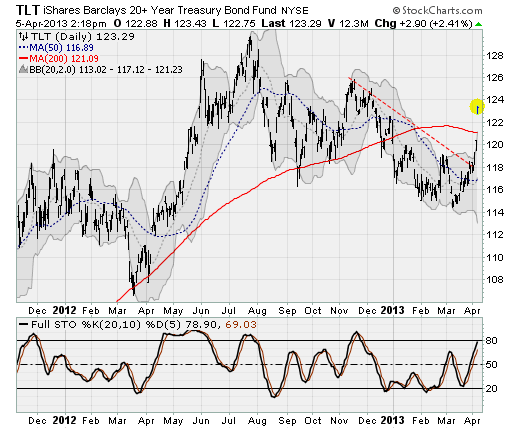 The plain vanilla iShares 20+ Year Treasury Bonds (TLT) also looks attractive. I have already added the Direxion 3x Treasury Bull (TMF) to my Edge Letter Sample Portfolio.
Disclosure: Anthony has recommended TMF and SOXS to his clients.

Be sure to check out Anthony's new investment newsletter, the Edge, and his money management service, Mirhaydari Capital Management. A two-week free trial has been extended to MSN Money readers. Click the link above to sign up. Mirhaydari can be contacted at anthony@edgeletter.c​​​​om and followed on Twitter at @EdgeLetter. You can view his current stock picks here. Feel free to comment below. 
DATA PROVIDERS
Copyright © 2014 Microsoft. All rights reserved.
Fundamental company data and historical chart data provided by Morningstar Inc. Real-time index quotes and delayed quotes supplied by Morningstar Inc. Quotes delayed by up to 15 minutes, except where indicated otherwise. Fund summary, fund performance and dividend data provided by Morningstar Inc. Analyst recommendations provided by Zacks Investment Research. StockScouter data provided by Verus Analytics. IPO data provided by Hoover's Inc. Index membership data provided by Morningstar Inc.
ABOUT
Top Stocks provides analysis about the most noteworthy stocks in the market each day, combining some of the best content from around the MSN Money site and the rest of the Web.
Contributors include professional investors and journalists affiliated with MSN Money.
Follow us on Twitter @topstocksmsn.