Futures rise despite fiscal cliff fears
President Obama is set to speak on the subject.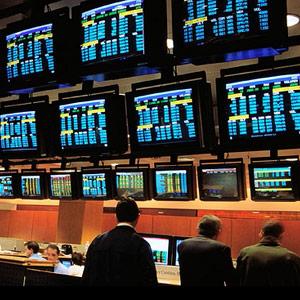 U.S. equity futures rose in early Wednesday trading despite renewed fears over the fiscal cliff. Investors may have become hopeful of a deal in Washington when on Tuesday the White House announced that President Obama is set to speak Wednesday on the subject. The press conference is set for 1:30 p.m. ET.
In other news, Greece has another two years to reach its bailout targets, according to The Economist analysis . The country will need approximately another 32 billion euros. The magazine says that this itself could lead to Greece needing a third bailout.

Spanish banks had to borrow 367 billion euros from the European Central Bank in October. While the figure is less than the amount borrowed in September, some 400 billion euros, it is still very high.

The Bank of England's Inflation Report cut its growth forecast for the country from 2.0% to 1.9% in two years. Also, the Bank increased its inflation forecast for the same period to 1.8% from 1.7%.
S&P 500 futures rose 6.7 points to 1,377.60.
The EUR/USD was higher at 1.2747.
Spanish 10-year government bond yields fell to 5.838%.
Italian 10-year government bond yields fell to 4.954%.
Gold futures fell 0.04% to $ 1,724.10 per ounce.
For more of Benzinga's Top News stories, click here.
Commodities
Commodities were mostly higher in overnight trade led by the energy complex as gold lagged. WTI crude futures rose 0.43% to $85.75 per barrel and Brent crude futures rose 0.5% to $108.80 per barrel. Copper futures rose 0.36% to $348.35 on hopes of a fiscal cliff deal, which would avoid a sharp contraction in the economy and maintain end demand. Gold was lower and silver futures rose 0.06% to $32.51 per ounce.
Currencies
Currency markets were showing a dollar bearish bias in overnight trade as the greenback fell against a host of other currencies save for the yen. The EUR/USD was higher at 1.2747 and the dollar rose against the yen to 79.93. Overall, the Dollar Index fell to 80.99, down 0.12% overnight on weakness against the euro, the Swiss franc, and the Swedish krone. In addition, the Aussie dollar rose against the greenback and the EUR/AUD cross bounced back above 1.22.
Premarket movers
Earnings
Economics
On the economics calendar Wednesday, MBA mortgage applications, the producer price index, and retail sales are due out. Later, business inventories are expected to be released and the Treasury is set to issue four- and 52-week bills. At 2:00 p.m. ET, the FOMC minutes from the October meeting are due out.
More from Benzinga
Click here to sign up for a free two week trial of Benzinga Pro!

Greece will not reduce it's deficit spending.  Their budget is still a disaster.  Like us running a 1.3 trillion dollar deficit and complaining about 68 billion in cuts as 'going off a cliff'.   Greece like the USA must balance their budget or fiscal collapse WILL occur, it is just a question of when.
We face two options...  Devaluing the dollar via the printing press to pay our bills or reducing spending.   It is too late to help Greece.  The USA is near the point of no return.  We need to slash the SPENDING now.

The cliff is NEEDED.   Obama and socialists want more revenue  to redistribute.  That's OK as long as the 47% contribute to it.  Let all the W tax cuts expire.  All or None.   But, NO NEW SPENDING!
Let the cuts happen.  We need to slash 1,350 billion, so 65 billion is just a tiny fraction of what is needed.  And Defense needs to be cut also, we cannot afford what we spend.
In any case, NO NEW SPENDING, and lets go over the cliff...   
It is a start...

Investors are hopeful for a "deal"?  What..print more money?  It is time to get our financial house in order and it means making significant cuts to spending on worthless projects and making sure everyone in America pays their fair share of taxes...including the wealthy.  Finally, stop bailing out other countries with money we don't have.  Spend money only if there is a direct benefit to the American people and good paying sustainable jobs are being created here in America using American made products supported by American labor.

The Fiscal Cliff is another chicken little crisis. The impact from the spending cuts and tax increase doesn't all occur on Jan 1st, 2013.  The tax increases tax effect as each pay period occurs and there is plenty of time to pass the legislation that's required to do what's right. Same goes for the spending cuts. There is NO Fiscal Cliff it's more like a Fiscal Slide that can be adjusted whenever the legislation is passed. It's amazing how Wall Street creates these impending crisis to get everyone's shorts in a knot so the traders can rape some more profits from scared fools. Remember the budget limit crisis that was going to cause another Depression.
Are you sure you want to delete this comment?
DATA PROVIDERS
Copyright © 2014 Microsoft. All rights reserved.
Fundamental company data and historical chart data provided by Morningstar Inc. Real-time index quotes and delayed quotes supplied by Morningstar Inc. Quotes delayed by up to 15 minutes, except where indicated otherwise. Fund summary, fund performance and dividend data provided by Morningstar Inc. Analyst recommendations provided by Zacks Investment Research. StockScouter data provided by Verus Analytics. IPO data provided by Hoover's Inc. Index membership data provided by Morningstar Inc.
ABOUT
Top Stocks provides analysis about the most noteworthy stocks in the market each day, combining some of the best content from around the MSN Money site and the rest of the Web.
Contributors include professional investors and journalists affiliated with MSN Money.
Follow us on Twitter @topstocksmsn.