Why the stimulus can never stop
The market's cheap money addiction is laid bare. No one knows how it will end.
The ridiculousness of this market was on display Wednesday as turmoil followed the Congressional testimony of Federal Reserve chairman Ben Bernanke, as well as the release of the minutes of the last Fed policy meeting.
The overall theme: The market, full of overconfident and increasingly complacent investors, is fully addicted to the cheap money coming from the Fed and other global central banks.
It's like everyone is high on the financial heroin of monetary policy stimulus, and as long as they're assured of the next hit, everything else is ignored. Like the fact the macroeconomic data has rolled over again (datastream). Or that CEOs are marking down second quarter earnings at a pace not seen since 2001.
Today, that addiction was first bolstered before being crudely threatened. Any hint of a withdrawal of quantitative easing is met with immediate and panicked selling. If stocks are going to keep rising, the stimulus can never stop.
It's not enough that short-term interest rates have been at 0% since 2008. It's not enough that the Fed has taken the monetary base from $700 billion before the recession to more than $3.1 trillion now as it pumps $85 billion a month into the bond market. Or that the European Central Bank has promised to effectively monetize Spanish and Italian debt if needed. Or that the Bank of Japan is promising to double its monetary base over the next two years, destroying its currency in the process.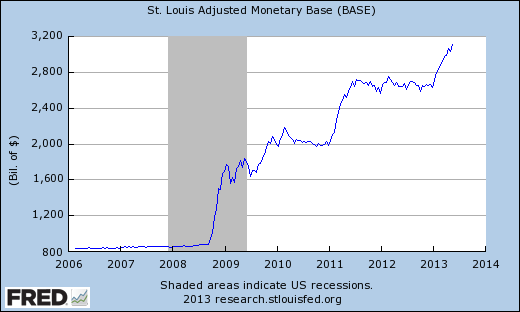 Investors are so focused on stimulus that any hint of tapering or a normalization immediately rattles confidence, sends markets into turmoil, and damages the still fragile economy. Over the last two weeks, Fed officials have ever-so-gently tried to drop hints it's looking at ways to slow its purchases. Then the economic data stalled, and it switched gears to saying it could increase or decrease the pace of purchases if needed.
Ben Bernanke reinforced the notion that the Fed is paranoid about doing anything that would rattle confidence in testimony today, noting that a premature policy tightening could stall the recovery. Stocks soared, ignoring anecdotal evidence that cheap money is losing its effectiveness on the real economy and corporate earnings growth.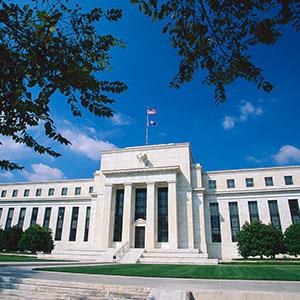 But then, the bad news came. Bernanke walked back some of his aggressiveness. He noted tapering could start over the next few months (gasp!). He said he favors moving away from supporting the mortgage market directly (outrageous!). And he reminded Congress that while the Fed is subsidizing Washington's never-ending budget deficits, it needed to "take a longer view" and consider that higher interest rates are in the future (sacrilege!).
When the meeting minutes from the May 1 Fed meeting hit the wires, things got really interesting.
The minutes indicated a number of members were open to a reduction in bond purchases at the June meeting (that soon?!), while one wanted to start pulling back immediately (who's the traitor?).
Here's the kicker: For the first time in four years, the Fed is starting to worry about bubbles in the financial markets (they've found us out!). Specifically, a few members expressed concern that conditions in certain areas of the market were becoming too buoyant. One cautioned resulting imbalances could be difficult for regulators to identify and address (ahem, housing bubble anyone?).
The first step to fighting addiction is identifying and admitting the problem exists. That happened today in the stock market. And it wasn't pretty. Because if the market is going to reconnect with the fundamentals, and the fact that there is a limit to how many Treasury and mortgage bonds the Fed can buy, it has a long way to fall.
Over the last few weeks, I've been using a balanced, short-term approach to capture quick long side profits and downside protection. Long side examples include the recent breakouts in the Direxion 3x Natural Gas (GASL) and Nokia (NOK), which I've since recommended taking profits in.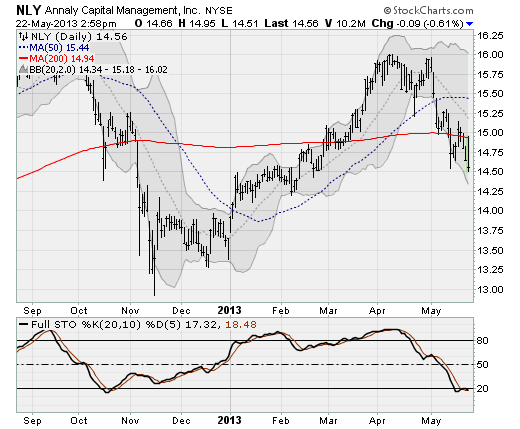 Now, I see short-side opportunities in the mortgage REITs and European financial stocks. Examples include Annaly Capital (NLY) and Banco Bilbao (BBVA). I'm also shorting the euro via the ProShares UltraShort Euro (EUO).
Today, I'm adding two technology shorts to my Edge Letter Sample Portfolio: Facebook (FB) and Blackberry (BBRY).

Check out Anthony's new investment newsletter, the Edge, and his money management service, Mirhaydari Capital Management. A two-week free trial has been extended to MSN Money readers. Click the link above to sign up. Mirhaydari can be contacted at anthony@edgeletter.c​​​​​​​​​​​​​​om and followed on Twitter at @EdgeLetter. You can view his current stock picks here. Feel free to comment below.
MSN Money on Twitter and Facebook
Like us on Facebook: MSN Money and Top Stocks
Follow us on Twitter: @msn_money and @topstocksmsn
DATA PROVIDERS
Copyright © 2014 Microsoft. All rights reserved.
Fundamental company data and historical chart data provided by Morningstar Inc. Real-time index quotes and delayed quotes supplied by Morningstar Inc. Quotes delayed by up to 15 minutes, except where indicated otherwise. Fund summary, fund performance and dividend data provided by Morningstar Inc. Analyst recommendations provided by Zacks Investment Research. StockScouter data provided by Verus Analytics. IPO data provided by Hoover's Inc. Index membership data provided by Morningstar Inc.
ABOUT
Top Stocks provides analysis about the most noteworthy stocks in the market each day, combining some of the best content from around the MSN Money site and the rest of the Web.
Contributors include professional investors and journalists affiliated with MSN Money.
Follow us on Twitter @topstocksmsn.