Greek election just the beginning
While Europe dodged a bullet with the elevation of pro-bailout parties in Athens over the weekend, the situation is far from resolved. Yet stocks are set to rise anyway.
Late last year, I warned that 2012 would be a year of chaos as weakening economic fundamentals mixed with harsh austerity measures into a toxic brew that would fuel social unrest and political instability. That's starting to happen now, as Greece's flirtation with the radical left and its anti-bailout message has demonstrated.
While the center-right New Democracy party looks set to lead a new coalition government in Athens after Sunday's elections, much to the relief of policymakers in Europe and elsewhere, we're not out of the woods yet. Far from it.
Given the surging popularity of the radical left Syriza party in Greek politics, New Democracy committed itself to renegotiating the country's bailout agreement with the European Union, the International Monetary Fund and the European Central Bank. That's already putting it at odds with Germany, where Chancellor Angela Merkel said she will not tolerate any easing in the reform measures Greece signed up for -- even as its economic contraction deepens and the country suffers through its fifth year of recession.
Credit analysts at Fitch warned that while Greece has stepped back from the brink of a disorderly debt default and exit from the eurozone, the crisis has yet to be solved. The country is running out of cash -- with just enough on hand to get into July -- underscoring the need to form a new government quickly and start work on budget cutting and economic reforms.
This will be difficult. New Democracy must team up with the third-place socialist Pasok party to have a ruling majority in Parliament. These two parties have been bitter enemies. Moreover, New Democracy's leader, Antonis Samaras, has pledged not to cut salaries and pensions and was in opposition to Greece's original bailout agreement in 2010. So he's not well liked by Greece's creditors in Berlin and elsewhere.
Overall, analysts at Credit Suisse believe that, despite New Democracy's poll victory, there is still a 20% chance that Greece will exit the euro later this year anyway. In their calculation, there is "no alternative to a scenario of on-going economic austerity in Greece, given a current account deficit of 8.6% of GDP (3.5% excluding interest payments), a primary budget deficit of 2% of GDP, government debt to GDP of 156%, net foreign debt of 90% of GDP and a loan to deposit ratio in the banking system of around 150%."
That means Germany will have to give the country some breathing room. Credit Suisse's economists believe there is an 80% chance that Greece will negotiate a workable compromise with the EU, IMF and ECB by spreading $14 billion worth of budget spending cuts over four years (rather than two), a possible reduction of interest rates on bailout loans and other growth-enhancing measures.
So we're not out of the woods yet. Spain is unresolved. And now U.S. economic data are starting to roll over in a big way. The situation is likely to get ugly again later this year.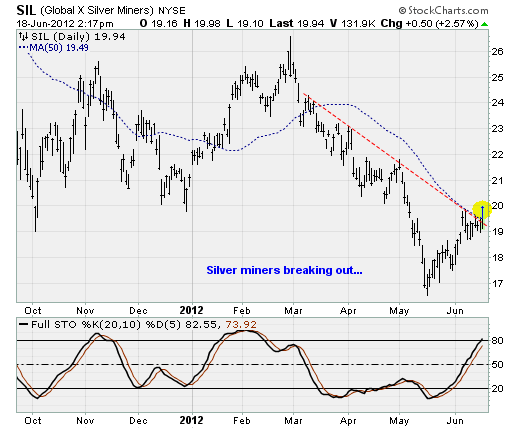 But for now, the pro-bailout parties in Athens have won, a hard drop in inflation has opened the door to fresh monetary policy easing by the Federal Reserve and European Central Bank, and overleveraged short-euro/long-doll​ar trades are being reversed quickly, boosting the fortunes of dollar-sensitive risky assets, including foreign stocks, precious metals and commodities.
I continue to recommend nimble traders look for opportunities in these areas. Conservative long-term investors should ride along for now -- but keep an eye on the exit over the next few months.

Trading update

The Edge Letter Sample Portfolio's existing positions are getting a nice lift, led by gold and silver mining positions including Great Basin Gold (GBG), Market Vectors Junior Gold Miners (GDXJ), and Global X Silver Miners (SIL).
Disclosure: Anthony has recommended SIL to his newsletter subscribers. 

Check out Anthony's investment advisory service The Edge. A two-week free trial has been extended to MSN Money readers. Click here to sign up. Contact Anthony at anthony@edgeletter.c​​om and follow him on Twitter at @EdgeLetter. You can view his current stock picks here. Feel free to comment below.

Greece has kicked the can down the road but given the circumstances, it will leave the Euro behind.  The people are divided, unemployment is around 50%, no growth, and no hope to get out of their economic depression any time soon.  This is a dismal picture.  Europe has to cut its loses and focus on those countries that have a chance to make it. Such as Spain, Italy,....  There just is not enough money to go around for everyone.  For now,  the Greek problem is the beginning and not the end.

People need to quit putting a Country behind this crisis...it has nothing to do with the nations of GREECE, SPAIN, or ITALY.
The Greedy Banksters made bad bets all across the globe and now THEY want citizens Of The World to cover their losses....It's as simple as that.
 People better wake up to what is happening.....These Central Bankers are the modern day mafia and they need to be stopped.
It's time We take control of the political instruments we created and SQUASH we thugs!
".....But for now, the pro-bailout parties in Athens have won, a hard drop in inflation has opened the door to fresh monetary policy easing by the Federal Reserve and European Central Bank...."
LOL.....because THAT strategy works every time!  Tell you what, if you want to jump start this economy like a mad dog, let's see gasoline prices fall down to the basement.

The northern countries of the Euro should board a bus, train, automobile or plane when vacation time rolls around and everyone travels to Greece, Spain or Italy for vacation.  The money spent there each year could be the equivalent of President Obama's spread the wealth for the European Union.   
(Do you know that Obama is not in this check spelling dictionary, but Romney is!  Even Rand Is listed.  Is Obama even a real person or is all this just a bad nightmare?)
Are you sure you want to delete this comment?
DATA PROVIDERS
Copyright © 2014 Microsoft. All rights reserved.
Fundamental company data and historical chart data provided by Morningstar Inc. Real-time index quotes and delayed quotes supplied by Morningstar Inc. Quotes delayed by up to 15 minutes, except where indicated otherwise. Fund summary, fund performance and dividend data provided by Morningstar Inc. Analyst recommendations provided by Zacks Investment Research. StockScouter data provided by Verus Analytics. IPO data provided by Hoover's Inc. Index membership data provided by Morningstar Inc.
ABOUT
Top Stocks provides analysis about the most noteworthy stocks in the market each day, combining some of the best content from around the MSN Money site and the rest of the Web.
Contributors include professional investors and journalists affiliated with MSN Money.
Follow us on Twitter @topstocksmsn.