High oil prices already taking toll
Chinese growth is slowing, European countries are struggling to emerge from debt, and expensive gasoline could damage the US economy. If oil doesn't sink soon, we could be in for trouble.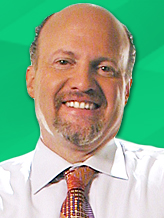 Binary situations make for some tough investing, and this binary situation -- oil going higher, oil going lower -- may be one of the tougher predicaments this bull market has faced.
That's because, despite the incredible resilience of the restaurants and retailers that I wrote about Wednesday, the creaks that come from higher oil prices are setting in. They just aren't settling in the places we thought they would. And as long as oil prices stay elevated, the stakes will keep being raised.
First, the gospel has become, in the past 48 hours, that China has been hit hard by a government-mandated slowdown that is now being exacerbated by the cost of oil. The trade numbers last night -- the $7.3 billion trade deficit -- gave us concrete evidence that China's economy is already being hurt by oil. The numbers were surprisingly weak. The inputs from China reverberate from steel and copper and coal imports -- the entire universe of resource companies is being pummeled -- to the auto and tech markets.
Post continues below:
Copper and coal are teetering even as we know the companies are making plenty of money. They have become easy to bet against because of the weakness in China. Plus, management at Finisar (FNSR), the optical-equipment company, blamed an inventory correction in part on the Chinese, meaning Chinese companies that use optical products don't have enough demand and have too much supply.
I had fought this Chinese-slowdown theory because the Baltic Freight index has been strong. But the deficit number is what's front and center, not the freight numbers, and the case that China has run out of gas is too strong right now -- even if, alas, it turns out not to be true in a few weeks.
Second, with the Spanish downgrade, we find we are back in a world where it seems impossible that the overly indebted countries of Europe can grow their way out of the dilemma they are in. Sure seemed possible when the world was humming, but oil has already been elevated too long for us to believe things can revert to where they were, and the downgrades, like the Spanish one, seem, once again, insurmountable.
Finally, the United States hasn't seen the increase hit home yet, but the longer the fight in Libya draws out, the less likely it is that prices at the pump will fall. Doesn't mean they will go dramatically higher, because we have plenty of oil around, but it does mean they won't go down. If there is no NATO action and the feds don't sell oil futures, the price at the pump will do the damage, and that's that.
To me, there's still plenty of leeway here. There's still an ability to drive the price of oil down and make these numbers out of China disappear in the rearview mirror. There are still plenty of ways for the Germans and the French to bolster Spain, although one has to wonder when Italy's crisis will emerge, given the nation's close ties to Libya.
But at this moment, after the Chinese trade figures and Moammar Gadhafi's bombing of the oil facilities and the Spanish downgrades, we know prices have gone too high if oil doesn't sink soon.
Or, to put it another way, the damage from higher oil prices is here already. The too-high price has been reached. And unless it is knocked down soon, the number cuts we have been dreading -- number cuts not as drastic as Finisar's but cuts nonetheless -- will be upon us.
At the time of publication, Cramer had no positions in the stock mentioned.
Jim Cramer is co-founder and chairman of TheStreet. He contributes daily market commentary for TheStreet's sites and serves as an adviser to the company's CEO.
Follow Cramer's trades for his charitable trust.
Related Articles

Cramer,
Do your self a favor and watch CCTV once in a while then you would not be in the dark about China's trade deficits. 
China is moving from a manufacturing country to a service country as the US and Europe did decades ago. That is the only way they can get their GDP up to the USA levels. Their goal is to have 70 percent of their work force in service industries in the next 5 years. 
They also expect to build 36 million or more low income housing units in the next 5 years and if local officials do not get them built they will take drastic measures against them. Knowing China this probably means treason charges and a few official officials executed as an example.
When China pulls this off their growth will be 50 percent a year Cramer. They should come close to parity with the USA in 5 to 10 years ahead of schedule with this new approach. So the rumors of China slow down are not true China is about to have growth the likes of which have never been seen before. They are going to make money the Bernanke way print it.

Gas upwards of $3 a gallon will cause a reversal of any "recovery" in place..if there is such a thing.
Many a business owner finds themselves once again cornered by increasing freight costs and lower, if any, profit margins. This comes along with the disgusting fact that there is a glut of oil surplus, as in the last year it's only been a handfull of weeks where a draw was actually recorded. The rest of the year the surplus has been in the millions of barrels each week. Those of you who buy into the hype and speculate on oil stocks, you're just speculating on our nations failure and accelerating it. All that is happening is another commodity bubble is being created that will take this nation down, then pop and wipe out millions in value that wasn't there....because the trading is taking place via gouging and greed, not demand and supply.

I hear lots of chatter on how we should open up the local reserves and start drilling in Alaska.   I think it would be wiser to hold off until gas goes north of $10/G or even higher.  Then we will have a gradual move toward more energy efficient products while fuel prices rise.  We saw what cheap fuel does to America - SUV's.  We don't want that.
Are you sure you want to delete this comment?
DATA PROVIDERS
Copyright © 2014 Microsoft. All rights reserved.
Fundamental company data and historical chart data provided by Morningstar Inc. Real-time index quotes and delayed quotes supplied by Morningstar Inc. Quotes delayed by up to 15 minutes, except where indicated otherwise. Fund summary, fund performance and dividend data provided by Morningstar Inc. Analyst recommendations provided by Zacks Investment Research. StockScouter data provided by Verus Analytics. IPO data provided by Hoover's Inc. Index membership data provided by Morningstar Inc.
LATEST POSTS
Meet Alibaba's new billionaires
Despite its size, the IPO will create just two new members of the 10-figure club from its executive ranks. A few others could net hundreds of millions.
ABOUT
Top Stocks provides analysis about the most noteworthy stocks in the market each day, combining some of the best content from around the MSN Money site and the rest of the Web.
Contributors include professional investors and journalists affiliated with MSN Money.
Follow us on Twitter @topstocksmsn.